Every time I return from the Vail Jazz Party, my luggage includes several new CDs featuring the festival artists. Of course, I request most of them, and the artists seem happy to supply material for my JHO reviews. This past year, I was only able to attend the second half of the jazz party, and many of the artists' newest discs had already been sold at the CD table. Further, some of the musicians had upcoming releases that they wanted me to cover. It's taken a few months to collect all of the recordings—and at press time, one of the discs is still a week away from release—but here are capsule reviews of albums featuring these superb musicians. [Good news from Vail Jazz: most of the artists are slated to return for this year's party.]
"ADRIAN CUNNINGHAM & HIS FRIENDS PLAY LERNER & LOEWE" (Arbors 19470)
In collaboration with the estates of the classic Broadway team, Arbors Records has released two new albums featuring the show tunes of Alan Jay Lerner and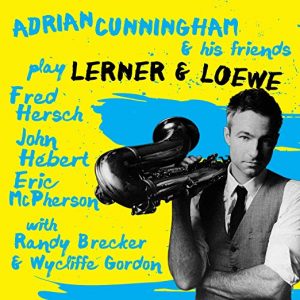 Frederick Loewe. One was the fine duet CD "Counterpoint" featuring Ken Peplowski and Dick Hyman, while the other was the present all-star collaboration "Adrian Cunningham and His Friends Play Lerner and Loewe". To be sure, Cunningham has some very talented buddies: trombonist Wycliffe Gordon (another longtime Vail favorite), trumpeter Randy Brecker, and the Fred Hersch Trio, with John Hébert's bass and Eric McPherson's drums interacting with Hersch's piano. Cunningham and the Hersch trio open with one of the least-covered tunes of the Lerner & Loewe songbook, "Say a Prayer for Me Tonight" from "Gigi". Cunningham's clarinet caresses this lovely melody alongside Hersch's gossamer accompaniment. The two men create delicate solos over the rich harmonies, and their respective melodies intertwine in the closing chorus.  Cunningham and Gordon engage with McPherson on the opening chorus of "I Could Have Danced All Night", and the drummer's New Orleans street groove energizes the entire track, while the two horn men exchange ideas back and forth. Eliza Doolittle's revenge song "Just You Wait" seems an odd vehicle for jazz improvisation, but the combination of Cunningham's flute and Hébert's bass sounds like a fiery argument, and Hersch's piano solo attempts to quell the principals, but gets angry and frustrated in the end. Cunningham returns to clarinet for "I Talk to the Trees" and "If Ever I Would Leave You" and on both tracks, the Hersch trio provides glorious floating backdrops full of delicious cross-rhythms and intersecting lines. Brecker makes his first appearance on "Thank Heaven for Little Girls", on which he performs a expressive solo on flugelhorn. The trio locks in to the time, and the exuberant swing behind Brecker—and eventually Cunningham's tenor—represents some of the most exciting moments on the album. "Heather on the Hill" is one of my favorite Lerner & Loewe ballads, and the Cunningham/Hersch duet on it here brings out all of the warmth embedded in its melodies. As a former clarinetist, I am stunned by the control Cunningham has over this difficult instrument, both in dynamics and pitch. As for Hersch, there is nothing quite like his rhapsodic approach to ballads: full and rich harmonic harmonies underpinning an expressive right hand melody. Hopefully, the two will collaborate in a duet concert sometime soon. The gospel backbeat of "I Was Born Under a Wand'rin' Star" offers a fine change of pace with Gordon and Cunningham creating soulful solos over the energetic pace laid down by the Hersch trio. Brecker and Cunningham explore a partially-open harmonic structure on "They Call the Wind Maria", followed by a Latin take on "The Rain in Spain" (with a wonderful piano/flute duet tucked into the middle). The album closes with a quartet version of "Brigadoon" featuring Cunningham's warm interpretation of the theme on tenor. With eleven tracks ranging from 2 ½ to 5 minutes, this album is very "radio-friendly"; However, I wish that this stellar group of musicians could have stretched out on a few tracks to satisfy the CD listeners. I understand the need for radio edits, but these players should be allowed to fully express themselves through these fine songs.
SINNE EEG/DANISH RADIO BIG BAND: "WE'VE JUST BEGUN" (Stunt 19132/BFM 7621834675)
With crackling brass chords and a powerfully swinging rhythm section, the opening of Sinne Eeg's new collaboration with the Danish Radio Big Band, "We've Just Begun", holds our attention and never lets go. Eeg sings the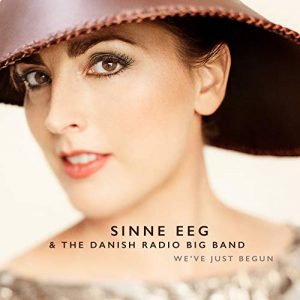 original title track with breezy confidence, and then effortlessly hands off the solo spotlight to tenor saxophonist Hans Ulrik. After the reprise of the melody, Eeg improvises with and without words against a wailing saxophone riff before closing the track with an impressive cadenza. The seemingly endless energy prevails even through the more sedate waltz, "Like a Song", and it quickly becomes apparent that everyone on the recording was focused on creating an album for the ages. It can be heard in the band's impeccable ensemble work—especially in the intricate unison passages with Eeg, and within Eeg's passionate vocals, both on her original songs and on well-known standards. The love song "Those Ordinary Things" benefits from Eeg's insightful lyrics, while "Talkin' to Myself" is highlighted by her finely-crafted scat solo. "Hvorfor Er Lykken Så Lunefuld" is a song from a classic Danish movie. Sung in Eeg's native Danish, it is the one piece seemingly designed for the fans at home, but while the US version of the album lacks a translation of the lyrics, non-Danes can enjoy the sultry swing and another exquisitely performed unison passage between Eeg and the band. The 5/4 sections of Jesper Riis' chart on "My Favorite Things" seem a little awkward, but when the piece moves into a straight 4/4, the ensemble soars with abandon. "Samba em Comum" was part of Eeg's set at Vail. A response to the imminent closing of two Danish radio stations that played jazz, samba and roots music, Eeg's bilingual lyrics—at least in the English portion—embrace the warm life philosophy of many Brazilian musicians. Riis' gorgeous arrangement, Per Gade's perfect acoustic guitar background, Peter Dahlgren's romantic trombone and the unison vocal backup chorus complete a mental image of the beach at Ipanema. "Detour Ahead" is one of the great jazz-related ballads—Herb Ellis and Johnny Frigo are two of the composers—and Eeg's seductive interpretation brings out all of the subtlety in the lyric. Eeg's wonderful vocal, Nicolai Schultz' expressive flute solo and a beautifully played ensemble chorus combine to salute the piece's late arranger, Roger Neumann. It's hard to go wrong with a great catalog song like "Comes Love", and Eeg's sexy version contains both ingenious melodic variations and astounding scat improvisations. Another of Neumann's settings, the band gets a fine shout chorus to play before everything comes to a halt for Eeg's dramatic re-entry. This spectacular album closes with "To a New Day", an instrumental written by Danish pianist Martin Schack, with words added later by Eeg. Its 1970s gospel-rock groove and feel-good lyrics make the piece sound rather dated, but the spirit of the performance draw us in and make us believe that better days are just around the corner. Buy this album and let it lift your spirits. [This album was issued by Stunt Records for the European market. The link under the album title above will link you to the version for US and non-European audiences issued by BFM Jazz. Use this link for the Stunt edition. As far as I know, the Stunt and BFM editions are identical.]
NICKI PARROTT: "FROM NEW YORK TO PARIS" (Arbors 19466)
Australian bassist and vocalist Nicki Parrott became a naturalized US citizen a few months ago, and her latest album, "From New York to Paris" celebrates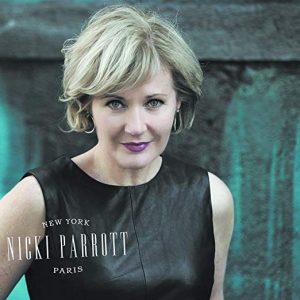 her new native hometown and her favorite getaway. Although the personnel of the album is entirely American, the group evokes the City of Lights as well as it does the Big Apple. In fact, the opening track "I Love Paris" sounds like it could have come from a Paris bistro, with Gil Goldstein's accordion as the perfect accompaniment to Parrott's understated vocal. Harry Allen's tenor offers a complimentary voice, while Alvin Atkinson's drums and Parrott's bass provide fine underpinning. Pianist John DiMartino joins the group (replacing Goldstein) for a swinging instrumental version of "There's a Boat Dat's Leavin' Soon for New York". Parrott's outstanding arco bass technique is spotlighted at the outset of "I Will Wait for You". She sings the song as if it's almost too personal to share, and that masked fragility—especially noticeable in the final chorus–makes the performance all the more memorable. The instrumental version of "On Broadway" is tough and gritty, with a tight beat laid down by Atkinson, an incisive bass solo by Parrott, Allen's edgy-toned tenor, and DiMartino's spare piano. When the group explores "The Brooklyn Bridge", Parrott noticeably sweetens her vocal tone, offering us an irresistible invite. As a direct comparison, jump to the next track and hear her mysterious, smoky sound on "If You Go Away" (which she also sings in the original French "Ne Me Quitte Pas"). These two tracks show Parrott's ability to act out a song, and make us believe every word. Another cross-Atlantic voyage is signaled with the juxtaposition of the airy waltz "Under Paris Skies" and the jaunty swing of Rodgers and Hart's "Manhattan". On the out-chorus of the latter, Parrott inserts some new lyrics which she co-composed with her husband, Brian Wittman. Like updated words to an old Gilbert and Sullivan operetta, the additions fit within the spirit of the original. Tiny Kahn's "Broadway" gets a swinging quartet treatment, and Allen seems especially comfortable in this straight-forward setting. The tune's Basie ending links us to the next track, "April in Paris", inspired by Wild Bill Davis' arrangement for the Basie Orchestra. Parrott's version quotes part of the out-chorus, and retains the distinctive medium swing. She adds a wonderful bass solo notable for her impeccable intonation and fine note choices. Dave Frishberg's wistful "Do You Miss New York?" makes an appearance, with Parrott's soft vocal tones acting as a contrast to the sarcastic lyrics. After a brief version of "Slaughter on Tenth Avenue", we are back in Paris for "If You Love Me" which features a stunning a cappella vocal. Goldstein eventually enters with florid accompaniment, but the inner strength of Parrott's vocal sticks in the memory. A bouncy version of "La Mer" closes the album, but I suspect many listeners will go back to the previous track for another listen. Welcome to the United States, Nicki. We're glad to have you here.
KEN PEPLOWSKI/DIEGO FIGUEIREDO: "AMIZADE" (Arbors 19468)
The collaboration of clarinetist Ken Peplowski and guitarist Diego Figueiredo began when Vail Jazz Festival's emeritus artistic director, Howard Stone asked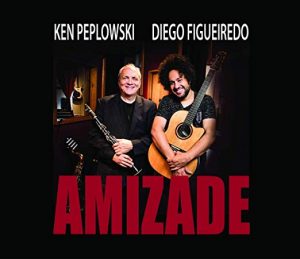 if Peplowski would be willing to play some Brazilian standards with Figueiredo and a rhythm section. Peplowski, who had heard Figueiredo's duets with vocalist Cyrille Aimée, heartily agreed, and after rehearsing and performing together, they decided to perform as a duet as much as possible. In the notes to their new duet CD, "Amizade", Peplowski notes that both he and Figueiredo like to veer off into uncharted waters sometimes, and it's so much easier when it's just two people who have a sympathetic alignment. The playlist presents a wide range of music and genres for the two musicians to stretch their imaginations. "Caravan" features Peplowski's fluid clarinet over Figueiredo's complex set of guitar obbligatos. When the guitarist takes his solo turn, many of the obbligati return within the solo lines. "Quizas, Quizas, Quizas" and "Besame Mucho" are two songs that appeared on the US hit parade many years ago. Paired here as a medley, Figueiredo takes the opening chorus of "Quizas" as a solo, with Peplowski quietly entering on subtone tenor saxophone. The breathy quality of Peplowski's horn and Figueiredo's understated guitar combine to restore the romanticism that these songs had when first heard by American audiences. The album's first venture into uncharted waters is the improvised duet "A Little Journey". Clarinet and guitar open the track together, with each hinting at different keys. The bitonal effect goes on throughout the track, but the two musicians find notes which fit in both tonalities, so that the clashes remain minor. The intro to the ensuing "One Note Samba" is also tonally ambiguous—at least until Figueiredo moves into tempo! Peplowski is back on tenor for this track and I admire his choice of a different tone and style than the Stan Getz-ian models that are so familiar in Brazilian/jazz collaborations. "Black Orpheus" is better known as "Mañha de Carnaval" or "A Day in the Life of a Fool". By whichever name it is recognized, the song stands as one of the classics of Brazilian repertoire. The duet version here is simply exquisite, with tenor sax and guitar interweaving lines with great intelligence and delicacy. Baden Powell's "Apelo" is played as a guitar solo, and the close-miked recording offers the opportunity to witness Figueiredo's astonishing technique. "Retrato em Blanco e Preto" is another song known under several names, "Zingaro" and "Portrait in Black and White". I love the sound Peplowski gets from his clarinet here—infused with the melancholy which the Brazilians call saudade. "Por Paco" is the guitarist's tribute to Paco De Lucia, and the take presented on the album was a first attempt, made as Peplowski was trying to learn the melody and chords from Figueiredo's playing. If Peplowski was making guesses, he was right most of the time! The swing era classic "Stompin' at the Savoy" is presented here as a slow dance, allowing the performers to examine the harmony and melody from a different and enlightening perspective. The title track—the Portuguese term for friendship—finds the tenor and guitar trading the lead and finally finding common ground through a unique chord sequence. The duo closes the album with a breezy rendition of "So Danço Samba", which I imagine might have been the sound Howard Stone heard in his head years ago.
VINCE MENDOZA/TERELL STAFFORD/DICK OATTS: "CONSTANT RENAISSANCE" (BCM+D no #)
Terell Stafford has been a regular with the Vail Jazz Party's house band for many years, and alto saxophonist Dick Oatts joined the same group at last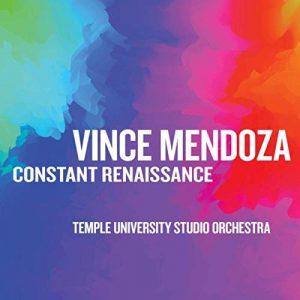 year's party as a last-minute for the ailing Jeff Clayton. Both are members of the jazz faculty at Temple University, and in the spring of 2019, they collaborated with the noted composer/conductor Vince Mendoza for the premiere of "Constant Renaissance", a piece for studio orchestra and jazz soloists that honors Philadelphia's role in the lives of jazz giants Dizzy Gillespie, Billie Holiday and John Coltrane. The present EP—only 22 minutes in length—features Stafford and Oatts with the Temple University Studio Orchestra (which apparently includes both students and faculty) in a studio recording probably made shortly after the work's premiere last March. The opening movement "Bebop Elation" starts with a winding melody line for the featured soloists, which is then taken in variation by the orchestra. Stafford improvises a solo filled with clear soaring lines. Another orchestral passage introduces Oatts' piercing alto whose lines evoke memories of James Moody's twisting melodies.  In the second movement, "Solace and Inspiration", themes played on oboe and bassoon over somber Gil Evans-like chords suggest the loneliness of Lady Day. Stafford—so wonderful on ballads—plays glorious lines on flugelhorn over the rich string background to further the mental picture. [I've long advocated for a "Terell Stafford with Strings" ballad album; this track offers a brilliant idea of the possibilities of such a project.] Near the end of the track, Mendoza combines his orchestral forces with a sumptuous variation on the theme before intertwining the strings and flugelhorn once again. The finale, "Love, a Beautiful Force", examines the transfigured force that was John Coltrane. The entire movement is based on complex, dense rhythms which conflict with the basic 4/4 pulse. Oatts' solos take these ideas to a deeper complexity (there is as much Lee Konitz in his style as Coltrane) and each of his three short solos seem to make the rhythmic puzzle even more challenging. Stafford doesn't play a large of a role in this movement, although his brilliant high-register playing heralds the finale of the work. While I prefer hearing Stafford and Oatts in a more intimate setting, they play their roles very well on this ambitious work.
JERRY WELDON: "THOSE WERE THE DAYS" (Cellar Live 11218)
Tenor saxophonist Jerry Weldon has been on the New York scene for over three decades, and he was one of the shining lights in the house band for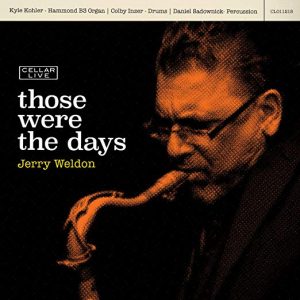 Harry Connick, Jr.'s short-lived daytime talk show. Weldon's appearances in Vail displayed his remarkable flexibility, playing romantic backgrounds for Sinne Eeg, improvising on gospel music behind Niki Haris, and serving up the funk with Wycliffe Gordon's dance party—all in the same day! On his album, "Those Were the Days", Weldon pays tribute to the jazz organ groups which flourished in the Fifties and Sixties. Joined by Kyle Koehler on organ, Colby Inzer on drums, and Daniel Sadownick on percussion, the group generates enough sparks to belie its status as a studio recording. The album opens with a stunning reworking of the old Luther Vandross classic "Love Won't Let Me Wait", with Weldon delivering muscular swing over the throbbing pulse of the organ. Koehler grooves like Jimmy Smith over the changes to the obvious delight of Inzer, who provides an abundance of cross-rhythmic commentary. Current pop tunes were always part of the organ group's repertoire, and Weldon resurrects the Sinatra hit "Strangers in the Night" in a straight-ahead tempo. No "doobie-doobie doo's" on this session, but plenty of fine melodic invention by Weldon and Koehler, and a groove you could ride all night. Weldon's original "Sunny V" lands somewhere between bossa nova and vintage pop, and here we can really hear Sadownick shine as he creates a conga pattern that fits both styles. Weldon is full of intricate rhythmic ideas which fit into the complex rhythmic scheme like pieces of a jigsaw puzzle. Koehler makes the most of the modulations which spice up the harmonic sequence. Koehler creates a rich background for Weldon on the rarely-covered ballad "Where is Love?" before Inzer launches the group into a sprightly version of "Rosetta". Weldon feasts on the changes with a powerfully swinging solo fueled by the tenor man's seemingly inexhaustible imagination. Koeher's solo builds on a group of sequences and then Inzer takes over with a masterful drum solo punctuated by riffs from Weldon and Koehler. "Walk on By" has been covered by more jazz musicians than you might expect (Tom Lord's "Jazz Discography" lists 74 recordings). Weldon's version is set over a seductive Latin beat, and the saxophonist is supremely relaxed here, effortlessly dropping groups of sixteenth notes over the slowly changing harmonies. Koehler's solo sounds a little more determined, but the overall mood is maintained throughout. Near the end, Weldon takes a casual stroll through some of Burt Bacharach's other hits of the period. Weldon declaims the melody of Harry Warren's chestnut "This is Always" and follows with a solo notable for its delicate emotions. Jimmy Smith's exuberant blues "The Sermon" is a wide-open jam, with Koehler paying tribute to his idol with a thrilling solo which builds with every chorus. Weldon picks up where Koehler left off with fireworks of his own. Although he's the only horn, it sounds he's in the midst of a fierce tenor battle! The only that could possibly follow is a drum solo, and Inzer keeps the engine running at top speed. The title tune appears last, starting as a rubato ballad before settling into a slow walking groove. The tempo picks up slightly as Weldon begins his solo, which brings together many of the elements present earlier: soul, grit and warmth. Weldon has always deserved more recognition than he has received. This fine album may finally rectify that situation.