JOHN ALLEE: "BARDFLY" (Portuguese Knees 9413)
Anyone who has seen a Wild West adaptation of "The Taming of the Shrew", or "A Midsummer Night's Dream" set in Las Vegas knows that the words of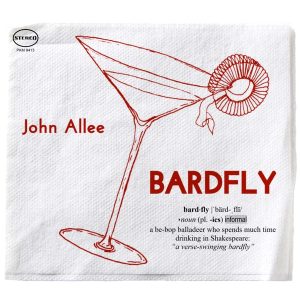 William Shakespeare are highly flexible. The Bard has even been set to jazz backgrounds, as on notable albums by Cleo Laine and Maxine Sullivan. Actor John Allee has appeared in productions of "Midsummer" and "Twelfth Night", and building upon his characterization of Feste, he created an intriguing nightclub presentation called "Bardfly Shakespeare", which has now been adapted into a CD simply called "Bardfly". Allee sets the stage with a hip monologue which takes place at a dive called "We Three Kings" of which the best thing that can be said is that the piano is in tune, and everyone's been vaccinated. There are numerous references to the Bard's plays and characters within Allee's vivid description of this hole-in-the-wall club. Allee then segues into his first setting "Samingo" (Henry IV, Part 2) which includes a few references to Thelonious Monk added into the original text. Allee has a very pleasant tenor voice, and his quiet version of "Until the Break of Day" ("Midsummer") features a fine tonal matching between Allee and tenor saxophonist Javier Vergara. Trumpeter Matt Von Roderick offers a sassy commentary on the New Orleans-grooved version of the bawdy "Tomorrow is St. Valentine's Day" ("Hamlet") and both hornmen support Allee on a deeply swinging version of "Philomel" (the fairy's lullaby from "Midsummer"). Songs like "O Mistress Mine" ("Twelfth Night"), "Full Fathom Five" ("Tempest"), and "Sigh No More, Ladies" ("Much Ado About Nothing"), have been set to music on many occasions, but Allee's new settings stand out for their simple, memorable tunes, and their accurate reflections of Shakespeare's original dramatic usage. Allee's faithful treatments of these familiar texts balance against looser interpretations like "The Hungry Lion" ("Midsummer") and "Blow, Blow, Thou Winter Wind" ("As You Like It") where Allee freely mixes the worlds of Elizabethan theatre and modern jazz. The latter—renamed "Heigh Ho the Holly"—becomes a deeply swinging jam session, with outstanding solos by the hornmen and pianist Mahesh Balasooriya, and solid backing by bassist Dominic Thiroux and drummer Aaron McLendon. Allee saves the best for last with "Never Come Again", an exquisite compilation of laments for Hamlet, and "The Wind and the Rain", a hipster's take on Feste's famous song from "Twelfth Night". This album is a treasure, for both lovers of vocal jazz and classic poetry.
BENNY BENACK III: "A LOT OF LIVIN' TO DO" (BB3 1242020)
From the nervous energy of the opening title track, youth is the overwhelming theme of trumpeter and vocalist Benny Benack III's new CD, "A Lot of Livin' to Do". The exuberant tempo seems just on the verge of rushing—which it never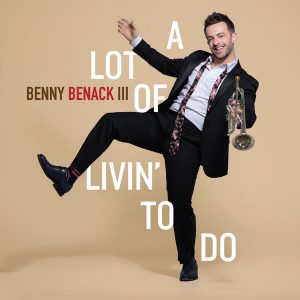 does, thanks to the solid time of bassist Christian McBride—but Benack, pianist Takeshi Ohbayashi and drummer Ulysses Owens, Jr. sound so eager to make their statements that the excitement transfers through the speakers. Benack wears the "III" in his name with pride, as he is part of Pittsburgh's most notable musical families. He pays tribute to his hometown with two songs by Fred Rogers, transforming "Won't You Be My Neighbor" into a fast samba and "It's You I Like" into a rubato ballad. In between these tracks are a scintillating duet on "Social Call" with Veronica Swift (with finely-executed vocalese and scat solos by both singers) and an earnest, multi-faceted arrangement of "What the World Needs Now". Benack's considerable gifts as composer and trumpeter come to the fore on "New Born Blues", where the spirit of Lee Morgan seems to be everywhere, as Benack provides equally sassy written and improvised melodies. "Irrepressible" is another impressive Benack original which includes a verse(!), fine lyrics and melody, and attractive changes for blowing. Two more duets follow, and if the pairing with Alita Moses on "Where is the Love" does not reach the heights of the duet with Swift, it is still performed at a very high level, with both vocalists handling an unexpected harmonic modulation with aplomb. The Benack/McBride pairing on "Gravy Waltz" is a delight, with McBride laying down an impeccable background for Benack's soulful vocalizing and dynamic trumpet. Then McBride takes over for a marvelous solo featuring his rich deep sound and swinging groove. The next track starts with another trumpet/bass duet, but with the entrance of Ohbayashi's Fender Rhodes and Owens' mallets, it morphs into an intriguing arrangement of "The Shadow of Your Smile". Benack's muted trumpet solo displays his maturity, with well-developed structure, superb ideas, and expert control. The album concludes with two more Benack originals: a late-night ballad called "Later On" featuring a sensitive Benack vocal and a suitably mournful trumpet interlude; and "Sub-Zero", a snappy medium-tempo swinger with Benack, Ohbayashi and McBride making the most of the juicy changes. Benack is still a relative newcomer, but he has made an impressive start to his career. This outstanding CD should lead to more great music to come.
PAUL JOST: "SIMPLE LIFE" (PJM 118)
A confident performer with a brilliant imagination, Paul Jost opens his new CD, "Simple Life" with a thrilling up-tempo ride on the Beatles' classic "Blackbird".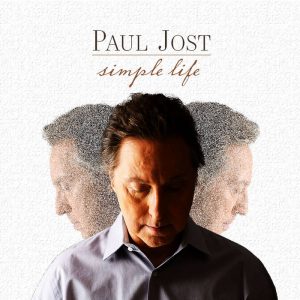 Jost has taken this much-recorded anthem and reconstructed it from the ground up. Dean Johnson's bass riff and Tim Horner's  slashing rhythm leads into an arrangement which features exciting ensemble passages, aggressive swing, a breathtaking scat solo and a superbly-constructed vibes solo (courtesy of guest Joe Locke). As has been done with so many standards, "Blackbird" becomes an individual vehicle for expression. While many singers have treated Harold Arlen's "If I Only Had a Brain" to a slow, introspective tempo, Jost takes the song to a new emotional level with his heartfelt reading of the lyric. In his hands, the song becomes a plaintive wail about seemingly unsolvable problems. Jost's approach reveals the strong influences of Al Jarreau and Mark Murphy in his his rhythmic introduction and expressive scatting on "Caravan". Jost takes outrageous chances when he improvises, but he is so sure of himself that he rarely missteps. And as Jim Ridl's piano solo on the same track shows that he too knows the value of taking chances. "Everybody's Talkin'" is a stunning performance, which tells of Mark Murphy's late-life health crisis, when he was misdiagnosed with Alzheimer's disease. Starting with a fuzzy quote from "Stolen Moments", Jost embodies Murphy's confusion, as he tried to cope with a disease he didn't actually have. The impression is so convincing that after awhile, we could swear it is Murphy himself singing to us again. I admire the earnest rendition of "Give Me the Simple Life" which follows, although the spoken introduction echoing Jost's father's advice to listen to the voices inside your head seems odd after hearing about the Murphy nightmare. Jost and company take "The Touch of Your Lips" at a burning pace, showing that the changes offer new challenges for improvisers! "The Folks Who Live on the Hill" and "With a Little Help from My Friends" offer two different generations' view on aging, and Jost uses his maturity and creativity to his advantage to bring deep resonance to both sets of lyrics. After a wordless exploration of Sonny Rollins' "No Moe" (featuring outstanding solos by Jost, Johnson and Horner) and a sensitive cover of Bob Dylan's "Girl from the North Country", Jost treats us to two originals, "Bela Tristeza" and "Livin' in the Wrong Time". The former is a graceful jazz waltz, which opens with overdubbed vocals and whistling over Jost's acoustic guitar, and graciously leaves the middle section open for piano and bass solos. The words to the latter song discuss the quick passage of time and the injustices we put on each other. Wisely, Jost places this bleak song after his heart-rending interpretation of the folk song "Shenandoah", and again the theme of hopelessness appears. But if many of us are indeed living in the wrong time, we must work harder to promote our personal values. Paul Jost does that in abundance on this wonderful album.
JAY LEONHART: "JOY" (Sunnyside 1556)
If you like the wittiness of Dave Frishberg and miss the charm of Bob Dorough, Jay Leonhart's new CD "Joy" might be perfect for you. Like the above masters, Leonhart creates humorous but thoughtful songs on unusual topics.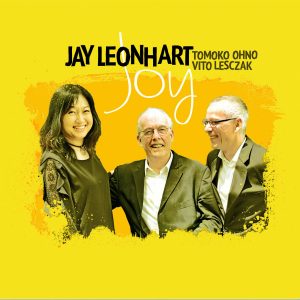 For example, the opening track of the CD deals with the many problems when traveling with a "Bass Aboard a Plane". Leonhart's voice is wiry and rough, but his odd alternations between speech and song help to put over the jokes within his original songs. His trio, anchored by his bass and flanked by Tomoko Ohno's piano and Vito Lesczak's drums, is a finely-tuned unit, having worked together in the New York area for many years. The title track offers swinging solos from the leader and Ohno, along with a short break from the drums. "Playboy Club" looks back to one of Leonhart's first gigs in New York, complete with humorous allusions between the waitresses' bunny costumes and real-life rabbits. "Gasparo" goes even further back, reaching to the invention of the string bass. The next three songs deal with travel, but the approaches are considerably different. "Momma, Don't You Think" tells of a family trying to leave an abusive father, "Tulips" is an objective tale of the Dutch craze for the treasured flower, and "Life Out on the Road" returns Leonhart to autobiographical mode as he relates his positive and negative experiences as a young musician on tour. "Double Cross" is probably contains the darkest humor on the album, as Leonhart portrays a former accomplice frantically trying to talk his way out being shot by his former partner. The track also offers solo space for all three members of the trio—all of whom take great advantage of the opportunity. Leonhart's wistful song about "Robert Frost" and his mythical donor may be his best-known song (Karrin Allyson covered it many years ago). While the biographical details are not quite accurate—Frost taught throughout his career—there is an undeniable charm to the song. There is further delight in hearing this song performed by its composer. "Very Few" is a stunning tale of a unsuccessful suicide, and the quirky ballad "For Real" closes the album. Leonhart's CD may not pack the emotional wallop as the other discs in this survey, but it provides a fine escape from the stresses of modern day life. Perhaps we should take the advice of Robert Frost's muse and go out to write poems in the countryside.