There are more women jazz musicians on the present scene than at any other time in the music's history. Of course, the sheer numbers are only part of the story. Consider the all-female supergroup Artemis. The seven women in that amazing ensemble—Renee Rosnes, Ingrid Jensen, Anat Cohen, Melissa Aldana, Noriko Ueda, Allison Miller and Cécile McLorin Salvant—are not only in constant demand today; their recorded legacy (both individually and collectively) insures that they will continue to be revered as important contributors to the art. After the Ethan Iverson/Robert Glasper kerfuffle of 2017, several female jazz players assured me that jazz is still a boy's club. But with an increased presence in jazz, and with the inescapable currents of #metoo and extreme political division, more and more female jazz musicians are asserting themselves with music focusing on personal heroes, historical milestones and contemporary politics.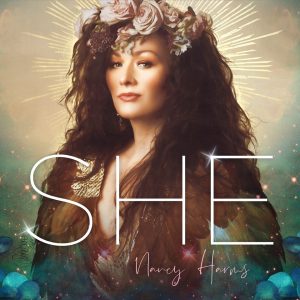 "She" (Gazelle 4) is Nancy Harms' tribute to the women in her life who have survived and thrived despite tremendous adversity. The title track is a  tribute to her grandmother who endured a marriage to an abusive husband, while the second track, the gospel-saturated "Heavenly Body" salutes jazz singer Emily Braden, who has withstood significant critiques regarding her physical size. Harms fully displays her wide range of vocal and emotional power on the third track, "My Tree", as she builds her interpretation from reflective meditation to confident self-affirmation. "Won't Give In" tells of Christie Grace, a Canadian singer who encountered numerous obstacles in her personal life, while "No! Go!" (which also appears at the end of the CD in a "radio edit") seems to encapsulate the entire album's message with its message to go into the world despite any self-perceived flaws. Harms has expanded her musical horizons far beyond the straight-ahead style that helped establish her in the jazz world. However, she has not abandoned jazz, as "She" includes a beautiful cover version of the new Renee Rosnes/David Hajdu song "All But You", which features sensitive vocals from Harms over the delicate piano accompaniment of Fred Nardin. The original ballad "Oslo" also displays more jazz elements with Harms' flexible approach to the song's rhythm, the bass solo by Or Bareket, and understated support of drummer Kush Abadey. While this is not a straight-ahead jazz album, the musicianship of the players and producers—Harms, Nardin and  Arne Fogel—lift the values of this album to a very high level. I wish that jazz were a bigger part of the album's musical world, but I realize that the overall message is the most important element of "She" and it would be tragic if someone who needed to hear these words missed out because the music didn't speak to them. Actually, I am intrigued by the sudden endings of many of the recorded tracks—might some creative expansions of this material emerge within the codas when Harms and her fine ensemble perform this music in concert?
As Harms' album displays a deliberate intent to explore different genres, so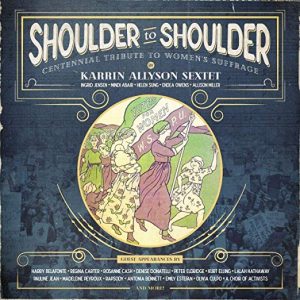 has Karrin Allyson expanded her scope with her new CD, "Shoulder to Shoulder" (E1 46222). Allyson recorded many "concept albums" during her long tenure with Concord Jazz, but this album, which chronicles the history of the women's suffrage movement, is an impressive milestone in her career. Collaborating with arranger John Daversa, and fronting an all-female band featuring Ingrid Jensen, Mindi Abair, Helen Sung, Endea Owens and Allison Miller, Allyson presents an hour-long collection of vintage songs and speeches to tell the story of American women's push for the right to vote. The wide soundscape includes speeches (from archival recordings and in new readings by several guest performers), choral passages (sung by the Frost School of Music's Women's Chorale with added activists and other guests), and string backgrounds (provided by Abigail Young and Arianne Urban, violins; Yael Hyken, viola; and Ashley Garritson, cello). The collective artistry of Allyson and her sextet—along with Daversa's skillful arrangements—maintain the album's high jazz credibility. On Allyson's astonishing take on an 1835 song called "I'll Be No Submissive Wife" she makes the song sound completely contemporary through both her assertive, swinging interpretation, and a brilliantly-executed unison scat passage. Jensen plays brilliantly throughout the album, offering biting commentary to the sounds around her, and Sung draws on her deep knowledge of the jazz heritage and astounding technique to create exciting solos and rock-solid accompaniments. Miller has a field day with the wild stylistic swings, offering everything from parade drum patterns and ricky-tick backgrounds to the overwhelming swing and power that she brings to most of her work. Props also to guest artists Madeleine Peyroux, Denise Donatelli, Veronica Swift, Kurt Elling, Regina Carter and Rapsody, who each make their presence felt without overshadowing the overall message. The album closes with two Allyson originals, bringing the story into the 21st century (Those with a copy of Allyson's previous recording "Some of That Sunshine" will be quite surprised at the new album's transformation of "Big Discount"!). This is a very inspiring album that is very relevant in our current political atmosphere.
The front cover of "Battle Cry" (Airborne Ecstacy 1114) features an illustration of Atlanta vocalist Virginia Schenck in the midst of a primal scream. If such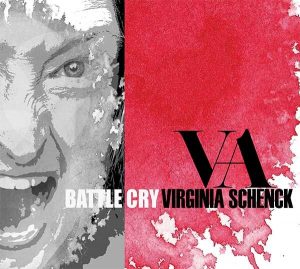 emotions have become part of your daily routine, you should hear this recording. Schenck—or VA, as she likes to be called—is an edgy performer who knows how to convey raw emotion into her music. The repertoire on "Battle Cry" includes several patriotic songs and speeches, but VA has no intention of glorifying the current administration. VA's moaning accompaniment underscores the message of Abraham Lincoln's Gettysburg Address, and in an intriguing sound-loop on the Pledge of Allegiance, she openly questions much of the language. "Hear My Battle Cry" lays out the core problems of today's political dysfunction, while the funky 1970s background reminds us that this is not the first time (and likely not the last time) we will face such issues. A chilling version of "Strange Fruit" exudes all the ugliness of a lynching through VA's slow, painful reading of Abel Meeropol's poem. The central medley of "America the Beautiful" and "Abraham, Martin and John" is a 12-minute exploration of deferred dreams and martyred leaders. The first five minutes of the medley feature saxophonist Kebbi Williams with VA's rhythm section of Kevin Bales (piano), Rodney Jordan (bass) and Marlon Patton (drums) in a slow rendition of the Bates anthem, with anger and frustration bubbling up from below. Yet, in this case, VA's vocal seems to offer hope that we can again "crown thy good with brotherhood—and sisterhood". The segue to Dion's 1960s tribute to King, Lincoln, and the Kennedys is bittersweet, but also looks to brighter days. And while every track on "Battle Cry" is politically charged, VA's opening tracks, "Bali Ha'I' and "Sack Full of Dreams" and the rhythm section's closing reprise of "America the Beautiful" show that the pursuit of beauty can—and should—be part of our daily routines.