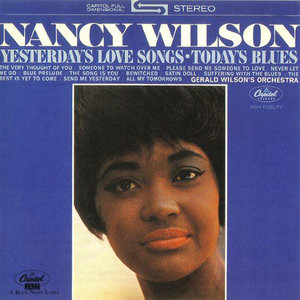 During the 1960s, as British and Motown groups dominated the music industry, jazz lost its popularity among the general listening public. Some say as jazz maintained the musical status quo from the 50s, the genre did not echo the common man's thoughts, hopes, dreams and frustrations. Rock, pop and R&B/soul artists began attracting a larger portion of the listening public as they appealed to the diversity and complexity of the mood of the times. This contributes to the reason Nancy Wilson's emergence onto the scene as a premier song stylist and jazz diva was historic. She became the bridge to the past for future performers and continued a legacy of perfection for decades.
Some partnerships are true American treasures, and the partnership of Nancy Wilson and Gerald Wilson is one of them. They made two albums together, "Yesterday's Love Songs—Today's Blues" and "How Glad I Am". "Yesterdays" was originally released by Capitol in 1963 then reissued in 1991 with 5 additional tracks (four from "How Glad"). The earlier album features Gerald Wilson's big band of the time (which included several of the best Los Angeles jazz musicians of the day). As is true to the present day, Gerald's arrangements are impeccable. Whether it's the way the piano takes on a life of its own on "Suffering with the Blues" or the string arrangement that transforms "Someone to Watch over Me" from an ordinary standard to a journey into paradise, he makes the listener anticipate each succeeding track.
Nancy breathes new life into "The Song Is You". Her vocal range and sassy staccato lyrical interpretation combine with the tenor sax of Harold Land and the trumpets of Al Porcino and Carmell Jones to create an intense conversation.  At times, the horns sound like they are confirming the conversation. Jones' trumpet solo takes us even deeper into the excitement of being in love.  Joe Pass' guitar intro in "The Very Thought of You" creates a subtle yet distinctive mood, leading me to envision that Nancy is about to reveal something private. Jack Wilson's piano accompaniment softens the mood and makes this oft-performed standard a new gem.  Gerald takes Duke Ellington's "Satin Doll" and provides perfect big band orchestration for Nancy's vocal innocence. She pours her heart into the lovely ballad "All My Tomorrows", and her rendition of "Please Send Me Someone to Love" is a prayer letting us in on her deepest desire. Gerald's distinct tempo changes enhance the song's intimacy. Nancy's whisper becomes a sexy plea in "Never Let Me Go" clearly sealing her position as a lover for life.
You can hear elements of Dinah Washington, LaVern Baker and Carmen McRae in Nancy's interpretations. She pays McRae homage in "Bewitched, Bothered and Bewildered" and "Someone to Watch over Me" with flawless vocals. You hear Dinah's and Baker's impact through her powerful accents and inflections on "The Best Is Yet to Come" and "Suffering With The Blues". The vibrato that begins and defines "Blue Prelude" combined with Gerald's horn/piano/string arrangement creates a chilling, haunting sadness.  When she asks, "What is love but a prelude to sorrow?" and Land's tenor saxophone responds, you hear the words in the notes. I'm sure Dinah smiles every time someone plays the song.
The four bonus tracks from "How Glad I Am" feature Wild Bill Davis on organ with Gerald Wilson's rhythm section of guitarist Joe Pass, bassist Jimmy Bond and drummer Kenny Dennis. "The Show Goes On" is a song Wilson still sings in concert and which she always dedicates to her early influence, Jimmy Scott. The song projects the sadness and grief of a beautiful partnership. Davis' organ and Nancy's swinging sassiness bring life to Wes Montgomery's "West Coast Blues". Davis' solo should bring a smile to B-3 fans everywhere.  "Tell Me the Truth" offers proof of Nancy's influence on Marlena Shaw and other jazz/R&B artists. Her storytelling and styling are so engaging that when the song faded, I was quite disappointed, almost salivating for more. The last track, "My Sweet Thing", is the clearest illustration of Nancy's versatility and agility performing in a variety of musical genres. The song was co-composed by Nancy, Gerald and tenor saxophonist Teddy Edwards. While it is clearly a product of the sixties, Nancy classes up the song and makes it memorable. This album is a fine introduction to the elegance, glory, sexiness and depth of "the girl with the honey-coated voice", Nancy Wilson.