It may be only ninety miles from the tip of the Florida Keys to the edge of Havana, but there is a vast chasm of ideologies and cultures between the two countries. The Ninety Miles Project was designed to breach these differences through the art of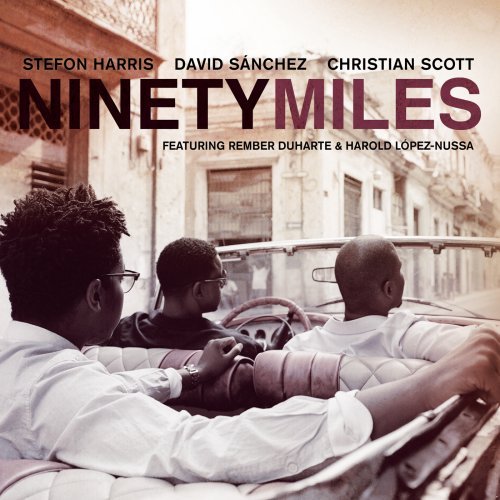 jazz. After experiencing the amazing energy exchange between artists and audiences at a Cuban jazz festival, producer John Burk created this collaboration between the American jazz artists Stefon Harris (vibes), David Sánchez (tenor saxophone) and Christian Scott (trumpet), and Cuban jazz quartets led by Rember Duharte and Harold-López Nussa. It took over a year of negotiating to acquire travel visas to Cuba. The persistence of this creative team has paid off, culturally and musically benefitting all of us.
Harris, Sánchez and Scott were given one week in Havana to recruit, perform and record with local musicians. The CD opens with "Ñengueleru", which begins abruptly with piano setting a delicious groove. Bass, congas, vibes and horns layer in with the flavors of Afro-Cuban and New Orleans energy and style. It is immediately apparent that all of these highly skilled musicians have no problem communicating as they all speak the jazz language. The second piece, "E'Cha" is urban, accentuated with passionate percussion work. Although the vibes sound bright, not as warm as we are used to hearing from Harris, it is mixed well with the other instruments. The rhythm section brings out the warmth of Harris' borrowed instrument. Scott contributes a trumpet solo that whispers and soars.
"City Sunrise" starts off with a definitive Afro-Cuban bass line, continues with a variety of percussion and gradually brings in the horns. It is a beautiful ensemble piece, building and relaxing, blending effortlessly while maintaining the excitement of a city sunrise in a new land. "Congo" has a funk impression coloring its bass and percussion work while "And This Too Shall Pass"  employs a good use of space in the vamp before it forcefully hits the tip of the tune. In "Brown Belle Blues", one can hear the flavors of Havana, New Orleans and New York City. The rhythm section's drive is irresistible to a dancer. The CD closes with "La Fiesta Va" (Harold López-Nussa), a tune that has tasty flow and breaks. With a sax solo by Sánchez that is beautifully understated, expressing power and desire, it is the piece that exposes the appetite for the kind of collaboration this kind of international project achieves. It is a full length CD project at 51:38 minutes which still ends too soon. One is left wanting… but there is more. There is a DVD teaser for the documentary film of this sojourn that accompanies the music CD.
The DVD previews the soon-to-be-released "Ninety Miles Project" documentary. It begins with a shot taken from the back seat of a 1955 DeSoto being driven through the streets of Havana by Harris, Sánchez and Scott, then switches to a shot of them leisurely fishing before it moves into the interviews, street scenes of Havana and live performances. The documentary is directed by Devin DeHaven. DeHaven has visually captured the musical empathy and approval of the musicians as they create in live performance. One can "see" them listening and "hear" them seeing the concept before them. The sneak peek includes two live tunes from the CD: "City Sunrise" and "La Fiesta Va". One can sense the appreciation and high respect that the musicians have for each other throughout these performances. When referring to this cultural collaboration, López-Nussa states (translated from Spanish) " This is what we live from, this is what we feed from" to which Harris adds, "Human beings are so much bigger than 'culture' – we are all the same".
This is a CD/DVD set to add to any Latin jazz fan's collection.