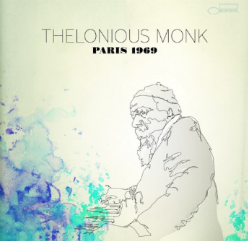 In late 1969, Thelonious Monk was in the midst of his eighth tour of Europe. In November, he had played in a tribute to Duke Ellington in Berlin, and fulfilled a lengthy quartet engagement at Ronnie Scott's nightclub in London. Monk's regular bass and drum team of Larry Gales and Ben Riley had quit earlier in the year, and tenor saxophonist Charlie Rouse was about to pack it in as well. Monk still had Rouse with him, but the rest of his quartet were young and new to his music. According to Tom Lord's online discography, neither bassist Nate Hygelund nor drummer Austin "Paris" Wright made any other jazz recordings following their tour with Monk. However, the group had played with Monk for about two months when they performed at the Salle Pleyel in Paris that December. The concert was filmed for French television, and it offers a riveting performance by the quartet and a brief reunion between Monk and Philly Joe Jones.
If all of this sounds familiar to you, you're probably a jazz video collector and you've seen (and probably have a copy of) this footage. Blue Note has just issued the performance as "Paris 1969" on DVD, CD, LP and digital download. Despite Blue Note's trumpeting this as a first-time release, this concert film has circulated among collectors since its first broadcast, and has been available on a Japanese Pioneer laserdisc and on a French bootleg DVD. To Blue Note's favor, it is probably the concert's first appearance on any audio-only format, and it may be the first authorized issue of the material on an American label. All of the existing footage is presented here, and the Monk family is certainly receiving royalties. For those reasons (and the remarkable music contained within), this is the version to buy.
Monk had been quite ill in the months prior to the European tour, but he plays with great spirit on the Paris concert. While they never show it in their body language, Monk and Rouse seem to relish their improvised counterpoint throughout the performance. Their interplay during the opening minutes of "Straight, No Chaser" are thrilling, even though it apparently caused Nygelund and Wright to push the tempo. There are no tempo problems when Philly Joe Jones replaces Wright.  With Jones in the drum chair for "Nutty", the rhythmic interplay grows exponentially, but it nearly becomes more than Rouse is willing to handle (the saxophonist's sound gets buried with feedback from time to time, and unfortunately that also happens during this solo). In one of the better composed shots of this film, Monk stands downstage to fully appreciate Jones' remarkable drum solo.
The second half of the concert is bookended with two incomplete performances of "Bright Mississippi". The most likely explanation may be a technical problem amongst the television crew during the first half of the piece. The first version starts in the midst of Wright's drum solo, and includes short solos by Rouse and Monk before the recapitulation of the theme. The second version contains the opening theme, and a full solo by Rouse. Hygeland was apparently unaware that the quartet was not going to record the whole piece again, because just as he starts to solo, Monk and Rouse walk off stage and the entire performance breaks down. And that's how Blue Note ends the film! While I respect Blue Note's integrity of keeping the pieces in their original position, they should have edited the two half-performances together. The earlier video issues did a fairly convincing job of assembling these performances (and without including the original credits over Rouse's solo).
The concert film also includes about ten minutes of solo Monk, and an awkward interview between Monk and French bassist Jacques Hess. On the same visit to Paris, Monk had filmed another hour-long TV show, which was all solo piano, and included an uncomfortable interview with Henri Renaud. That film was reissued on a Jazz Icons DVD, and with the Salle Pleyel concert, it remains the most important recordings of Monk during this period. At the time, he was without a recording contract, and his performances started to drop off in both frequency and consistency. Although he would record a few more times (notably in London in 1971), his Paris performances represent the end of an important era. We can be grateful that these performances were recorded and are now available in excellent (and legal) editions.