Mongo Santamaria was born in Cuba and was the grandson of an African slave. He was a ground-breaking conguero and arranger, and his arrival in New York during the 1940s placed him in the center of the developing bebop movement. The marriage of jazz and Afro-Cuban music also occurred during this period, and Santamaria's rich cultural heritage and knowledge of Afro-Caribbean rhythms forged a path into new territory. After working with Tito Puente and Cal Tjader, Santamaria recorded several classic albums as a leader, including the jazz-infused charanga albums "Mongo!" and "Mighty Mongo" before the multi-genre hit "Watermelon Man" made him a household name around the world.
"Mongorama" is a new tribute to Santamaria produced by José Rizo, Oscar Hernandez, Danilo Lozano and Justo Almario. Rizo, the creator of the radio series, "Jazz on the Latin Side", wanted to document the music of Santamaria's career using current technology. Most of musicians on the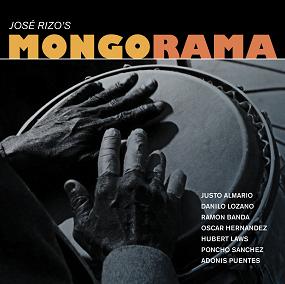 recording are alumni of Santamaria's groups, and some, like guest artist Poncho Sanchez, were long-time associates of the master conguero. Danilo Lozano, whose father Rolando was Santamaria's flautist, carries his father's legacy through another generation. The line-up of tunes is very tasty, although with the vast richness of Afro-Cuban palettes in Mongo's early recording career, we can only hope that this is only the first of many recording projects by Rizo and the Mongorama collaboration as this CD barely scratches the surface.
The opening tune "Bacoso" contains a soaring and elegant solo by guest artist Hubert Laws and expressive solos by Daren Santamaria on violin and Joey De Leon on congas. "Asi Es La Vida" is a delightful tribute containing a signature solo by Poncho Sanchez that recalls the flavor of his mentor. "Las Guajiras" is a Santamaria tune revisited with love, containing a fine coro section, and tight, expressive flute work by Danilo Lozano.  "Bluchanga" adventurously plays on transitions and combinations utilized in traditional charanga and jazz with finesse and skill. Oscar Hernandez's piano licks add exactly the right touch at precisely the right moments.
"No Molestes Mas" is a fun treatment of a long-time favorite pachanga by Gilbert Lopez and Ray Barretto. I prefer a hypnotic and danceable groove when playing this tune, and I wish Mongorama would have played it at a meter about halfway between the original and the present version. And while I admire the beautiful, romantic voice of Adonis Puentes, I'd enjoy hearing him give a rawer, story-telling treatment to this tune. "Palo Mayombe" will move the listener to dance. With beautifully syncopated moments, this version is very tight, with driving piano work by Alberto Salas and cleverly invented saxophone solos. "Siempre En Ti" is rich and romantic like a tapestry. Here is vocalist Adonis Puentes' niche. I only hope the listener has a romantic partner close by to dance with!
"Que Maravilloso" is nicely paced, has a good drive and an interesting chord progression. The piano solo by Oscar Hernandez is reminiscent of Rubén González and beautifully supports the solos that follow. Expressive sax work by Justo Almario transitions the listener into the urban, sultry and romantic "Cruzan" revealing an extraordinary use of dynamics.
The recording closes with a rousing version of "Tin Marin", with bass, timbales and flute solos in a fun, driving descarga style that does not allow the listener to hold still. Behind it all is Mongo's "African beat". It is grounding beauty of Latin jazz in all of its forms. This recording is clean and clear, revealing voicings and balance that do justice to this music in a respectful way.