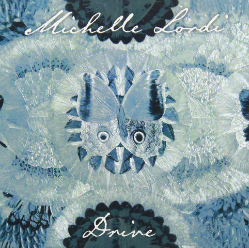 Since jazz is a constantly evolving art form, it follows that jazz artists are also in a continuing state of development. Take a sampling of tracks from various periods of any jazz musician's career, and you will doubtlessly find recordings that are excellent in their own right, but reflect the artist's growth when juxtaposed against each other. It is not even necessary for the artist in question to have several albums available for comparison. For example, Philadelphia vocalist Michelle Lordi has only released two CDs, a 30-minute recording from a few years back titled "Michelle Lordi Sings" and an all-ballads disc recorded last December called "Drive". The earlier recording is quite pleasant: Lordi sings 11 standards with fine pitch, clear diction, and a little bit of charming naïveté. But the later disc reveals a remarkable leap in her interpretive skills: she conveys the simmering sexual undercurrent of "You're My Thrill", the wounded heart of "I Fall in Love Too Easily" and the wistful longing of "My Ideal". The title track comes from an album by the 80s pop group, The Cars, and Lordi's transformation of the song strips away all of the electronica to tell the story of a personal intervention.
Charlie Parker once said that "Music is your own experience, your own thoughts, your wisdom. If you don't live it, it won't come out of your horn". Another jazz saxophonist from a later generation, Archie Shepp noted that "Ballads are the biggest challenge. You can hear every minute of every hour of every year a guy has put in on his horn with a ballad." The same theories certainly hold true for vocalists, regardless of gender. Like many of her generation, Lordi has had her share of life challenges, including the loss of beloved family members, divorce, remarriages, and raising children. She has skillfully parlayed these experiences into her music. She has a deep abiding interest in telling love stories through song. She researches her material thoroughly, as was evident at a recent nightclub appearance in Denver. She introduced the Hoagy Carmichael standard "I Get Along Without You Very Well" by telling the story of how Carmichael received the original lyric as a poem with only the initials J.B. listed as the author. Carmichael set the words to music and then launched a nationwide radio campaign to discover the poet's identity. Jane Brown Thompson came forward to take credit for her work, but she died the night before the song was premiered on the radio. Lordi then created a spellbinding rendition of the song that still haunts me nearly three weeks after I heard it: without any sense of mannerism, she perfectly c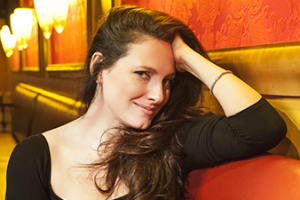 aptured the uneasy feeling of false pride embodied within Thompson's lyric while making subtle adjustments to Carmichael's melody, stretching lines here and there to emphasize important points within the lyric. And while ballads are an important part of her repertoire, she is equally impressive on up-tempo songs. Later that night, Lordi and the band lit into a swinging version of "No Moon at All", and on the final chorus, she sang an ecstatic melodic variation that proved her bona fides as a premier jazz singer.
Lordi told me that although she admires those who do wordless improvisation, she has "zero interest in scat" within her own performances. She also said that on the bandstand, "so much happens in the moment" and that she's looking for ways to channel that musical byplay into her own work. She records and studies her own performances, and she takes advice and inspiration from two senior musicians she performs with every week.  Tenor saxophonist Larry McKenna and guitarist Sonny Troy have played jazz for over 60 years, but had not worked together consistently until Lordi booked them at a Philadelphia jam session. Both men have provided Lordi with long lists of songs to learn and artists to study. Lordi has combined this knowledge with her own musical background, including favorite singers of the past like Chet Baker, Blossom Dearie, Jeri Southern, June Christy, Julie London and Susannah McCorkle, as well as current favorites like The Bad Plus, Melanie De Biasio, and the experimental rock band His Name is Alive. Recently, she's received positive feedback for her live performances of Ryan Adams' alternative country song "When Stars Go Blue". Yet, she has a great love for the Great American Songbook. When I met her in Denver, she told me that she was trying to dig deeper into the "Maiden's Prayer" referred to in the Rodgers and Hart song, "It Never Entered My Mind". Right before I started writing this profile, Lordi sent me a new, understated recording of that song she had just made with McKenna, Troy and bassist Matt Parrish. That track and a long-awaited recording of "I Get Along With You Very Well" will appear on her next album.
As for her current album "Drive", I was rather surprised not to find a healthy sample of the songs within her nightclub set. After the performance, she told me that she considers "Drive" as "a moment in time", noting that it was recorded in one day with a minimum of retakes, and that she considered her original vocal takes to be "scratch tracks" which she would later overdub and revise. However, when listening to the recording, everyone seemed to agree that the vocal tracks needed very little work before the CD was ready to release. After listening to this album several times, I concur with that opinion, and hope that Lordi will sing more of these songs in concert. Further, considering the superb results reached on "Drive", I hope that Lordi will continue to make recordings in this relaxed manner. With fine musicians like Orrin Evans (who produced the entire album and played on three of the tracks), Tom Lawton, Larry McKenna, Madison Rast, and Dan Monaghan, Michelle Lordi has created a fine testament to her developing talent. And if the sample I heard with Lordi, McKenna, Troy and Parrish is any indication, her next album should be equally rewarding.