JIM McNEELY: "BAREFOOT DANCES & OTHER VISIONS" (Planet Arts 301721)
Recorded in 2014 and released this past January, Jim McNeely's "Barefoot Dances and Other Visions", is a recording of rich color and delightful character. The opening number of this seven song suite, "Bob's Here," is the most interesting and innovative item on the agenda.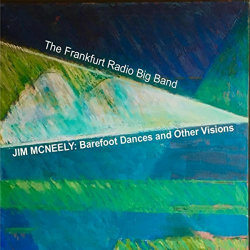 Bob may be "here" but he's taking his time getting to know you. He knocks once, he knocks twice, slips in the backdoor with the stealth of a Steely Dan snoop and a fondness for a brassy soft shoe. As danger lurks, his brassy scat turns legato but his bravado presses him on, his heart beating faster and his swagger returning. Christian Jaksø's superb valve trombone solo adds a touch of savvy to McNeely's cinematic vision, guitarist Martin Scales' scorching guitar solo propels the piece into the rock and roll stratosphere and McNeely's rousing brass arrangements drive this tune to a gorgeous climax. Of all the pieces on the record, this is the one to be coveted by choreographers. "Barefoot Dances" is a beautiful barrelhouse romp with the essence of a second line shuffle and the shine of an evening at the Savoy, equally at home in the concert hall or on the village green in the month of Mardi Gras. McNeely likes to throw a bone to the bones and the band's slidemen do his attention justice: Günter Bollmann's solo is bold and brusque, full of heart and muscle. As the band opens up and swings harder, soprano saxophonist Heinz-Dieter Sauerborn balances Bollman's hearty yang with his own sprightly yin. "The Cosmic Hodge-Podge"  summarizes the vibe of the recording, a 12+ minute McNeely masterpiece that layers the intensity of Basie with the elegance of Ellington. Bassist Thomas Heidepriem sets the table, trumpeter Axel Schlosser's taste is riveting and drummer Jean Paul Höchstädter, who is excellent throughout, makes the most of his opportunities. There are some soft spots on this record, though. Compositionally, "Black Snow" is among the weakest tunes on the album and, programmatically, it feels like it was included as a ballad for ballad's sake. While block chord half notes can be a beautiful thing, McNeely's use of the technique on "A Glimmer of Hope" is a bit tiresome, exquisite though the harmonies might be. Small complaints these, it must be said. Overall, "Barefoot Dances and Other Visions" is a fine set, bursting with colorful character, strong composition and excellent execution.


McCLENTY HUNTER, JR.: "THE GROOVE HUNTER" (Strikezone 8816)
Drummer McClenty Hunter, Jr.'s resume packs the punch of a junior welterweight with a right-left combination that can put stars in your eyes. He holds degrees from Howard and Juilliard, was mentored by Grady Tate and Carl Allen, is a member of  Kenny Garrett's quintet, and has played in the bands of Lou Donaldson, Curtis Fuller, Eric Reed, Javon Jackson and Dave Stryker. He's been a busy man for the last ten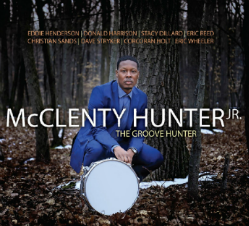 years, and now he has finally gotten down to doing his own thing. And a fine thing it is. From top to bottom, be it Hunter's own compositions or tunes from the catalogs of Herbie Nichols, Stevie Wonder or John Coltrane, this 9-song set tells us Hunter's not only hunted the groove, he's found, captured it and brought home for all of us to hear. After opening the set with a tasty version of Nichols' "Blue Chopsticks," Hunter and his rhythm section of Reed and bassist Corcoran Holt welcome Eddie Henderson and Donald Harrison  for Wayne Shorter's classic, "The Big Push." It's one of those numbers you can hear a dozen times and find something new: the gutsiness of Harrison, the harmonic intelligence of Henderson, the humor of Reed all shine. Saxman Stacy Dillard opens the door for the Hunter original, "Autumn," but Reed is the one who welcomes in the cool breeze and rich colors, his solo work as crisp as the season. Jazz covers of pop songs can be sketchy endeavors, but Hunter does nothing but justice to Wonder's "That Girl." Hunter locks into an easy groove, Dave Stryker, who also co-produced the session, jumps in with a pleasant solo and, once, again, Reed truly shines. His solo here is ebullient, theatrical, and delicious! One of the most beautiful pieces on the record is Hunter's original, "My Love." Rooted in a simple triad pattern—think Satie meets "Colour My World")—the tune is at times quietly reflective, at other times bold and fiery. Hunter pays tribute to Tate with a entirely innovative version of "Sack Full of Dreams," offers up the light swing of his own "I Remember When" and logs in an homage to Coltrane with a driving version of "Countdown." "Give Thanks" is a gorgeous meditation, with Reed, Corcoran and Dillard quietly trading ideas as Hunter softly rings across his kit with a soft set of mallets, a beautiful way to close the set. You'll notice little has been said of Hunter's own playing. It's nearly perfect through the whole affair, of course, at times melodic, at times percussive, sometimes thoughtful, sometimes bold. But for Hunter, it sounds like being spot-on is preferable to being in the spotlight. He reserves the foreground for his combo, a sign of confidence and maturity that's underscores a truly well made record.