It is a sad commentary on our society when school shootings are commonplace occurrences. Still, the Sandy Hook massacre on December 14, 2012 struck a chord with the world because most of the victims were between 5 and 8 years old. Jazz saxophonist Jimmy Greene's daughter, Ana,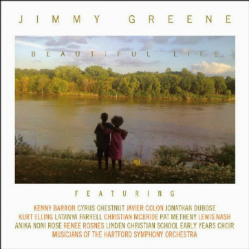 was one of the children who died that day, and Greene's elegiac new CD "Beautiful Life" (Mack Avenue 1093) celebrates Ana with a wide selection of music performed by Greene and a remarkable support group of musicians. The album opens with a tape of Ana singing with a group of children and family members. The track segues into a duet by Greene and Pat Metheny on the hymn, "Come Thou Almighty King", and it closes with another touch of Ana's singing, accompanied by her young brother on piano. Later, on "Ana's Way", Kurt Elling's sensitive interpretation is backed by the Linden Christian School Early Years Choir, a children's choir comprised of several of Ana's friends. The album's personnel includes many of Greene's longtime colleagues. The rhythm section of Renee Rosnes, Christian McBride and Lewis Nash provides a gentle background for Greene's tenor, soprano and flute, while Kenny Barron provides support on two duets, "Where is Love" and "Maybe" (the latter being one of Ana's favorite songs from the musical "Annie"). Two of Greene's originals, "Last Summer" and "Seventh Candle" were written on what should have been Ana's seventh birthday. While both pieces have a graceful swing, there is a bittersweet undercurrent to each, signifying that their composer is moving forward with his life, but still carries a deep feeling of loss. Yet hope is never far away, as reflected in Latanya Farrell's lovely performance of "Prayer" (Greene's setting of the Lord's Prayer) with tender backing from Cyrus Chestnut, and the strings of the Hartford Symphony Orchestra. The final track, "Little Voices" is the only deliberate pull on the heartstrings, with a  Anika Noni Rose recitation about inclusion, and the children's choir singing a repeated "Remember me". We may not think we need the reminder, but then again, will we take notice of the next school shooting?
Memories of a different sort run through Houston Person's new CD "The Melody Lingers On" (High Note 7269). In the liner notes, Person says that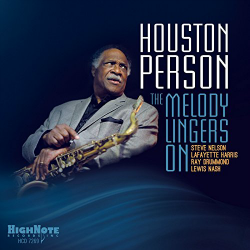 his audiences are people like me, who want to relax and enjoy themselves. I just want to bring back a few memories, add a few touches to things they've heard, introduce them to some things they haven't heard and try to present the music in a way that they get it. Person and his associates Steve Nelson, Lafayette Harris, Ray Drummond and Lewis Nash certainly achieve all of those goals during the course of the CD. The swinging medium-tempo treatment of "My Funny Valentine" represents a departure for Person, who usually plays it as a ballad. However, this light-hearted version provides an antidote for the maudlin renditions by novice vocalists. Person is usually the center of attention on his albums, but on another Rodgers and Hart standard, "Bewitched, Bothered and Bewildered", Nelson is featured on the verse (played as a lovely unaccompanied introduction) and as the primary soloist—a role that Nelson fills admirably. Person has used his albums to premiere fine jazz originals, and this CD includes two: Danny Mixon's "Minton's", which swings smoothly despite its unusual phrase lengths, and Harris' slow and sexy "You Can't Lose With the Blues" which gives Person an opportunity to close the album with a powerful blues solo. "They All Laughed" might qualify as a bit of revisionist history: the locked-hands piano voicings and the vibraphone lead might recall the George Shearing Quintet, but the rhythm section's swing is much looser than Shearing's group could ever accomplish! On the other hand, the patronizing lyrics to "Try A Little Tenderness"—thankfully absent in this recording—clearly belong to the fifties, and that's where Person puts it, with a slow 12/8 treatment that sounds like an old rock 'n' roll record. Clearly, this album does not blaze new trails in jazz expressionism, but its charming arrangements and solid performances make it a noteworthy addition to the discography of Houston Person.
Dayna Stephens' new disc "Peace" (Sunnyside 1399) effectively combines the strains of memories and memorials. Only in his mid-thirties, Stephens is profoundly aware of his own mortality. He suffers from a rare kidney disease called focal segmental glomerulosclerosis, which requires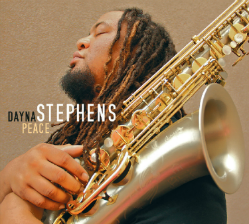 thrice-weekly medical treatments and has him in search of a new kidney. "Peace" is dedicated to three jazz musicians who died in the past year: Horace Silver, Charlie Haden and Dwayne Burno. The title track—an unusual Silver composition, but one of his most beloved—was recorded about four months before the composer's death. However, this version serves as a fine tribute with Stephens' tenor, Brad Mehldau and Larry Grenadier delicately interweaving lines over Eric Harland's pulsating drums. Julian Lage's warm-toned guitar is a superb foil for Stephens' breathy tenor and Mehldau's mercurial piano on an extended version of Jobim's "Zingaro".  Stephens grew up in the Bay Area, so "I Left My Heart in San Francisco" might seem an obvious choice, but what really appeals to me is his understated approach to the baritone sax. The gruff, low tones that have been associated with the instrument since Harry Carney are mostly absent in Stephens' style, which gives the large horn a renewed feeling of lyricism. He also plays baritone on "Body and Soul", and Stephens' soft approach reminds me of Serge Chaloff's heartbreaking version of that standard. The centerpiece of the album is a collection of three themes from Italian films, Ennio Morricone's "Brothers" (from "The Mission") and "Deborah's Theme" (from "Once Upon a Time in America") followed by Astor Piazzolla's "Oblivion" (from the Marco Bellocchio film of "Henry IV"). Stephens plays soprano on the first and third parts of this suite, and he displays a rich tone and delicate approach to the instrument. Throughout this album, Stephens displays remarkable poise and maturity, and there's no telling what treasures may lay within his future. Let's hope he gets a healthy new kidney so that he can continue making incredible music for years to come.