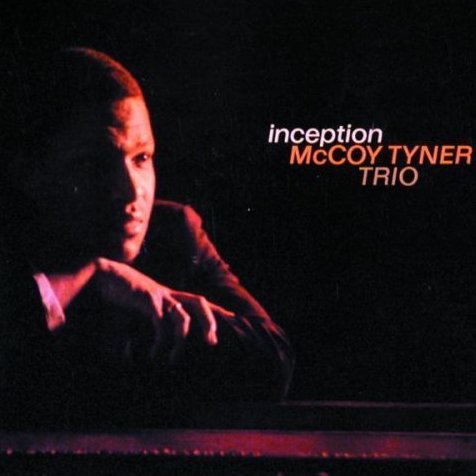 McCoy Tyner's "Inception" is the kind of record that grabs hold of you from the first note to the last. My mentor, jazz pianist David Hazeltine hipped me to this record. He understood its importance: driving, swinging, no-holds barred piano solos backed by a supportive rhythm section. The playing is dynamic on each track. Tyner's solos throughout are raw and showcase his young adventurous personality. "Inception" was recorded in 1962 during his tenure with the John Coltrane Quartet, and was Tyner's first release as a leader.  This session shows Tyner as a master of the hard-bop idiom and also offers a glimpse of the musical path he blazed under the influence of Coltrane. Jazz musicians and critics alike consider "Inception" as well as Tyner's three succeeding trio releases "Reaching Fourth," "Nights of Ballads and Blues" and "Plays Ellington" to be some of the finest examples of jazz in the piano trio setting.
There is a driving quality that resonates throughout this record. The 24 year old pianist is free to stretch and weave his lines throughout the six selections. The record is well-paced with standards like "There is No Greater Love" and "Speak Low" and originals like "Blues for Gwen" (the name of Tyner's sister) and "Inception". Clearly, Tyner put in some extra thought in arranging each tune, and made this album more than just another blowing session. Bassist Art Davis and drummer Elvin Jones provide a solid swinging foundation. For many who are familiar with Jones' drumming with Coltrane, it's refreshing to hear Jones showcase his talents in a different setting.
It's clear that Tyner wanted to make a strong statement with his initial effort as a leader. On "There is No Greater Love",  the fiery double time lines that start his solo showcase the "no resolve" type of playing that make up this record (as well as the vibe of the Coltrane classic quartet). Davis and Jones allow the pianist to freely explore the standard over multiple choruses while tastefully supporting and swinging all the way. At this point in Tyner's career, it is clear that the harmonic influence of John Coltrane is beginning to take hold. "Effendi" is a modal composition by the pianist. In the years to follow, this is the type of tune that the pianist would employ quartal harmonies and pound out an open fifth drone in the left hand offset by jabs in the middle register that accentuate his pentatonic right hand lines. In 1962 however, Tyner is just beginning to explore the quartal harmonies and often falls back on many bebop conventions during his solo. While every tune on this record is stellar, the title track "Inception" epitomizes the effort.  This extended minor blues is exciting and memorable from start to finish. The introduction and melody grab the attention of the listener. This is followed by a dynamic solo by Tyner who then leads the group in whole tone themed figure used to trade with Elvin Jones.
This Rudy Van Gelder engineered session has his signature sound and also captures musicians in a natural, un-edited session. Each year I find this element more and more appealing. The minor mistakes that pop up here and there make me respect the effort even more. In a society today that is bred on "perfect" sterile recordings, the classic Impulse and Blue Note sessions from the 50s and 60s continue to remind us why they attract and influence listeners.  "Inception" remains one of my greatest influences as a pianist, and I highly recommend the album.
"Inception" is currently available on CD, paired with the Tyner album "Reaching Fourth", on Impulse 5334721.