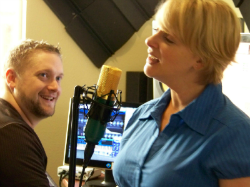 Two of the most progressive voices in vocal jazz ensembles do not live in the thriving music centers of New York or Los Angeles. Rather, Kerry Marsh and Julia Dollison reside in the quiet college town of Greeley, Colorado. Marsh is in his second year as director of the University of Northern Colorado's vocal jazz program, while Dollison has just completed a year as an applied jazz voice instructor at Metro State University in Denver. Yet the scope of this married couple's talent stretches far across the country: Marsh arranges, rehearses and leads choirs for pop singer Ben Folds, and he has published nearly 150 vocal jazz arrangements through UNC Jazz Press and his own website. For several years, Dollison was one of the best singers on the New York jazz scene, where she released her first album, Observatory. Marsh and Dollison are in constant demand as clinicians at jazz festivals throughout North America. They currently lead a stellar vocal quartet called Vertical Voices (You can read a review of their current album "Fourward" here). However, it was when Vertical Voices was just Marsh and Dollison that they created their masterpiece, "The Music of Maria Schneider" (ArtistShare), which finds the two vocalists flawlessly singing all the horn parts of Schneider's big band compositions, with the backing of Schneider's rhythm section (and Schneider herself offering advice and encouragement from the control booth.) For this exclusive Jazz History Online interview, Thomas Cunniffe spoke with Marsh and Dollison by phone from their Greeley home about their lives, the Schneider album, and their current and future projects.

Thomas Cunniffe: To better introduce you to our readers, could you each tell me a little about your early lives and education?
Kerry Marsh: I'm originally from a small town in Kansas called Great Bend. I was born and raised there, and then I went to the University of Kansas for my undergraduate degree in Music Education. Then I attended the University of North Texas for a Masters in Jazz Studies with an arranging focus. For the next decade, I led the vocal jazz ensembles at Sacramento State.
Julia Dollison: I'm from "all over". I was born in Cleveland, but we only lived there for about six months before we moved to Virginia. I spent most of my childhood in Memphis, and in an interesting coincidence, I went to high school in Sacramento. I received two degrees from the University of Miami, and ended up as part of their faculty. I spent about five years in New York, where I sang with my own groups.

TC: How did you two meet?
KM: I first heard Julia at the 2003 IAJE Conference in Toronto, where she performed a set with her New York band. We met briefly after her performance, and I kept up with her career after that. In 2005, I brought one of my groups to Long Beach for the IAJE Conference, and I told my choir that their only requirements were to be there for their sound check, performances and Julia Dollison's set. Julia also came to hear my choir's performance. We started to hang out at the end of the conference, and I flew out to New York the next Wednesday to see her. We had a quick romance and six months later, we were married on a cruise ship. After that, Julia moved to California and helped me develop the vocal jazz program at Sacramento State.

TC: Maria Schneider played an important role in your careers. I understand that before the two of you met, both of you already knew Schneider. Can you tell us about those meetings?
JD: One of the great benefits of the University of Miami's program was that they brought out Maria to conduct our Concert Jazz Band. I was singing with the band, and at the time, Maria was considering the idea of having a vocalist wordlessly double the melody lines. Through a couple of e-mails, Maria agreed to give me an opportunity to sing those parts. This was before Luciana Souza or Kate McGarry had recorded these lines with the band, so I had to pick out the melodies as best as I could before Maria came to town. When I moved to New York, I sang with Maria's orchestra when I was available.
KM: In my undergraduate years at KU, I played piano in the jazz ensemble. Our director, Dan Gailey, was close friends with Maria, and she came out three times while I was there. When I went to North Texas, she came out for the Gomez Artist Fellowship. We had terrible weather that week, and an ice storm closed the campus for the first four days of Maria's five-day residency. The school said that any students wanted to brave the elements and go over to the apartment building where Maria was staying, could get private arranging lessons. I went over there a lot, and we looked at several arrangements, watched TV, and generally hung out.
TC: Your album of Schneider's music is stunning, from the original—and rather audacious—concept through its amazing realization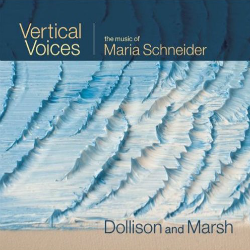 on the CD. How did this project start?
JD: On one of our first dates, while I was still living in New York, we called Maria and she said "I'm so happy you two are a couple! I know you both, and you're dolls together!" She took us out to dinner, and we told her that we wanted to record her music, since she was a common thread between us. She was pretty skeptical, and said that her music was very difficult, and that we were gluttons for punishment, but to forge ahead if we wanted. We took the first minute of her piece, "Journey Home" and recorded it, as much to find out if we could do it as to get Maria's approval. We whipped it up overnight and sent her an mp3 of the results. She said, "I approve. You have my blessing."

TC: How did you start recording this album?
KM: Because the tempos of Maria's pieces "push and pull", we decided that we couldn't use a standard click track. Instead, I created a moving track that corresponded to the changing tempos on Maria's big band recordings. Next, I recorded a set of temporary rhythm section tracks via MIDI. We discovered early on that we needed to differentiate the sound of the various horn sections. Since we were singing without words, we decided to modify the scat vowels so that the trumpets, trombones and saxophones all had unique sounds.
JD: We also adapted our sounds wherever Maria scored for a muted instrument. We would sing those parts with a breathier sound and then return to the edgier sound when the instrument played open.
KM: I recorded my vocal parts first, so that we'd have the foundation of the trombones and low saxes. Then Julia laid down clarinet, flute, alto sax, trumpet and flugelhorn parts.
JD: I was able to just come in and float over what Kerry had recorded. It was pretty luxurious! We recorded in shifts. I'd stay up all night and record all my parts. Then I'd go to bed and Kerry would take over in the studio.
KM: We recorded everything in sections, and it would take three to four sessions to record all of the parts for each piece.
TC: I love how your voices cover the entire instrumental range, including a very low "vocal fry" for a bass trombone on "Sky Blue" to the extremely high trumpet parts on "Dança Illusória".
JD: I could sing all of the notes since I'm a high soprano, but there was one A-flat that was just beyond my range, so I whistled it!
KM: Our assistant engineer nearly jumped out of his seat when he first heard that!

TC: So, once you had the ensemble vocals recorded, what was the next step?
KM: We took stems of the vocal recordings with us to Bennett Studios in Englewood, New Jersey. We worked with engineer Dae Bennett, who is Tony Bennett's son. Maria's rhythm section [Frank Kimbrough (piano), Ben Monder (guitar), Jay Anderson (bass) and Clarence Penn (drums)] came in to record their parts. They played to our finished vocal parts and the moving click track. Sometimes my moving click was a little jagged and I'm surprised how well they adapted to it.
JD: We also recorded "scratch" solos—which we knew we could re-record—to give the rhythm section an idea of the musical direction. And Maria was there with us. I think she secretly got a kick out of re-imagining these pieces, and she coached the rhythm section. We were grateful for all her help. She didn't want any credit on the album.
KM: Well, her name is on the cover! She had a bad cold, but she fought through it, and she took a pretty big role in the studio. She'd get on the talkback mike and say "Clarence, it should be a little more floaty there". Later on, she helped us put together a promotional video which we included in our ArtistShare package. Of the solid year we spent on this project, we took about a third of that time putting together videos.

TC: Your album was released in March 2010, about the same time as Bobby McFerrin's multi-tracked CD, "Vocabularies". Were you aware that a similar sounding project was in the works?
KM: Ours came out about two weeks before Bobby's and we were very grateful for that! We knew about Bobby's album since  Roger Treece [another UNC alumni and the arranger of the McFerrin album—TC] had sent me sample tracks. We could tell it was a huge project, but we didn't compare our release dates. When Bobby's album came out, it became one of our desert island discs.
JD: Since the two albums were released closely together, our album and Bobby's were mentioned in the same reviews. That was very flattering!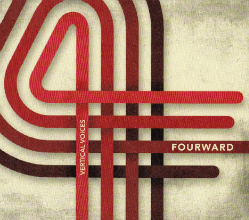 TC: A few years ago, you expanded Vertical Voices into a quartet with the addition of fellow vocal jazz educators Jennifer Barnes and Greg Jasperse. You got a lot of positive publicity when you did an impromptu set at the 2013 Greeley Jazz Festival when the headliners Take 6 were late arriving from the airport. How did that gig come about?

KM: All four of us were judging vocal jazz ensembles at the festival that year. Julia and I arrived in Denver about 3:30 in the morning. After getting our rental car and driving the 50 miles north to Greeley, we arrived about a half-hour before the preliminary meeting for all of the judges. Julia and I judged the whole day on very little sleep. Around 5 pm, we heard that Take 6 was delayed, and the festival asked us to fill in. We threw together some rhythm section charts, and with about 25 minutes of rehearsal and a very quick sound check, we put together an hour-long set!
TC: Are there any new recordings in the works?
JD: Yes! We're starting to work on an album of Pat Metheny's music. He's been a big supporter of ours, and he's offered to send us some unrecorded original ballads. I'm also putting together a new solo album. For the most part, it's still a blank canvas, but I think I want to make it a primarily vocal album with just a little piano here and there, and perhaps a little cajon.  It's been about eight years since my first solo album, so I hope to have this one completed in time for the ten-year anniversary.
TC: The Schneider album has broadened the expectations of what the human voice can do, and Kerry's work with Ben Folds has helped to broaden the scope and popuiarity of vocal ensemble music. We've come a long way from the college vocal jazz ensembles that were almost exclusively based on a big band model. What do you see as the most important trend in vocal jazz today?
KM: I don't want to lose the big band model entirely, but I'd like vocal jazz ensembles to catch up with modern big bands. Most of the music sung by college groups goes back to fifty-year-old music. I think that vocal jazz can be a lot more advanced than that. Harmonically, it can't be extremely intricate, but it could be a lot more that it is. Also, I think we should follow the trend of groups like the Swingle Singers, who perform harmonically enriched versions of songs you can still hear on the radio. I've done this with some of my choral scores for Ben Folds. I believe we can introduce jazz elements like thicker harmony and improvisation into these pieces. Also, choral composers like Eric Whitacre have used jazz voicings in their works. So students that sang "A Boy and a Girl" or "Cloudburst" in high school are ready to sing tension-filled chord clusters. The streams of vocal music are converging.
BONUS VIDEOS: Here are two promotional videos from the Schneider project. The first includes footage of the rhythm section recording sessions, and interviews with Marsh, Dollison, Schneider and others. The second offers direct comparisons between Schneider's big band recordings and the Marsh/Dollison vocal versions. Please note that the featured albums are no longer available through ArtistShare, but can be purchased through Amazon, CD Baby and iTunes.