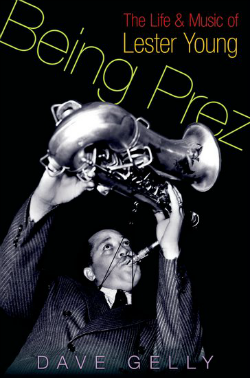 It would be hard to imagine Lester Young being anything except a jazz musician. He was extremely shy, and he created an insular universe to protect himself from the cruelties of the outside world. He was only comfortable around black jazz musicians, and he devised a secret language filled with code phrases that few could fully comprehend. He is credited with the phrase "tell your story" as a metaphor for jazz improvisation, and it seems that the only time Young was an extrovert was when he used his horn and told his own story. More than any other jazz musician, Young's solos were emotionally transparent. It was easy to tell if Young was elated, combative, depressed or just uninspired. It would seem that the most logical approach to Lester Young's life and music would be to discuss them together. However, none of the existing biographies of Young (save the one under review here) have taken that approach. Dave Gelly's slim but informative biography, "Being Prez: The Life and Music of Lester Young" (published in North America by Oxford, and elsewhere by Equinox) makes the essential connections between Young's personal life and his public music.
Young started playing saxophone as a teenager in his family's band. Young's father was a taskmaster, and his mean spirit was the exact opposite of his son's sensitive soul. Gelly suspects that Lester was forcibly taken from his mother's care at the age of ten, and that any hope of a normal upbringing went away when he started traveling with his father's band. Whenever Lester had a conflict with his father, his immediate impulse was to run away. The pattern repeated several times during his life, notably when he was trying to avoid the draft during World War II, and at the end of his life, when he moved away from his family so they would be spared the sight of his gradual decline. When he was eighteen, Young left the family band, playing in a wide variety of big bands, both territory groups like Walter Page's Blue Devils, and the nationally known Fletcher Henderson Orchestra. The latter job was one of the unhappiest of Young's career. Young's light, feathery sound and melodic approach to improvisation was in direct opposition to the established style of Coleman Hawkins, who had just vacated the spot Young had won. At this time, Young's style was probably well-formed, but he had not yet made a commercial recording.  Henderson may have hired Young strictly on word-of-mouth, and when the musicians tried to play some of the band's arrangements with him, they found that the sax scorings did not sound right without Hawkins' beefy sound on the bottom end. Henderson's wife even tried to "correct" the problem by waking up Young at 9:00 in the morning and playing recordings of Hawkins for him. Needless to say, that approach didn't work either.
By all accounts, Young was happiest when he was a member of the Count Basie Orchestra. He was a natural at creating background riffs, which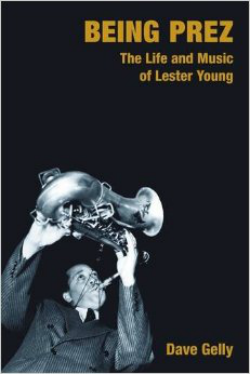 were a key part of the Basie band's Kansas City style. Further, his sound was a perfect foil for the darker toned tenor saxophone of Herschel Evans. Gelly properly notes that Evans was not a disciple of Hawkins—rather, he had a similar blues-based background to Young—but the different approaches and sounds of each man were enough to exploit Basie's then-innovative idea of having two tenor sax soloists in his band. Through Basie, Young made his first recordings in 1936 (when he was the relatively ripe old age of 27). When the band settled in New York, Young recorded more sides with Basie (many of which show Young as a major creative force in the band) and with Basie's then-vocalist, Billie Holiday. Holiday and Young were never lovers, but they were longtime friends and great musical partners. Gelly discusses several of the Basie and Holiday recordings with minimal jargon. As a professional tenor saxophonist himself, he describes Young's use of alternate (or "false") fingering in easy-to-understand language. It could be said that with the book running only 147 pages (in the Equinox edition that I read), there was plenty of room for more musical discussion, but the recordings Gelly chose make his points well.
Young's career from the outbreak of World War II to the end of his life two decades later remains the most controversial part of his story. Young was said to have quit Basie's band because he didn't want to record on Friday the 13th. Gelly dismisses this story out of hand, and offers a compelling set of reasons why Young went out on his own. Gelly also takes issue with the old myth that Young's playing was never the same after his disastrous year in the Army, correctly noting that Young's 1942 recordings with Nat King Cole and Red Callender (recorded before Young was conscripted) have the same heavy tone that supposedly came out after Young's discharge. Gelly reasons that the format of a group led by a solo saxophonist was still new at the time, and Young was testing new waters. Further, Gelly cites several later recordings where Young's sound is as buoyant as in the salad days with Basie. There's no question that the world war affected Young—not even he could escape it—but the horror became much worse when he was inducted into the Army. Gelly uses all of the publicly available documents to reconstruct what happened to Young while he was an Army private, but even Gelly admits that the full truth may never be known.
Gelly is an acknowledged expert on the final 15 years of Young's life, having written the notes to the box set "The Complete Lester Young Studio Sessions on Verve". He analyzes Young's interviews, his known biographical details, and his wildly uneven recordings to help readers understand the difficulties of Young's life during this period. He has no qualms about detailing poorly played recordings, or of the highlights. He reasons why Young's own band was more of an artistic success than usually reported, notes Young's triumph in the short film "Jammin' the Blues" and his later diffidence towards Jazz at the Philharmonic, and evaluates the brilliant late recordings by Young with pianists Teddy Wilson and Bill Potts. Young's reunion with Holiday on the television show "The Sound of Jazz" is discussed, but not his appearance with Hawkins on Art Ford's TV series "Jazz Party". Finally, he writes about Young's final descent, his trip to France (which partially inspired the film "Round Midnight") and his final days back in New York.
Gelly's slim volume offers a well-modulated compendium of the facts about Lester Young. While obviously not as detailed as the biographies by Frank Büchmann-Møller, Lewis Porter or Douglas Henry Daniels, Gelly's well-written and thoroughly researched narrative effectively tells Young's biography and makes strong connections to the music he left behind. For new fans and college students short on time, this book may be just the right introduction to the life and music of one of jazz's greatest originals, Lester Willis Young.