Before her concert at the Soiled Dove in Denver, I asked vocalist Lauren Kinhan about some of the subject matter in her new album "Circle in a Square". Some of the imagery in her original "To Live or Die" made me think that it was an anti-war song, but Kinhan said that the inspiration came after the suicide of a family friend. Then she said something that truly surprised me: since the music was now in the public's hands, she was open to alternative interpretations o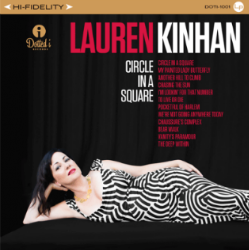 f her lyrics. Most writers try to create imagery so concrete that their meaning cannot be misinterpreted. Perhaps because her lyrics are for jazz compositions—most of which Kinhan wrote both words and music—she is willing to leave all of the elements open for new interpretations. 
"Circle in a Square" is Kinhan's best album to date, and a brilliant realization of her diverse musical world. Funded through a Kickstarter campaign and featuring an all-star roster of New York's finest jazz musicians, the music incorporates swing, bebop, rumba, chanson, R&B, soul, funk and pop. But the number of elements is less striking than the way Kinhan mixes them into her own style. For example, "Bear Walk" starts out as a deeply funky piece about a cheating spouse, but near the end, Kinhan inserts a serpentine line that sounds like it came from a bop improvisation. "Chaussure's Complex", with its witty references to shoes and feet, started when Kinhan decided to channel the spirits of Duke Ellington and Peggy Lee, but eventually became a mixture of a tango and a French bistro song. On the CD, Gary Versace's accordion provided the Gallic touch, but at her Denver concert, the rhythm section of pianist Martin Bejerano, bassist Mark Simon and drummer Paul Romaine started with a Latin beat before veering it into straight swing at the end.
Kinhan told me that she built the album around her rhythm section Andy Ezrin (the longtime pianist for Kinhan's primary gig, the New York Voices), bassists Will Lee and David Finck (who alternate on the album) and drummer Ben Wittman. In either incarnation, this rhythm section acts as a tightly grooving unit which can interpret Kinhan's complex scores with ease. When the vocal and rhythm tracks were completed, co-producer Elliot Scheiner thought that the album was ready for release, but Kinhan wanted to add several instrumental voices for color. Her gospel ballad, "Another Hill to Climb" used a string quartet led by Sara Caswell and arranged by Rob Mounsey, Romero Lubambo's guitar and Aaron Heick's alto flute enriched the fleet and wordless "Chasing the Sun", Randy Brecker appears on the title track and "Bear's Walk", and saxophonists Donny McCaslin and Joel Frahm play on two tracks each. As expected with artists of this caliber, each brought a new dimension to the music, but in Denver, most of that responsibility went to Bob Rebholz, who covered the parts with a bevy of saxophones and flutes, while introducing new ideas (his hard-edged rock and roll tenor was an especially fine addition to "Bear Walk").
"Circle in a Square" was released in early January, and Kinhan's Denver performance on February 5 was the last stop of her first tour with the album. Still, the music is already starting to morph in performance. Bejerano opened "Another Hill to Climb" with an extended and nearly abstract piano passage, and when Kinhan entered, the tempo was slower than on the album. Both elements could have been a reflection of the song's original inspiration, Donny Hathaway's recording of "A Song for You", but Kinhan's live performance eclipsed her original recording, building from passages half-spoken and half-sung to an overwhelming conclusion with dramatic shifts between her high and low registers. Kinhan closed the concert with the title track of her album, and she invited local vocalist Aubrie Hamrick and eight members of Rocky Mountain High School's Spotlight/Syrens jazz choir to sing the backup vocals. Having neither rehearsal nor sound check, it was difficult to hear the additional singers at first, but once the technical problems were solved the combined voices were raised for a stunning conclusion. Kinhan's song was inspired by her husband's burgeoning vinyl collection, and tells of the way music marks important points in our lives. On a frigid February night in Denver, Lauren Kinhan united our spirits and created a memorable event for all of us.