CYRILLE AIMÉE: "LET'S GET LOST" (Mack Avenue 1097)
In a way, Cyrille Aimée's new CD, "Let's Get Lost" is the exact opposite of her previous album "It's a Great Day". On the new album, the mood is darker with a greater emphasis on ballads. Aimée retains most of the band members from her previous album, featuring guitar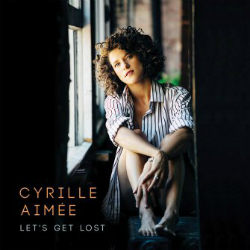 ists Michael Valeanu (who contributed several of the arrangements) and Adrien Moignard, bassist Sam Anning and drummer Rajiv Jayaweera, and they display a wide range of styles throughout the album. On the opening track, Stephen Sondheim's "Live Alone and Like It", the arrangement alternates between a slow blues and a medium tempo gypsy swing (neither germane to Sondheim!) There is a folkish quality to the setting of "There's a Lull in my Life", and it sounds like one of the guitarists doubles on ukulele during the giddy version of "Three Little Words".  Aimée sequenced the album to document the story of a relationship, and as the tale progresses, she uses an intriguing mix of American, Dominican and French standards to represent the arc of the love affair. Unfortunately, there are no English translations of the Spanish and French lyrics, so some listeners may miss out on some of the narrative. Aimée's eternally sunny vocal presence permeates most of the tracks, but she finds ways to shade her sound, as in the off-handed way she launches into her scat solo on the title track or in her understated manner of singing the French lyrics on her original "Samois a Moi". The narrative breaks down temporarily with the placement of the scat feature, "Laverne Walk" between the wistful "Nine More Minutes" and the heartbreaking "That Old Feeling"; however, these three tracks also reveal the impressive breadth of emotions that Aimée can evoke. The following track, "Each Day", lyrically brings the cycle full circle, but the sudden introduction of Aimée's duet partner Matt Simons and the pop style of the track makes it seem out of place. Ironically, the "bonus track", "Words" might have smoothed out the narrative had it been sequenced earlier in the track list.  Nevertheless, "Let's Get Lost" marks a new maturity in Cyrille Aimée's work, and it will be interesting to see the directions her art makes in the coming years.
STACEY KENT: "TENDERLY" (Okeh 15677)
Despite being born over three decades apart, Stacey Kent and Roberto Menescal shared passions for American Popular Song and Brazilian music.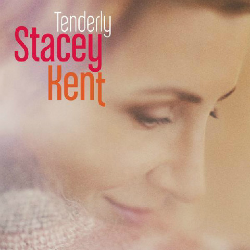 Their chance meeting five years ago at a concert in Rio led to a friendship and an invite for Menescal to play on two tracks on Kent's previous disc, "The Changing Lights". Now the two musicians have reunited for Kent's Okeh debut, "Tenderly". Kent's breathy, intimate vocals are ideally matched to the reduced ensemble featuring Menescal on guitar, Kent's husband Jim Tomlinson on tenor sax and flute, and Jeremy Brown on bass. Her subtle methods of interpretation are especially well-captured on ballads like "The Very Thought of You", "In the Wee Small Hours of the Morning" and "Embraceable You". While Kent does not engage in any vocal gymnastics on the album, her occasional leaps into melodic paraphrase show that she has a gift for creating new melodies when the situation calls for it. And on lighter tracks, like "No Moon at All", she demonstrates a finely-calibrated sense of swing. Menescal seems quite content to be Kent's primary accompanist, playing electric guitar throughout the album, evoking the understated tones of his early idol Barney Kessel (and on the duet version of "If I'm Lucky", another great guitarist/accompanist, Joe Pass). Tomlinson's tenor appears from time to time, like a ghost of Stan Getz (his alto flute seems less attached to his influences) and Brown's sturdy bass lines act as a cohesive glue to connect all of the various elements. With the exception of Menescal's gently-swinging original "Agarradinhos", all of the tunes are American pop standards, and Menescal's simple, unfussy arrangements keep the focus on Kent's delicate voice. This intense, personal album is one to treasure.
JENNY MAYBEE & NICK PHILLIPS: "HAIKU" (Nick Phillips Music 142102)
Nick Phillips is best known as a Vice President at Concord Records, but his albums as a trumpeter show that he is a thoughtful improviser with a unique approach to creative music. As on his previous CD, "Moment to Moment" (with Cava Menzies), his new album "Haiku" is a collection of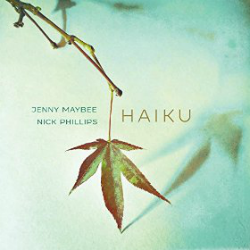 atmospheric pieces best appreciated as a unified whole. What makes this album different is his collaborator, Jenny Maybee, who is equally talented as a vocalist and pianist. Maybee sings on seven of the album's eleven tracks, and her unique style seems fairly sedate on the surface, but is capable of sudden intensity whenever the music demands. These qualities make Maybee a great partner for Phillips, whose moody trumpet improvisations frequently take unexpected turns. Bassist Paul Eastburn is highly responsive throughout the disc, offering fine countermelodies and appropriate musical reactions to the creative impulses of Philips and Maybee. "You", a Phillips composition which also appeared on "Moment to Moment" gets a fine reading here, with the hypnotic tango rhythm enhanced by Maybee's spirited reading of the lyrics and Phillips' striking improvisation. On "The Meaning of the Blues", Maybee's soft piano lines provide a fine counterpoint to Phillips' bruised interpretation of the melody. When she sings on the next chorus, Maybee interprets the lyrics with great sensitivity, while making daring variations to the melody.  The album's other standard, "Blue Monk" is treated to a very unusual arrangement. The first chorus is played rubato by piano and trumpet with the main motive appearing in fragmented form. When the time kicks in on the following chorus, the blues harmonies are dramatically altered from the original. Eastburn plays sections of the melody in his solo, but it is not until the final chorus that we hear the full  melody in conjunction with the altered harmony. The mood of the album remains somber throughout, although Maybee's exuberant performance of her original, "Heaven" threatens to break through the clouds (although Phillips still plays his solo with a cup mute!). While this album is much less of a "vocal record" than the other CDs in this survey, its understated mix of vocals and instrumentals should appeal to jazz fans of both genres.