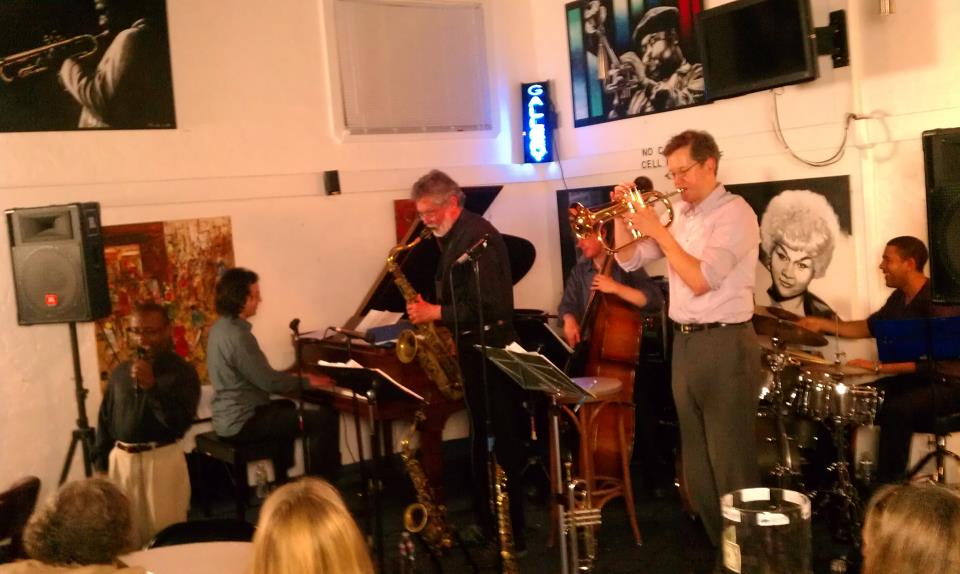 Oakland's 57th Street Gallery is not a typical jazz venue, but it is a hidden gem. This cozy nook, owned by Bay Area local Floyd Pellom, has a rootsy charm, and its vibe is warm at heart and cool in spirit. The whitewashed walls are decorated with paintings and photographs, many created by jazz musicians. Initially, the acoustics were not optimal, but once the music was flowing and the sound technician made some adjustments, the echoic distraction gave way to a night of spectacular jazz.  Vocalist Kenny Washington was billed as the headliner, but he performed as an equal member of Michael O'Neill's sextet.
The band dug in with a lively rendition of "Cheek to Cheek", and the musicians displayed great ensemble playing on a tight arrangement.  It was hard to hear Washington's voice on this first tune, but he came through clearly on the next song, "Alone Together". His Stevie Wonder influence was immediately apparent. Later in the song, his fearless, inventive scat solo alternated percussive, trumpet-like spits with soaring, open phrasing.  "All the Things You Are" began with a Latin 4/4 beat that felt rather awkward, almost as though the time signature was being altered.  The tune came off well though, with drummer Lorca Hart offering responsive interplay during Washington's vocal solo.  Hart's playing was superb, but in the first few songs, he was a bit heavy-handed, drowning out the piano solos at times.  He finally laid back on "Dinah," at the end of the first set.  This tune was another vocal treat from Washington.  His expression of the lyric was both sweet and sassy, creating an endearing sincerity.  Michael O'Neill and Erik Jekabson offered up a precious duet on sax and trumpet, which lead into a playful and energetic trading of 16's and then 8's.
Hart hit his stride on kit in the next set, giving much better attention to dynamics and winning us over as a skilled drummer and a fine musician.  On "Nomahi," he gave solid assists to O'Neill and bassist Dan Feiszli, building momentum and giving their solos form and tension they would have otherwise lacked.  The whole band burned on "It's All Right with Me."  O'Neill switched over to soprano sax and played with a driving grit not often heard on this high instrument.  Ben Stolorow's  piano solo was in the pocket all the way, and benefitted from a spectacular interplay with Hart. Another very special moment in the show was Washington's delivery of "Do You Know What It Means to Miss New Orleans?"  He is originally from New Orleans, and he serenaded us with his fondness for his home.  This tune was painted by the band as beautifully as any picture hanging in the gallery that night.  It started out as a heartfelt ballad, and then transported us to New Orleans as the Dixie feeling made us dance in our seats.  It then found its way back to a ballad for Washington's skillful vocals, bringing us home with both sentiment and fun.
Throughout the night, I was repeatedly impressed by Erik Jekabson.  Every time the trumpeter created a solo, the song took on a whole new personality and sound—one that was all his own.  During "On Green Dolphin Street", his open phrasing created space for beautiful things to happen, and on "It Ain't Necessarily So," he captured the essence of the harmonic structure with a clear voice of spontaneity and unique identity that was both edgy and haunting.  He had many great ideas, but if something wasn't working, he had the maturity to let it go and the skill to gracefully find his way out and move on to something new and wonderful.  I hope to hear plenty more of Jekabson in what I believe will be a long career in jazz.
Wrapping up the evening was a surprising excursion on "Summertime."  The arrangement started out in traditional form, but it developed into new and surprising directions.  The musicians displayed the kind of cooperative interaction and spontaneous reactions that are the essence of jazz.  Jekabson's exceptional solo balanced creativity and control.  Washington went on a vocal exploration of freestyle vamping and vocalise, and then brought it all together, reintroducing the rest of the band for an unforgettable finish.
If you are looking for the real deal, go out and see Kenny Washington and Michael O'Neill, either together or individually. The 57th Street Gallery hosts "Saturday Evening Jazz" twice per month, and judging by my experience, they know just who to book.