Bassist/vocalists are a rarity in jazz. With a few notable exceptions, male bassists treated singing as a way to lighten the mood, from the hummed-and-bowed improvisations of Slam Stewart and Major Holley, to the novelty vocals of Milt Hinton, Red Mitchell and John Clayton. Despite the physical strength it takes to play and move the instrument, most of today's bassist/vocalists are women, and in general, they make a stronger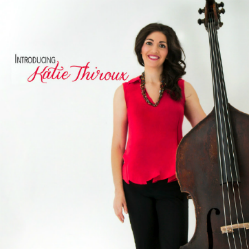 connection between their vocal and instrumental roles. LA-based Katie Thiroux is one of the most promising bassist/vocalists on the scene, and while she has not yet received the high-profile attention of her contemporaries Esperanza Spalding and Kate Davis, Thiroux has laid the groundwork for a long career with her commitment to straight-ahead swing. Her vocal style is understated with exceptional pitch and diction, along with a gift for superbly crafted melodic variations. All of these attributes can be heard in her self-released CD, "Introducing Katie Thiroux", which features Thiroux at the helm of her own quartet.
While in her teens, Thiroux studied voice with Tierney Sutton, who encouraged the youngster to accompany herself on the bass. In addition to developing her ear, the practice made Thiroux an exceptional ensemble bassist. That skill can be discerned throughout the CD, but most notably on "A Beautiful Friendship", where Thiroux makes subtle changes in the way she accompanies her own vocals, as well as each member of her band:  tenor saxophonist Roger Neumann, guitarist Graham Dechter and drummer Matt Witek. Later, on "I'm Old-Fashioned", she sings the melody accompanied only by Witek. She doesn't try to disguise the tune, but her delicious rhythmic variations give the piece a personal stamp. On the out chorus—with the full band in support—she takes daring risks by breaking apart the song's phrases. Although not credited on the cover, all of the arrangements are by Thiroux, and they offer just the right balance of structure and freedom. Witek plays a delightful melodic chorus with brushes on the aforementioned "I'm Old-Fashioned", and plays a beautifully nuanced entrance midway through the instrumental "Can't We Just Pretend?" Dechter's solos reveal an emerging originality in his improvised lines, and veteran Neumann's appearances alternate between gritty soul and tender lamentations, showing the depth of his experiences as musician and educator.
Throughout the album, Thiroux's bass reveals her strong admiration for Ray Brown, with grooving lines and uncompromised swing. She has a direct link to Brown through her mentor and teacher, John Clayton, who also wrote the CD's glowing liner notes. Clayton's friend and co-bandleader Jeff Hamilton produced this album and it was he who provided a further link to Brown. Thiroux's original, "Ray's Kicks" was titled for a pair of wing-tip shoes previously owned by Brown, inherited by Hamilton and sported by Thiroux on both the CD illustration and the inside back liner. The tune's title carries a double meaning with "kicks" both the slang for shoes and a reference to the rhythmic accents built into the composition. Thiroux's astounding technical facility is on display on two solo tracks, "Wives and Lovers" and "Oh, What a Beautiful Morning". She develops a funky ostinato pattern on the former, and that, along with her sexy vocal delivery brings forth the lyric's primary message that marriage should not signal the end of romance (a point usually lost within the rather patronizing attitude of the lyric). On the instrumental "Beautiful Morning", Thiroux embellishes Richard Rodgers' melody with improvised responses and a strong background figure, yet the focus on the tune is so strong that the listener might be quite surprised to realize just how much music Thiroux actually creates.
Still in her mid-twenties, Katie Thiroux is already one of the most in-demand bassists in Los Angeles, and there's little doubt that her debut CD will add to her already busy playing schedule. Her strong interest in jazz history can be heard throughout her music, and she further spreads the word of the great masters in clinics and workshops. A few years ago she taught at a Berklee-affiliated university in Quito, Ecuador, and "if the stars align", she would like to mentor young musicians, perhaps from a home studio in Los Angeles. While Thiroux's music will doubtlessly evolve as her career develops, her current focus is on maintaining the existing traditions. Ray Brown may be gone, but his spirit is strong within Katie Thiroux.