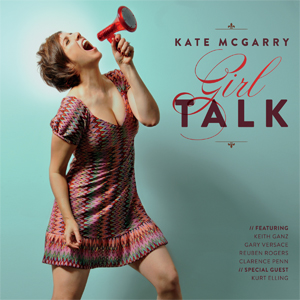 Anyone who believes that the Great American Songbook has been drained of any new interpretations should hear Kate McGarry's version of "The Man I Love". McGarry examined Ira Gershwin's lyric and found it was "such a sad song, with this idea that you couldn't be complete as a person without finding a man". McGarry and guitarist Keith Ganz recast the song in a slow tempo with reduced harmonies, and McGarry's haunting performance, which focuses on the words "I'm waiting", gives an entirely new feeling to the song. It is precisely this type of scrutiny that makes McGarry one of the great jazz vocalists of our age. The album on which "The Man I Love" appears is McGarry's latest, "Girl Talk", and while it is based on an age-old concept (a tribute to female jazz singers who influenced McGarry), the execution of the album is fresh and surprising.
McGarry's liner notes and the official press release note several of her influences—Sarah Vaughan, Betty Carter, Anita O'Day, Shirley Horn, Nina Simone, Irene Kral, Elis Regina, Sheila Jordan, Abbey Lincoln—but wisely, McGarry does not attach any of the tunes to particular singers. This allows her the freedom to incorporate multiple influences into each performance, and prevents the listener from coming into the recording with pre-conceived notions. Her subtle gift for interpreting lyrics allows her to sing two rhythm songs on the album within a fairly short period, and yet there is no doubt of her sincerity on "It's A Wonderful World" and her winking humor at "I Know That You Know". When faced with the patronizing lyrics of the album's title song, McGarry teases and flirts, making it a song of ultimate seduction. And on another anthem from the 60s, "Charade", Ganz' arrangement creates a mysterious atmosphere for McGarry with a modified tango beat in Clarence Penn's drums and lounge-styled organ by Gary Versace.  On ballads, McGarry goes straight for the heart with a straight-forward style that strikes with its utter simplicity. Jimmie Rowles' "Looking Back" tells of memories of a childhood home, and McGarry's version, performed as a duet with Ganz, makes us see the images and recognize similar scenes in our own lives. And with guest vocalist Kurt Elling, she reveals the beauty in the original Portuguese lyrics to Dori Caymmi's "Like a Lover" ("O Cantador").
Special notice should be made of the album's opening selection, "We Kiss in a Shadow". While it is not technically part of the album's concept, McGarry added the song after reading about the New Jersey college student who committed suicide after being revealed as gay by his roommate. The Rodgers and Hammerstein song has been adopted by gay groups for many years, but McGarry's poignant rendition is particularly moving in light of the news story. McGarry makes the song sound contemporary, just as she does with the other nine songs on the album. While McGarry has explored a wide range of music in her past albums, "Girl Talk" shows that she believes that old standards are not just pieces of dusty sheet music, but songs that still speak to us today.