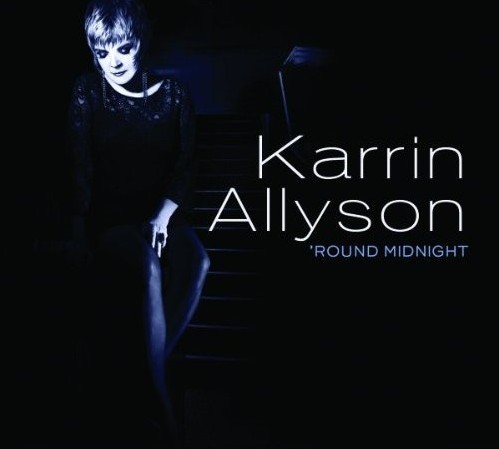 Since her 1999 CD "From Paris To Rio", Karrin Allyson's CDs have all been concept albums. Allyson seems to enjoy focusing her talent in various sub-genres, and the results have been uniformly excellent. On occasion, the concept has been loose enough to allow Allyson to expand the definitions of the style. Such was the case with 2002's "In Blue", where Allyson stretched the limits of a blues album to include moody tunes like "Bye Bye, Country Boy" and "Angel Eyes". Her latest CD, "Round Midnight" is, as Allyson writes in the liner notes, a collection of "intimate ballads". Within this context, Allyson offers a varied group of songs by composers ranging from Thelonious Monk to Stephen Sondheim.
Allyson's voice—a clear sound with a little edge for character—is a perfect fit for this music. Her diction is impeccable, and she able to tell the stories without compromising her melodic inventiveness. She plays piano on all of the tracks and arranged most of them as well. She is surrounded by a fine group of musicians, including her longtime guitarist Rod Fleeman (who plays several superb solos on the album, and arranged "Send In The Clowns"). Ed Howard and Matt Wilson, both newcomers to the Allyson ensemble, offer excellent support throughout. Bob Sheppard plays four different reed instruments on the album, but is most impressive on bass clarinet on Gordon Jenkins' "Goodbye". Randy Weinstein's harmonica adds color on "Smile" and "Sophisticated Lady."
The opening tune, Bill Evans' "Turn Out The Stars" has a set of depressing lyrics by Gene Lees, but as Allyson notes, Evans usually played the tune in a bright tempo with his trio. While Allyson's version is not nearly as fast as the composer's, she includes a light double-time feel in the central chorus to offset the darkness of the theme statement. On "Spring Can Really Hang You Up The Most", Allyson achieves the same effect by setting the tune to a sassy background riff. The following track, Charles Chaplin's "Smile" goes the other direction, as the optimistic lyrics are tempered by a melancholy piano motive. When the music and lyrics are in concert, Allyson can break your heart, as in her solo version of Anthony Newley's "There's No Such Thing As Love". While Allyson acknowledges Sarah Vaughan's virtuoso performances of "Send In The Clowns", Allyson's understated version fits the song into the jazz vein better than any other recording.
Of course, with a wide range of songs in her book, Allyson's live performances offer a greater variety of tunes than her studio albums (Isn't it time that she recorded live?). At a recent performance at Dazzle in Denver, Allyson, assisted by Fleeman, bassist Ian Hutchison and drummer Mark Walker performed a sampler of several albums, and also included a few tunes she has yet to record. Her opener was one of the latter group—Richard Rodgers' "Loads Of Love". Set in a bright shuffle, Allyson had a great time with the light-hearted lyric and the angular melody. On "Jordu", she improvised part of the arrangement on the spot, and during an a cappella scat exchange (!), she interjected "it's the bridge" to be sure Fleeman knew where she was. At the time of her performance, Denver was in the midst of its monsoon season, and about 15 minutes into her performance, we could see a massive rainstorm going on outside the club. Allyson noted the rain from the stage, and responded with a pair of rainbow songs: "I'm Always Chasing Rainbows" (from the new album) and "Double Rainbow" (from "Imagina"). By the time she finished "Double Rainbow", the rain had stopped and anyone who was outside probably saw a real double rainbow. There were more Jobim tunes, including the touching "Happy Madness", and a couple more songs from the new album before Allyson stepped away from the piano to close with "O Pato" ("The Duck"), a Brazilian ode to some very hip poultry.
Karrin Allyson's artistry and musicianship place her in the upper echelon of jazz vocalists. She is a class act and one of the best singers of our time. Don't miss her when she performs in your town.