Nocturne is a relatively new nightclub, located in Denver's RiNo (River North) Arts District. Housed in a former warehouse, the club is surprisingly intimate, holding about 85 people with no seat further than 50 feet from the stage. The circular and slightly elevated bandstand is located on the north wall, and it can handle four musicians at most. Seating is on three levels: an expansive floor section with table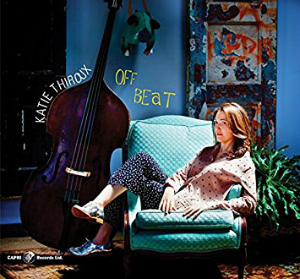 s, the bar on the south wall (with customers perched on stools) and a balcony approximately 12 feet above stage left. The ceilings are high and open, and the walls have sections of brick, plaster and chrome. Nocturne has a very good sound system, but there's little need for it as most of the sound comes acoustically from the instruments rather through the speakers. Co-owner Scott Mattson sparingly reinforces the sound, but in the heat of performance, a trio can sound as if it's playing in a room twice the size. That seemed to be the case on Tuesday night's appearance of the Katie Thiroux Trio. However, a number of elements coalesced to create a live performance that was considerably different from the album Thiroux was there to promote:  "Off Beat" (Capri 74146).
The primary elements were the personnel and the repertoire. The recording features Thiroux's bass and vocals, along with her longtime drummer Matt Witek, pianist Justin Kauflin, and reedmen Ken Peplowski and Roger Neumann. Peplowski, Kauflin and Thiroux all have demanding touring schedules, so it was inevitable that the recording group would differ from the touring band. Thiroux brought in a piano trio with Steven Feifke subbing for Kauflin. During a break in the music, Thiroux told the audience that she chose the repertoire for her album after selecting the musicians. That was clearly the case for this tour: Feifke's exuberant style is the complete opposite of Kauflin's deeply soulful approach, and so Thiroux revived many of the straight-ahead swingers from her debut album "Introducing Katie Thiroux" (Bass Kat 101), instead of the slow groovers like "Some Cats Know" and her original "Slow Dance with Me" which highlight the new album. On the positive side, Thiroux added scat solos to many of the live arrangements. As the ensemble feel was punchier with Feifke at the keyboard, Thiroux's vocals took on the qualities of a 1930s "rhythm singer" with greater emphasis on swing and note placement than on sweeping melodic lines. This is a good fit for Thiroux, who tends to sing with short phrase lengths (Colorado's notoriously thin air may have played a part, too!) Thiroux also displayed the tonal palette of the trio on a new arrangement of "When the Wind Turned Green". On the new disc, it is a wistful duet setting for Peplowski's subtone clarinet and Thiroux's voice and bass; in the live version, it took on a different character with an extended coda which featured an arching crescendo that peaked with a dramatic flourish before reducing to a solo bass line.
There were several fine moments in Thiroux's two-set live show. Witek showed great musicianship with his superb brushwork on "I'm Old-Fashioned", and he presented two contrasting solos (one on brushes, the other with sticks) on Thad Jones' "Three in One". Feifke played stunning improvisations on two Ray Brown originals, "Out There" and "Ray's Idea". Thiroux's scat solo on "Let's Fall in Love" was a unique mixture of improvisation and shout chorus, and she stopped the show with an unaccompanied bass/scat solo in the middle of "There's a Small Hotel" (kudos to the Nocturne audience, who did not talk through the bass solo!) While the above moments are not replicated on "Off Beat", those who purchase a copy will be treated with a delightful rendition of the title track (originally performed by June Christy), a great tenor sax duet by Peplowski and Neumann on Duke Ellington's "Happy Reunion",  and a grooving bass/vocal version of "Willow Weep for Me".
As I noted in my review of her debut album, Katie Thiroux knows her jazz history, and she is proud to continue the traditions of Ray Brown and John Clayton. By maintaining this vital legacy, she contributes a valuable service to the jazz world. Not everyone must be a trailblazer; some must follow the masters, bringing their own personality to the established forms. With a growing reputation, and a new association with Quincy Jones, Thiroux is able to spread her music to audiences all over the globe. While her performance at Nocturne was a world apart from the studio recording, it was still music played at a very high level.