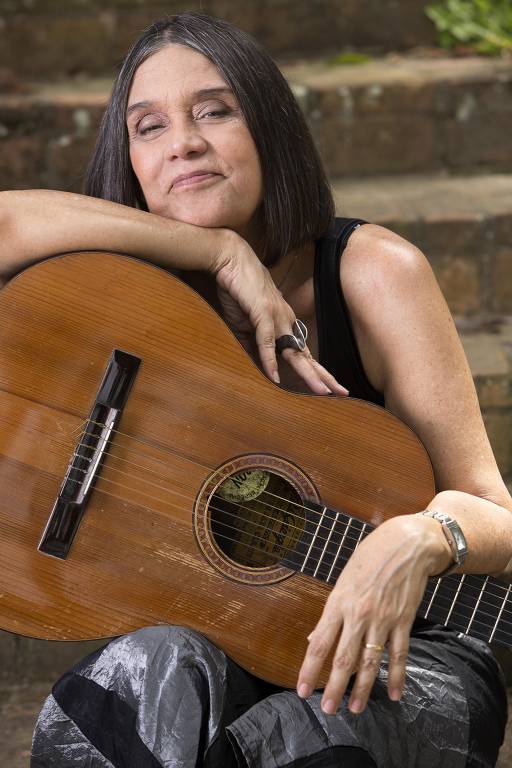 When I asked Joyce Moreno if she considered herself a jazz vocalist, she clarified my question with her response: I am a Brazilian jazz vocalist. A jazz enthusiast since she was a teenager in Rio de Janeiro, Joyce absorbed many lessons from the recordings of American and Brazilian musicians. While she was impressed with the virtuosity of Leny Andrade, Sarah Vaughan, and Ella Fitzgerald, Joyce's affinity toward lyrics led her in the direction of storytellers Tom Jobim, João Gilberto, and June Christy. It was a set of original lyrics that first brought Joyce to prominence: her 1967 song "Me Disseram" was considered vulgar and immoral, simply because the words were written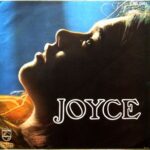 in first-person from a feminine perspective. The song was a finalist in a national song contest, and within a year, Joyce (using only her first name) recorded her first album for Philips, with the support of Brazilian musical legends of the present and near-future including Dori Caymmi, Vinicius de Moraes, Marcos Valle, Toninho Horta, and Caetano Veloso.
Joyce traveled across Latin America and Europe in the mid-1970s, and while on the Continent, she recorded two significant albums:  an intriguing collection of jazz-influenced originals, later issued as "Visions of Dawn", and "Passarinho Urbano", an album featuring lyrics by songwriters Chico Buarque, Milton Nascimento, Caetano Veloso, Edu Lobo, Maurício Tapajós, and de Moraes, all of which were censured by the Brazilian dictatorship of the time. An extended stay in New York produced "Natureza", a fascinating album featuring Joyce with an all-star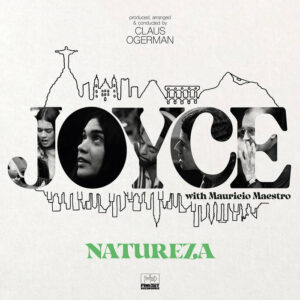 orchestra conducted by Claus Ogerman, including Michael Brecker, Joe Farrell, Warren Bernhardt, and Mike Mainieri. The orchestra also included drummer Tutty Moreno, who became Joyce's husband in 1977. "Natureza" was not issued at the time, but its reconstruction and belated release in 2022 led to a critical reappraisal of Joyce's jazz bona fides.
While her discography has alternated between jazz and pop recordings in the intervening 35 years, her concert appearances in the US and Europe are usually held in jazz venues. In mid-August 2023, she made her third appearance at Jazz at Lincoln Center in Manhattan. All of the shows were sold out, and the audience appeared to be primarily composed of New Yorkers for whom English was their primary (or only) language. Moreno—she now uses her full married name professionally—made spoken introductions in English, but all of her songs were performed in Portuguese. Moreover, she only gave a rough translation of the lyrics for one song, her new single "Todo Mundo" ("All of Us" or "The Whole Earth"). It did not matter to anyone present that the exact meaning of each word was not provided. Like Edith Piaf before her, Moreno's deep knowledge of the lyrics allows her to emphasize the right words, which expresses the song's meaning through the music. A listener who was fluent in Portuguese could fill in the gaps in the storyline, but everyone in the room could understand the general emotions.
And what a voice she has! Proudly proclaiming her age (75) her vocal instrument shows none of the wear typical in singers of her generation. Her tone is bright and clear, with exceptional diction and nearly perfect intonation. Her iconic song "Feminina", first recorded on "Natureza", features a quickly-moving staccato in a very high register. 36 years after its debut, Moreno still performs it in the same key even though it is harder for her to sing the highest phrases in tune. I asked her if she ever considered transposing the song down a step or two, but he said No, the guitar decides that for me, later elaborating that once she finds the harmonies she likes on her guitar, she simply deals with the challenges that the song presents for her voice. Another guitarist confirmed that Moreno's open-string tuning could make simple transpositions sound out of tune.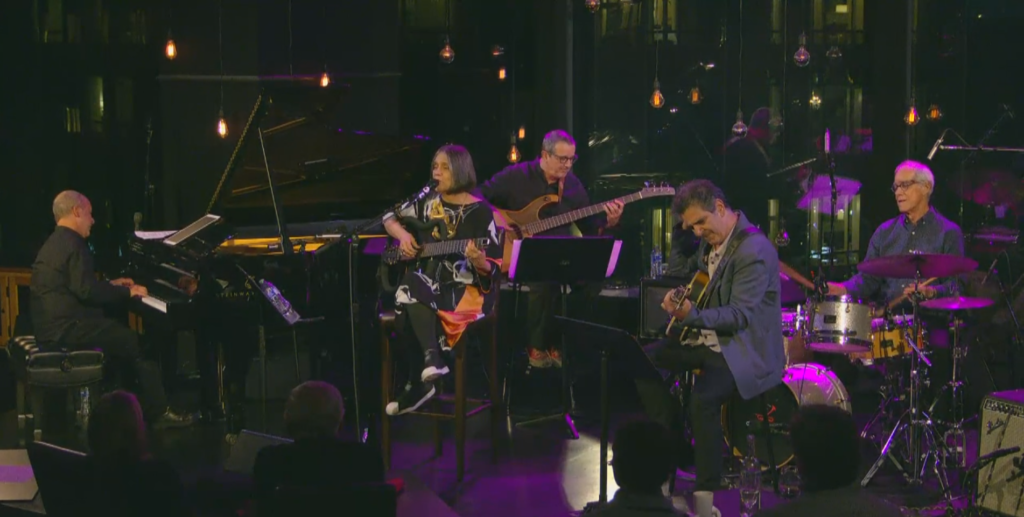 On her tour, Moreno was accompanied by her long-time trio of Hélio Alves (piano), Rodolfo Stroeter (bass), and Tutty Moreno (drums). Guitarist Roni Ben-Hur was added as a special guest for the second half of each set. Joyce's guitar was a welcome and integral addition to the band's sound, and her only vocal without guitar was on a quiet duet with Ben-Hur on the Jobim classic, "Intúil Paisagem". Before Ben-Hur's appearance, most of the songs were Joyce's originals (including "Mistérios" and "Pega Leve" from "Natureza"). Joyce's solo version of "Águas de Marco" preceded Ben-Hur's entrance, and after the vocal duet, Joyce left the stage as the band played an extended version of "Vera Cruz". The driving rhythms of this instrumental marked a sharp contrast to the delicate sounds played behind Joyce's songs. On the former, Tutty Moreno's dramatic accents and powerful cymbals fueled the ensemble, but in the earlier parts of the set, he was extremely delicate, touching the cymbals with his fingertips and patting the toms with his palms. The set concluded with more works by Jobim, Edu Lobo, and the recently departed João Donato, with the finale reserved for a spirited reading of "Feminina".
Joyce has been praised by many musicians and critics as one of the finest Brazilian artists working today; however, very little has been said about the elements that make her a great artist. In the course of her 68-minute Jazz at Lincoln Center set, Moreno offered many examples of those special elements. I was unable to secure the rights to share the livestream video here, but I have found several comparable examples on YouTube. These clips are embedded here with my brief listening notes.
Here is a performance of "Águas de Marco" to illustrate Joyce's lovely clear voice, and her amazing rhythmic flexibility. Hear how she breaks away from the clock-like pulse of the song to shape the words into natural speech rhythms. And don't miss her pure, vibrato-less turn in the interlude, as she leads the WDR Big Band through the instrumental figures.
From a 2009 collaboration with João Donato, here is a sunny rendition of Donato's classic song "Aquarius" with Moreno's voice again as lead voice of the ensemble. After Mattis Cederberg's trombone and Donato's Rhodes solos, Moreno sings an elegant scat solo built upon an enticing skipping motive. The rhythm section is completed with Joyce's acoustic guitar, Jorge Helder's bass and Tutty Moreno's drums.
In addition to her gifts as vocalist and guitarist, Joyce Moreno is also a talented arranger. When creating "Cool", her album of classic American standards, Moreno was unwilling to simply sing cover versions. Listen to her intriguing setting of "Fever" featuring re-conceived harmonies and a very sexy vocal which rivals Peggy Lee's original recording. Trio personnel is the same as the J@LC concert.
Kenny Werner and Joyce Moreno have been close friends for nearly three decades. Here, in a 2016 concert at Ancona Jazz, they collaborate on Dory Caymmi's "O Cantador" ("Like a Lover"). The give-and-take between these two artists is truly remarkable (as Moreno told me, Kenny accompanies me and I accompany Kenny). Note that Joyce's guitar rhythm remains fairly straight, despite her vocal which floats above and around the ground beat. The various elements combine to create an overwhelming emotional experience.
From their appropriately-titled duet album "Poesia", here is a deeply moving rendition of Charlie Chaplin's evergreen, "Smile". Many singers took up this song in videos made during the early days of the COVID pandemic, but this version–recorded six years before the lockdown—remains one of the most elegant presentations of the song, allowing its simple message to shine through.
I was genuinely surprised when Joyce revealed her inspiration for this arrangement. It was the recording by..Tony Perkins. Yes folks, three years before he scared the bejesus out of us in "Psycho", Anthony Perkins made a vocal jazz album (with a small group led by Marty Paich). While the Perkins/Paich version predates the bossa nova, it features the same walking tempo found in Joyce's arrangement. In the intervening years, most listeners base their knowledge of this tune on the Tony Bennett/Bill Evans version which moves at approximately half the tempo of this recording. That version allowed Bennett to make each phrase a dramatic statement ("Love is funny…or it's sad/or it's quiet…or it's mad…"). It's a little jarring to hear the phrases pushed together, but it is truer to the mood of the original composition.
Here is my proof that you don't need to understand Portuguese to appreciate Joyce's artistry. The song is "O Amor a Chama" by Marcos Valle, and the only clue I will give you about the lyric is that the title translates as "Love is Like a Flame". While introducing a similar song at a recent concert, Joyce's friend Luciana Souza quipped, It's a Brazilian love song, so you already know it's not going to turn out well. So, don't worry about the precise meaning of the lyrics and dig into Joyce's deeply expressive performance. Notice how her opening sigh sets the stage for all that follows. The phrasing and the rubato treatment will tell you everything you need to know. This track (and "But Beautiful") come from an exquisite album called "Slow Music" which Joyce created as a personal tribute to Shirley Horn, Tom Jobim and João Gilberto. The rhythm section on both tracks is Hélio Alves (piano), Jorge Holder (bass), Tutty Moreno (drums) with Joyce's guitar added on "But Beautiful". Yes, you need this record.
Although I did not include any tracks from "Natureza", it's too big of a milestone in Joyce's career not to be represented here. Far Out Recordings posted the entire album, and because the album was reconstructed from several sources, they openly encouraged potential listeners to check out the streamed version before purchasing the album. The 11 ½ minute version of "Feminina" is worth the price of admission, but the whole album is a delight. Listen for a surprising entrance by Michael Brecker near the end of one of the tracks—I won't tell you which one–and hear how his solo elevates the performance. Personnel includes Joe Farrell (flute-except track 3); Ion Muniz (flute—track 3), Michael Brecker (tenor sax), Mike Mainieri (vibes); Warren Bernhardt (piano); Buster Williams (bass); João Palma, Tutty Moreno (drums), Nana Vasconcelos (perc), MauricIo Maestro (vocal, guitar), Claus Ogerman (arranger, conductor, producer). Joyce, Vasconcelos and Maestro collaborated on the 1975 Paris jams issued on "Visions of Dawn". It acts as a warm-up to this album.
This short survey is far from comprehensive, but I hope it will introduce you to Joyce Moreno's extraordinary talent. She has a long discography notable for its high consistency. Here are a few of her jazz albums, with links that will let you purchase the recordings.
"Astronauta: Songs of Elis" (Blue Jackel)
"Gafiera Moderna" (Far Out)
"Hard Bossa" (Far Out)
"Rio" (Far Out)
"Samba-Jazz and Outras Bossas" (Far Out)
"Tom Jobim: Sem Você" (Biscoito Fino)
Also, visit Joyce Moreno's Bandcamp page for more selections.