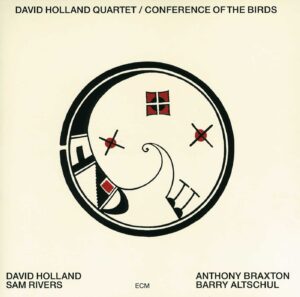 The album cover was modest, in comparison to the vividly colored LP covers of 1973. Over a light gold background, the front cover featured a centrally-placed circular drawing of a bird painted by Native Americans. "David Holland Quartet" was set in bold type at the top with only a diagonal slash separating the band name from the album title "Conference of the Birds". The musicians, all recognized masters of free jazz, were listed in pairs along the sleeve's bottom edge: Dave Holland and Sam Rivers on the left, and Anthony Braxton and Barry Altschul on the right, with the label, ECM, printed in normal print at the bottom center. The back of the sleeve had the musicians' names with astrological and ancient sun signs on either side of their names, with three lines of sleeve notes by Holland, song titles, and other credits in smaller-sized type. At least one edition of the album had die-cuts in the back so that the album could stand up like an oversized photo frame. The LP enclosed within, recorded in just 6 hours on a single day, became legendary for those who didn't own a copy and deeply beloved by those who did. But when it was recorded in November 1972, Dave Holland's "Conference of the Birds" was simply an opportunity to record a set of vibrant music with a group of forward-thinking musicians.
In a recent telephone interview, Holland gave me this concise and elegant timeline of the events leading up to the recording and release of "Conference of the Birds":
After Chick Corea and I left Miles Davis' group in 1970, we started playing with Barry Altschul and Anthony Braxton in a group called Circle. We were together for about a year and a half. During that time, we moved to Europe as there was little work for the band in the US. Our music had a limited audience in the States, but we found much more receptive audiences in Europe. Over about eight months, we developed our music and played concerts. One of those performances was the Paris Circle concert on ECM, which was really the major recorded document of the band. I met ECM's founder Manfred Eicher during that period, and I recorded a couple of albums for him. The band returned to the States in the summer of 1971 and settled in LA for a while but Chick soon decided he wanted to move back to New York and start a new band. Around Christmas 1971, I moved back to New York, and shortly after that, I was hired by Stan Getz. However, my main interest was still to play with Barry and Anthony, and the three of us decided to find a way to make that happen. Barry had preceded me to New York, and he had started playing with Sam Rivers. He spent several hours a day at Studio RivBea improvising with Sam. Barry called me and invited me to come down and play with them. We started doing gigs as a trio and that began my relationship with Sam which lasted until 1981. Manfred also called for me to record more music for ECM. I had some music I had written for Circle that had not yet been recorded, and I wrote a few new compositions for Sam, Anthony and Barry. That was the music that we recorded on "Conference of the Birds". We rehearsed and performed the music over two or three days at RivBea, and then we went straight into the studio for six hours and recorded the album. We landed a couple of gigs in Europe, and as much as I wanted to continue working with this group, it was evident that Sam and Anthony were developing their music in different directions. I didn't feel ready to start a regular working band, so I worked with Sam and Anthony in their groups.
In historical terms, "Conference of the Birds" is in the same style as Eric Dolphy's 1964 masterwork, "Out to Lunch". Both albums offer a group of distinctive originals which lead to free improvisations. Now known as "free bop" or "time, no changes", this innovative approach opened up new possibilities for jazz compositions and allowed greater flexibility to the musicians. And if all of those buzzwords like "free improvisation", "progressive" and "no changes" sound daunting, just listen to the recording. For all of its innovations, "Conference of the Birds" is surprisingly accessible. All of the musicians came into the studio knowing that they had six originals to record on one 40-minute album, and that meant that the solos had to be short and concise. There are squawking bird sounds on occasion, but the majority of the improvisations are both lyric and logical. Holland's compositions are reminiscent of Ornette Coleman's in their melodic and rhythmic approaches. The melodies return as signals for changes in musical direction, and the quartet displays an uncanny ability to change gears on short notice.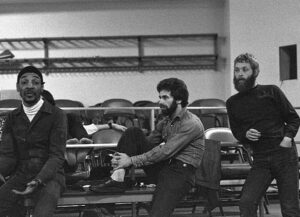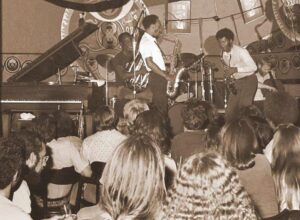 The album opens with "Four Winds", a composition with harmony attached to the melody and an option for the soloists to use the chords or not. Rivers takes the free route on tenor sax as Holland and Altschul create a bubbling rhythm in the background. Braxton (on soprano sax) alternates between tonal and free playing, peaking as the rhythms converge. The melody returns, with Rivers trailing a beat or so behind Braxton, and catching up with him in the final bars. Altschul opens "Q &A" with a solo on cymbals, cowbells, tuned drums, and a squeaking toy. After a sudden pause, Braxton (alto), Rivers (flute), and Holland jump into a three-way improvisation. Altschul grabs a ratchet and joins the conversation with additional hits on the drum kit. Braxton and Rivers make lightning-fast horn changes for the rest of the track, and part of the fun is hearing the ways that each instrumental switch alters the style of the group improvisation. The title track is introduced with a rich bass solo. A haunting vamp in 5/4 leads to a sorrowful melody played by Rivers (flute) and Braxton (soprano sax). In accordance with the title, the two horns improvise together, with each voice having an opportunity to lead the conversation. Before long, another bird joins the group, in the form of Altschul's deep-toned marimba. The mood abruptly changes with "Interception", a blowing vehicle in variable tempos. After the melody jumps between fast and slow pulses, Rivers' tenor solo surges ahead in a breakneck tempo. Holland follows with an astonishing solo that works across the rhythms of Altschul's dynamic percussion. Braxton's alto solo continues where Holland left off with more cross-rhythms and asymmetrical phrasing. The melody returns, still in the fast tempo, and just as it sounds like the tune is about to end, Altschul breaks into a crisply executed solo. When the melody returns again, the tempo alternates between slow and fast tempos. "No Where" (alternatively spelled "Nowhere") is based on a tone row. The lack of a harmonic center makes the notes and lines sound isolated and emotionally detached. Braxton's unaccompanied alto solo sets the mood, and the eventual addition of the other three musicians does little to dissipate the mournful mood. The two saxophonists improvise separately and together against Holland's prominent bass and Altschul's light drums. Altschul intensifies his sound during a short dialogue with Holland, then the horns return providing little hope of relief from the sorrowful mood. The brightly swinging "See-Saw" closes the album with a brilliant alto solo by Braxton, gutsy tenor from Rivers, powerful bass lines by Holland, and dazzling commentary by Altschul.
In July 1974, the band played an hour-long set at the Juan-les-Pins festival in Antibes, France. Holland had the option to play all of the album tracks for the festival's large audience, but decided to let the band stretch out instead. By some happy miracle, the concert was broadcast on French television. The video is now available on YouTube, and I have resisted the urge to embed the clip into this article because I believe that the video can best be appreciated if you have heard the album first. The tune is "Q & A" and all I will tell you is that it is considerably different in content and scope from the LP. In 1990, Jay Clayton's a cappella vocal quartet Vocal Summit recorded a unique version of "Conference of the Birds" at a concert in Willisau, Switzerland. Urszula Dudziak establishes the 5/4 vamp on a digital looper, and as the sequence repeats, the voices of Clayton, Michele Hendricks, and Norma Winstone slide into Holland's melody, and then break into highly individualistic wordless solos. Holland told me that his original composition had four voices and that he uses that arrangement in workshops at music schools all over the world, including at the New England Conservatory of Music, where he has been an artist-in-residence for the past two decades.
At the end of our conversation, Holland told me how a number of seemingly random gigs and collaborations led to the formation of Circle, and eventually to "Conference of the Birds". I told him about similar experiences in my musical life, and my gratitude at such good fortune. His eloquent response was the perfect coda to this article: Energies find each other, and there's a reason for things coming together. You just have to read the signs.