One of the greatest gifts that a jazz musician can possess is a vivid imagination. Even before a child picks an instrument, their imagination will open the doors to a wide range of creativity. Growing up in the Ironbound district of Newark, New Jersey, Wayne Shorter listened to scary radio dramas, read (and eventually drew) comic books, and created a vast universe out of the vacant lot he and his brother Alan used for a playground. The brothers developed their own cryptic method of communicating (which eventually manifested itself in Wayne's musical language). Exposed to bebop through Martin Block's radio show, and developed once he joined the school band, Wayne's old superheroes like Airboy, Captain Marvel, and Superman gave way to bop masters Dizzy Gillespie, Charlie Parker, and Thelonious Monk. When the Shorter brothers started their own modern jazz combo, they deliberately altered their clothing styles to appear as outsiders, and they wrote their nicknames "Doctor Strange" (Alan) and "Mister Weird" (Wayne) on their instrument cases. After playing at local clubs, Wayne had a new nickname, "The Newark Flash".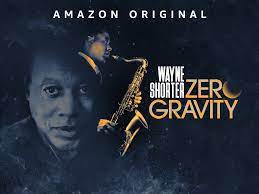 The flood of information described above is all communicated within the first half-hour of Dorsay Alavi's remarkable new documentary, "Zero Gravity", now streaming on Amazon Prime. Presented in three distinct "portals", the film examines Shorter's life through several spectrums, but uses these early experiences as recurring themes, as they connect his childhood passions with his later music. Alavi's visual style encompasses Shorter's teenage sketches, vintage photos, and old movie clips to recount his biography, and a mix of familiar and new performance films to follow his musical evolution. Shorter tells his own story throughout, with his biographer Michelle Mercer contributing supplementary facts. There is an impressive parade of famous faces in the interview segments, including Sonny Rollins, Herbie Hancock, Joni Mitchell, Reggie Workman, Esperanza Spalding, Carlos Santana, and Neil deGrasse Tyson. When the film delves into Shorter's private life, we hear deeply emotional stories from members of Shorter's family.
The first portal, which traces Shorter's life from 1933-1971, fits the traditional mode of a jazz documentary. When "The Newark Flash" moves to New York City, he sits in at various clubs and builds his reputation. A stint in the Army delays his professional life, but Shorter eventually cycles through the Horace Silver Quintet, Art Blakey's Jazz Messengers, and the Miles Davis Quintet. Shorter was reluctant to leave Blakey, but the combined attempts of Davis, Hancock, Ron Carter, and Tony Williams made him the permanent fifth member of Davis' Second Great Quintet. By this time, Shorter was already a noteworthy composer, and Davis encouraged Shorter to write new tunes for all of the Quintet's studio albums (Ironically, while the interviewees are talking about Shorter's music for the Quintet, we hear the Quintet playing Jimmy Heath's "Gingerbread Boy"!). Elements of Shorter's personal life are also discussed, including his failed first marriage, his growing dependence on alcohol, and his lonely life on the road. By the end of the first portal, Davis' group has fully converted to electric fusion, and Davis convinces Shorter that it is time for him to lead his own band.
That new band was Weather Report, a revolutionary fusion group co-lead by Shorter and Joe Zawinul. The history of that group is covered in the second portal, but the greater focus of this section is the tragic series of personal losses that Shorter suffered in the 1970s and 1980s. In the span of a few years, Shorter's parents, brother, daughter, wife, and niece all died, many of them due to health issues or tragic accidents. In most cases, Shorter was on the road when these deaths occurred, and in at least one case, he wasn't able to help with funeral or memorial services. A vintage TV interview, recorded shortly after Shorter's niece and wife died in a plane crash, reveals that Shorter had completely discarded the concept of death, preferring to say that his loved ones were now in a different place. In the 1970s, Herbie Hancock and his wife encouraged Shorter and his wife to study Buddhism to battle the continuous stress. As the film progresses, we hear more and more of Shorter's life philosophy in the interviews, both by Shorter and by his family and fellow musicians.
The emphasis on philosophy over concrete details makes the final portal (2000-infinity) a little harder to embrace. Shorter's music became more fragmented and cryptic in his later years, and this quality dominated the music of his quartet featuring Danilo Pérez, John Patitucci, and Brian Blade. This group steered far from expected tropes, and their constant raising and lowering of musical emotions—without any swing grooves as relief—was usually compared to a roller coaster ride. Patitucci describes this style as composing in real-time on the bandstand, but instead of expanding this musical concept (and exploring why Shorter didn't let the band swing) we get endless quotes of philosophical double-talk. The concluding section features a concert version of Shorter's opera, "Iphigenia". Esperanza Spalding brings great warmth singing the title role, and Shorter's playing and composing reach ethereal heights. Yet, we never get a feeling for Shorter's vision of the fully staged work. And while this film runs well over 3 hours, the third portal is padded to the extreme. Is it necessary to see Shorter sorting pens, collecting fairy statuettes, and composing against the noise of Donald Trump and CNN? Do we need to hear interviewees who try to top each other in their effusive praise of Shorter? And why does Alavi have the child actor who played Shorter as a boy re-appear here to reiterate Shorter's philosophy? The presence of a significant documentary about one of jazz's greatest musicians played on a mainstream TV service should be reason for celebration, but the slapdash nature of the final portal nearly ruins all of the good that came before it.
In what appears to be a sign of our times, there is no physical media edition of this documentary currently available. Further, there is no indication of how long Amazon will continue streaming this film. There are plenty of good reasons to watch this film, so don't miss your opportunity to see it. If it disappears from Amazon Prime, who knows when it will resurface?