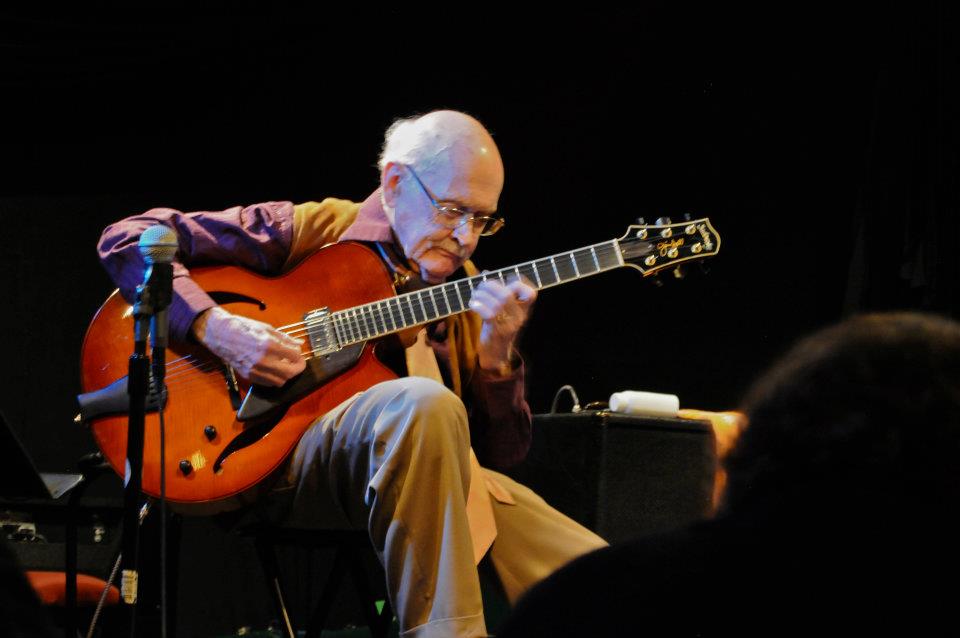 Jim Hall exudes a quiet intensity onstage. Seated on a low stool, his head bent down and his eyes focused on the fret board of his guitar, he is at one with the music he creates. The purity of his sound contrasts the originality of his improvised ideas. He uses sound like a painter uses his oils, with chords providing bursts of color, and bold lines moving in directions we never anticipate. He is a composer and thus his improvised solos have an undeniable form and are complete musical statements created in the moment.
Hall made a rare appearance in Denver on October 20 and 21, playing at Dazzle with three longstanding musical colleagues. Bassist Steve LaSpina gets a rich deep tone from his instrument, and in addition to his virtuosic multi-noted solos, he plays soulful countermelodies to Hall's guitar. Terry Clarke is a master of percussion colors, sometimes using a brush in one hand and a drumstick in the other to create subtle textural changes. Alto saxophonist Greg Osby can blow deep blues riffs like few others, but with this group his sound is more reserved while his wide harmonic knowledge is on full display. As a group, they listen to each other with great care, creating beautifully-realized versions of timeless repertoire.
During the second set of their opening night performance, the quartet played six pieces, most of which have been associated with Hall for years. "Big Blues" from his 1978 reunion album with Art Farmer, started with Hall throwing out abstract ideas in an unaccompanied introduction. When the band came in, Hall took a solo which mixed sharply defined chords and fragmented lines. Although the motives seemed disconnected, Hall's logic made them all work together as a unified whole. Osby's solo followed Hall's lead, creating and developing a series of small motives with intricate detail. "My Funny Valentine" is always a treat in Hall's hands, and the quartet's rendition started in a slow bluesy walk, built in intensity and ended with a bossa vamp. His solo introduction seemed to try out the melody in several different keys before deciding on its eventual course.
"In A Sentimental Mood" was treated to a sensitive treatment with delicate cymbal work by Clarke and melodic filigrees from Osby. The band started a free improvisation with Hall playing behind the bridge of his guitar and Clarke lightly rumbling his toms with his fingers. Osby played a long lyric line as LaSpina fluttered below, and then on a verbal cue from Hall, the band segued into a Brazilian piece called "Beija Flor" which featured a beautifully-played melodic line by LaSpina. The set closed with Sonny Rollins' "St. Thomas". Hall soloed on a single chord as Clarke provided a tightly grooving background with shaker and brushes. Then the band dropped out completely as Hall played on alone in free time for several breathtaking minutes. Osby let loose a little, spilling out a stream of blues-drenched runs, and Clarke played an energetic solo on his tom-toms.
In between the songs, Hall was very friendly with the crowd, announcing the songs and crediting his fellow musicians. His attempt to resuscitate the old Dizzy Gillespie joke of introducing the musicians—to each other—fell flat, but no matter. Hall speaks best through his music and that is much more effective than mere words. See him whenever you have the opportunity.
Hall's latest CD is "Conversations" (ArtistShare), a duet album with drummer Joey Baron.

Photo by Susan Gatschet Reese.