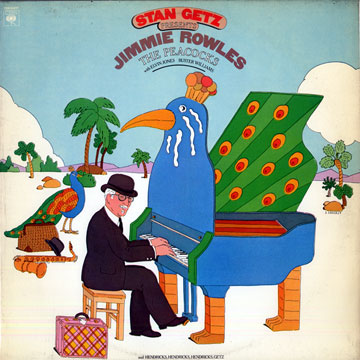 Is there a greater mixed blessing than being called a "musician's musician"? Basically it defines a player who is widely admired, but is ultimately too hip for the room, and much too hip for a record producer's ears. So in the mid-seventies when Stan Getz got the opportunity to produce a series of jazz albums for Columbia, he invited one of his favorite "musician's musicians", Jimmy Rowles, into the studio. The resulting album, "The Peacocks", was the best recorded showcase Rowles ever had, featuring him as pianist, vocalist and composer/arranger.
Rowles appeared with Getz at a July 2, 1975 concert at Avery Fischer Hall and the performance either inspired the album or was an early attempt to promote it (In her introduction co-host Marian McPartland intimates that the album was already available. The discographies state that the album was made in October, and I tend to believe that date as the music from the concert seems a little rough and aggressive, and Rowles is overheard on the house microphone talking down the arrangement of "The Peacocks" with Getz). McPartland's co-host Alec Wilder praised Rowles for his economic piano style and his sardonic wit. Rowles' solo version of "Body and Soul" from "The Peacocks" illustrates both qualities: in the rubato opening chorus, Rowles freely mixes the melody with quixotic musical comments. Then, over an elegant stride pattern, he creates his improvisation through the meticulous development of small motives, one of which is a wry quote from the standard "All This and Heaven Too".
Rowles had been active since the early 1940s, and played with Getz in the Benny Goodman and Woody Herman orchestras before playing with the saxophonist's quartet in 1954. Although 21 years had passed since they had recorded together, the ten tracks they share on "The Peacocks" show that they had a close musical partnership. Five of those tracks are duets (including the definitive recording of the title tune) and they may be the most illuminating cuts in either man's discography. There are many moments where the two musicians seem to be in each other's heads, spontaneously discovering ways to shade their sounds through slight dynamic changes or sudden musical outbursts. And what sweet countermelodies emerge from Getz's horn! The five quartet tracks feature Buster Williams and Elvin Jones, and the added energy is palpable, with Jones especially remarkable on brushes. Getz and Rowles are more muscular in their solos with the quartet, but the musical quality is never sacrificed. Their version of Wayne Shorter's "Lester Left Town" features Rowles' tightly-chiseled piano solo, Getz's thematically-developed tenor, Williams' ever-flexible lines and Jones' fascinating cross-rhythms. It is a worthy companion to the original version by Art Blakey and the Jazz Messengers.
At the time of the recording, Rowles was probably best known as an accompanist, working with Billie Holiday, Peggy Lee, Julie London, Ella Fitzgerald and Sarah Vaughan. What wasn't generally known was that Rowles was an impressive jazz vocalist in his own right. The album's opener, "I'll Never Be The Same" was a song linked to Billie Holiday, and while Rowles' gruff-as-a-teddy-bear voice was much different from Holiday's, he used it in a similar way, knowing the exact way to phrase the words and melody to bring out the song's meaning. Holiday's influence also turns up in Rowles' priceless send-up of Rudolf Friml's operatic warhorse "Rose Marie". Jones launches the track with an over-the-top Latin groove, and as Dan Morgenstern's original notes point out, Getz "seems to take revenge on all of the bossa nova requests he's had to cope with". Rowles growling delivery of the lyric is hysterically funny, but just as Holiday did on "What A Little Moonlight Can Do", Rowles reverses the lyric's meaning without changing a single word. Of course, humor was the primary goal of this track, and Rowles concludes the arrangement by painting a hilarious verbal picture of Nelson Eddy in full Mountie uniform standing in a canoe in the middle of a lake looking for Jeanette MacDonald.
Vocals of a different sort play a role in "The Chess Players". According to Getz's daughter, Beverly, Jon Hendricks and his family came to visit Getz at his home in Irvington, New York. While they were waiting for Stan to arrive, they listened to the acetates of the newly-recorded, but still unreleased Rowles album. When "The Chess Players" came on, Jon Hendricks started writing lyrics at lightning speed. Hendricks then taught the piece to his wife Judith, daughter Michele and Beverly Getz and they sang the piece with the recording when Stan came home. Getz approved of the addition, and Hendricks and Co. went to the studio and overdubbed the vocals onto the master tape. It is fascinating to hear Hendricks singing a vocalese solo alongside the original improvisation, maintaining the original key and tempo, and without taking any liberties from the melody. To some ears, the vocals are an unnecessary intrusion, but it is certainly a unique view of the vocalese style.
Although Getz's name helped bring attention to Rowles and the album, it remains an underappreciated recording. However, it is one of those albums that becomes a personal favorite once it is "discovered" by the listener (I'm currently on my fourth copy of the disc). It succeeded in furthering Rowles' career, with the pianist doing more recordings as a leader in his final two decades, including part of Columbia's 1977 "I Remember Bebop" set and a fine 1981 album of music by Duke Ellington and Billy Strayhorn. He was also featured on several Pablo recordings with another Woody Herman tenor man, Zoot Sims. Norma Winstone added lyrics to "The Peacocks" (retitled "A Timeless Place"), and recorded the song with Rowles at the piano for her 1993 album "Well Kept Secret". Getz passed away in 1991, but Rowles lived five years beyond that, long enough to see "The Peacocks" reissued on CD. He was interviewed for the new liner notes, but unlike a real peacock, his comments seemed self-effacing and genuinely humble. He didn't need to do more. The music speaks for itself.