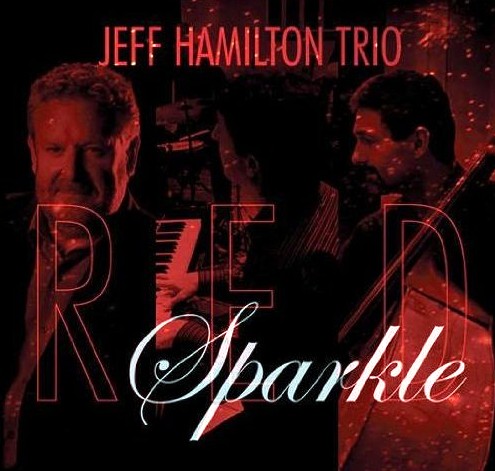 A few decades ago, every young drummer dreamed of having a drum set finished in red sparkle. Jeff Hamilton was lucky enough to have one, and his memories of playing that set are so vivid that he calls the musical highlights of his life "red sparkle moments". "Red Sparkle" is also the title of the latest album by the Jeff Hamilton Trio, and while the album sounds completely contemporary, the album notes and press release note several tracks which relate to Hamilton's life. "Ain't That a Peach" is dedicated to the late trumpeter Snooky Young; "Hat's Dance", co-composed by Hamilton and pianist Tamir Hendelman, is dedicated to Hamilton's mother; and "I Know You Oh So Well" is a composition by a Hamilton mentor, Ray Brown. The track list also includes bassist Christoph Luty's original "In An Ellingtone", Thelonious Monk's "Bye-Ya" and versions of pop tunes ranging from Johnny Mercer's "Too Marvelous For Words" to Steven Bishop's "On and On".
That being said, "Red Sparkle" is not a dreary walk down memory lane, but an energetic recording with the trio in top form. From the thundering drum introduction to "Peach", the band locks into a tight groove and never lets go. Hendelman has seemingly unending technique and a wealth of ideas, yet he never lets his technique overwhelm the music.  Luty gets a wondrously deep sound from his instrument and the clear recording of Luty's bass and Hamilton's hi-hat brings out the rhythmic synchronicity between these two musicians. Hamilton's brushwork is a thing of beauty, implying all kinds of interior rhythms while propelling the group forward. And when he takes up his drumsticks, he is a fountain of energy. The title track features a remarkable dialogue between Hamilton and Hendelman where each man spurs the other on to greater musical heights.
As usual with this group, the arrangements are well-crafted, allowing both structural unity and free-flowing improvisation. For example, "Hat's Dance" has an extended break at the end of every solo chorus. Hendelman takes three choruses and each time that the break comes up, he uses it to establish the texture and style of the following chorus. Yet, through the common element of block chords, he makes the entire solo sound like a unified whole. "Too Marvelous For Words" lets all three musicians have a melody statement, and then offers solo room for the leader playing brushes against complex ensemble figures. Later in the track, Hamilton comes back on sticks for a powerful solo on tom-toms. On Harold Arlen's "A Sleepin' Bee", Luty is featured through most of the arrangement, playing an intro with perfectly-executed triple stops, most of the melody in the first chorus, and a superbly-structured solo chorus with fine melodic ideas and strong rhythm.
As usual for productions from Thomas Burns' Capri label, the CD features high-quality sound, informative liner notes (here written by film historian and jazz fan Leonard Maltin) and attractive cover art. One missing element is the arranger credits, which have been provided to me by Mr. Hamilton: Hendelman wrote the chart for "Laura" and co-arranged "Hat's Dance with Hamilton; Luty provided settings of "Ellingtone", "Sleepin' Bee", "Too Marvelous" and "Oh So Well", and Hamilton wrote the rest.
You can't go wrong with this album—lots of "red sparkle moments" inside!