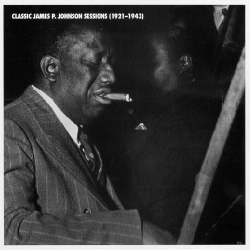 While record companies have proclaimed the death of the Compact Disc for many years, the shiny silver discs are still produced and distributed in large quantities today. Vinyl enthusiasts make up a small but vocal minority, and several independent record companies have not yet embraced digital downloads. The CD, with its flexible options for programming and omitting tracks, still offers the best option for presenting the collected works of multi-faceted artists such as James P. Johnson. Between 1921 and 1943, Johnson developed his talents in four distinct areas: stride pianist, bandleader/composer, accompanist and sideman. Examples of all four areas are presented in abundance within Mosaic's new 6-CD set, "Classic James P. Johnson Sessions", and while Mosaic's sequencing places the music in chronological order, listeners may want to re-program the tracks to focus upon the individual aspects of Johnson's art, or to omit some of the less-stellar tracks within the set.
To illustrate that final point, we'll start with Johnson's recordings as an accompanist. Johnson recorded throughout the twenties and thirties with a wide variety of vocalists. Four of the Mosaic tracks feature yodeling (!):  three cuts by Roy Evans (who annotator Scott Brown claims may have been African-American) and one by Johnson's fellow pianist/composer Clarence Williams. The juxtaposition of country yodeling with a master stride pianist would be comical if it wasn't nearly unlistenable. One can almost imagine Johnson's eyes rolling as he tries to provide some sort of appropriate backing. Fortunately, Johnson usually had better collaborators. The set opens with a series of tracks featuring blues singer Lavinia Turner. Johnson's accompaniment makes her sound better than she probably was. On two tracks from November 1921, Johnson—Turner's sole accompanist—plays his background figures with so much rhythmic power that Turner sounds like she's swinging (which would put her far ahead of other singers of the time). When working with the far superior Bessie Smith, Johnson could create programmatic backgrounds (as on "Backwater Blues" and "Blue Spirit Blues") or just provide a strong rhythmic and harmonic foundation to offset Smith's manipulations of melody and rhythm. Bessie is not usually remembered for her subtlety, but each of her 14 collaborations with Johnson reveals her well-developed but understated rhythmic freedom. Several of the vocal tracks (Bessie's included) include lyrics with double and triple entendres; Johnson usually plays the straight man behind these episodes, but on Clara Smith's "Oh, Mister Mitchell" and Ethel Waters' "My Handy Man", he provides wry commentary in the background.
Johnson is best-known as one of the originators of stride piano. Stride added swinging, unpredictable bass lines and improvisation to the multi-strain models of marches and rags to create the first recognizable jazz piano style. Johnson's 1921 OKeh 78 of "Keep off the Grass" and "Carolina Shout" was highly influential back then and it still stuns today. Even through the fog of acoustic recording—noticeably improved by Mosaic's engineer, Andreas Meyer—the ringing tones of Johnson's right hand filigrees and the rhythmic bass patterns of his left hand come through with shining clarity. "Carolina" was Johnson's initial "party piece", designed to frighten away lesser pianists at cutting contests. Eventually, those younger pianists learned "Carolina" and that led Johnson to create even more intricate showpieces to keep himself ahead of the pack. The 1929 recording of "Riffs" takes the 3-against-2 bass patterns from "Carolina" and shifts them into a new level of rhythmic complexity. I don't know that any other pianists mastered "Riffs", but over the years, Johnson created more of these virtuosic compositions, including "You've Got to Be Modernistic", featuring whole-tone scales, and "Blueberry Rhyme", a subtle work featuring numerous unexpected modulations ("Modernistic" appears on the Mosaic set in band versions only, as the classic solo version is owned by Universal Music; "Rhyme" turns up twice on this set, in solo versions from Johnson's 1939 Columbia session and his 1943 set on Signature). When not scaring off other pianists at jam sessions, Johnson and his compatriots played for dancing at house rent parties. Johnson's mastery of strongly-marked rhythmic piano comes through many times over in the Mosaic set, but no more convincingly than in the relentless stride of Johnson's 1939 version of "If Dreams Come True". Incidentally, most of these solo sides were available on LPs from Columbia and French CBS; however, with Sony Music's acquisition of BMG, the Mosaic set also includes two lesser-known 1923 solos recorded for Victor, "You Can't Do What My Last Man Did" and "Bleeding Heart Blues".
While Johnson was building his reputation as a solo pianist and accompanist, he maintained a separate career as a popular songwriter, turning out hits like "Charleston" and "If I Could Be with You One Hour Tonight". He also co-wrote a series of black revues that played on Broadway, and Johnson's earliest recordings as leader of his own orchestra featured the songs from those shows. Many of these tracks used the original theatre arrangements, and the stodgy rhythm sounds quite old-fashioned to modern ears. However, the strange but beautiful mixture of Jabbo Smith's cornet, Garvin Bushell's clarinet, alto sax and bassoon, Fats Waller's pipe organ and Johnson's piano—under the even stranger band name of the Louisiana Sugar Babes—lifts the repertoire from the show "Keep Shufflin'" with a fascinating collection of unique tone colors and delicate swing (You can read more about this session here). A 1929 session with Johnson, Waller and King Oliver represented the best group swing of Johnson's orchestras to date, and a 1931 date with several members of the Charlie Johnson big band was even better (although Andy Razaf's rhythmically awkward scatting nearly ruined "Go Harlem"). According to Stanley Dance, Columbia's executives did not issue many of Johnson's 1939 recordings because they were too old-fashioned; but today, the music sounds quite fresh, with the daring trumpet of Henry Red Allen prominently featured. Connoisseurs of forgotten vocalists will appreciate the appearances of Anna Robinson, whose quirky choruses sound like a female version of Leo Watson.
Johnson was not the only black songwriter working on Broadway shows, and Johnson also appeared as a sideman on recordings by his contemporaries Perry Bradford, Clarence Williams and Spencer Williams. Some of these sides—including Clarence Williams' turn at yodeling—seem geared towards current musical fads. However, the presence of washboards and steel guitars did not necessarily mean that the tracks were an artistic disaster: a series of tracks recorded between December 1933 and July 1934 features notable interplay between trumpeter Ed Allen and clarinetist Cecil Scott, and superb solos by Johnson. A 1938 Victor session produced by French jazz critic Hugues Panassie features clarinetist Mezz Mezzrow and the trumpets of Sidney De Paris and Tommy Ladnier in extended examples of simultaneous improvisation. It's fascinating to hear how Johnson makes his piano sound cut through the dense polyphony. Another Panassie-produced session features trumpeter Frank Newton, Mezzrow, alto saxophonist Pete Brown, and the exceptional rhythm section of Johnson, guitarist Al Casey, bassist John Kirby  and drummer Cozy Cole. While the session was issued under Newton's name, just about everyone gets an extended turn in the spotlight. Johnson's comes in two spectacular choruses on Jerome Kern's "Who?" Johnson maintained this treatment in his solo repertoire, but never recorded it again with an improvised solo. The other masterpiece of the session was "The Blues My Baby Gave to Me", and on this set, Mosaic issues the alternate take for the first time. Recorded before the master, the alternate reveals that the piece was originally conceived as a slow blues with solos by Newton, Johnson and Brown. Newton's solo is played open and is a little rougher than the master, Johnson adds highly dissonant chords to his central episode, while Brown captures the understated soulful feeling that would characterize the famous master take. Undoubtedly inspired by Brown's thoughtful solo, Newton changed his approach for the master, playing one of his most elegant blues solos on record. Johnson was obviously inspired by this turn of events, as he contributed a delicate and complimentary piano chorus. Ironically, Brown does not solo on the master take, instead yielding to a final chorus by Newton. The result is one of jazz's few "perfect records" ("Parker's Mood" is another); the addition of the alternate take makes the master's greatness all the more clear.
The final disc of the set includes two sessions issued complete for the first time: Johnson's 1939 band set with Allen, trombonist J.C. Higginbotham and clarinetist Gene Sedric, and an all-star set with blues singer Ida Cox, trumpeter Hot Lips Page, Higginbotham, clarinetist Edmond Hall, and three members of Benny Goodman's band: guitarist Charlie Christian, bassist Artie Bernstein and drummer Lionel Hampton. Mosaic's presentation includes alternate takes, breakdowns and rehearsals along with the takes originally scheduled for release.  Unfortunately, Mosaic has also retained its policy of placing alternate takes at the end of the CD rather than integrating them in with the rest of the session. I can understand that many listeners grow weary listening to a string of alternate takes, but in this case, the sequencing still causes problems as the alternates take up nearly an hour of the final disc. This is another instance where re-programming the tracks is a necessary task.
Despite my quibbles about the track sequence, "Classic James P. Johnson Sessions" is an essential collection for classic jazz lovers. With the exception of rumble on the earliest Pathé tracks, the transfers are exceptional. In a striking display of Mosaic's diligence, a chart appearing on the last two pages of the booklet lists the source material used for each track. Scott Brown's notes offer concise commentary on the recordings, along with important historical background. Regardless of how listeners approach this material, they will find a wealth of musical riches.