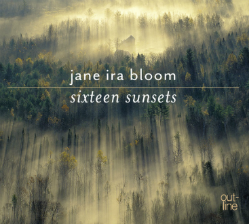 On the inside panel of Jane Ira Bloom's new album, there is a quote from astronaut Joseph Allen which explains the CD's title. Allen notes that when traveling through outer space, one experiences sixteen sunrises and sunsets per day. Each event lasts for only a few seconds, but all of them are unique and offer a wide spectrum of color. Just over twenty years ago, the quote inspired Bloom to write a brilliant piece for wind ensemble, in which musicians placed throughout the concert hall played long tones while swinging the bells of their horns through the air to create Doppler effects. Today, Bloom has taken Allen's quote in a different context to evoke the reflective nature of sunsets, and the resulting album, "Sixteen Sunsets", is a beautifully realized collection of ballads.
Archie Shepp once called ballads the greatest challenge for a jazz musician, and that they revealed every minute of practice time that a musician had ever played. Bloom has clearly used her experience and maturity in creating this album. The program unfolds like a well-written story. While there are several gradations of tempo (and lack of a stated pulse on several tracks), there is an overall consistency of tone to the album, and the dramatic peaks appear at the same places they would in a good narrative. For example, most films introduce a major dramatic plot point about an hour into the story. At an hour into "Sixteen Sunsets", in an original called "Primary Colors", Bloom includes the only deviation from ballad tempo. Yet, it's almost as if there are two tempos present: the long tones of Bloom's original melody seem to dominate over the double-time feel played by the rhythm section. In addition to reversing the usual situation with double-time, this memorable section offers a true shock to the system which seems to carry more weight than just a musical change of pace. The final track, "Bird Experiencing Flight" seems to sum up much of what has come before, and true to its title, it soars to its conclusion. (Actually, the album has a few examples of song titles dictating the settings: "Out of This World" has an "outer space" feel, and at the end of a Billie Holiday/Mal Waldron song, Bloom is literally "Left Alone". However, this literal quality is only a minor detraction from these very fine performances.)
As I have written elsewhere in these pages, Bloom plays the soprano saxophone with a full, rich and soulful tone. While she is known for edgy improvisations, she has always balanced her adventurous spirit with a warmth not usually associated with progressive jazz. She doesn't rest on her laurels here, as witnessed by her surprising phrasing on the opening "For All We Know" or her solo version of "My Ship" (with the bell of her soprano pointing into the undamped strings of the piano). And there are also a few genuinely romantic moments, as on her lovely duet with pianist Dominic Fallacaro on "The Way You Look Tonight". After Bloom, Fallacaro has the most solo time, and he displays a wondrously tender approach to the keyboard. Bassist Cameron Brown has a fine duet with Bloom on the opening chorus of "Darn That Dream" and a superb solo on "Left Alone". Drummer Matt Wilson is necessarily less exuberant than usual on this album, but his cymbal splashes on "Out of This World" are quite effective, as are his adapted tango beat for "Ice Dancing" and the aforementioned double-time section of "Primary Colors".
In addition to the stereo CD which I've reviewed here, there is a version of this disc issued by Pure Audio on Blu-Ray DVD in surround sound. As I have not heard the Blu-Ray, I cannot comment on how the surround effects are used, or if there are any musical differences between the two editions. This is certainly a curious choice for a surround sound album (many of Bloom's more daring albums like "Art and Aviation" would have been stunning in Dolby Digital), but perhaps this is merely a first opportunity for future surround albums. Regardless of which version you purchase, "Sixteen Sunsets" is the natural culmination of Jane Ira Bloom's appreciation of ballads and the Great American Song Book. Just like Allen's outer space sunsets, Bloom's settings offer vivid tonal colors and all of them are unique.