Over the past four decades, I have attended several editions of the UNC/Greeley Jazz Festival. I've seen it grow from a stream of performances by high school and college big bands held in a converted movie theater to a completely professional presentation of internationally known guest artists performed in a superb concert hall. While I have witnessed many extraordinary performances at this annual festival, the closing concert of the 2017 edition exceeded all of my expectations, and represents a new standard for this remarkable festival.
The concert in question featured the combined talents of saxophonist Dave Liebman, trumpeter Greg Gisbert, vocalist Julia Dollison, and an expanded version of the University of Northern Colorado's Jazz Lab Band I in the world premiere of "The 'Romeo and Juliet' Project", a CD-length suite inspired by scenes from Shakespeare's tragedy. Dana Landry, who serves as UNC's Director of Jazz Studies and director of Jazz Lab Band I, commissioned eight different composers to write movements for the suite. Each composer was assigned a scene or character to set, and there was very little communication between the composers as to the general style of the work, or the specific harmonic language. Remarkably, the nine movements of the suite display great cohesion but still allow the audience to experience each composer's unique voice. Erik Applegate's two movements, "The Feud" and "Juliet", placed in the first and seventh spots respectively, represent in turn, the family battle that provides the story's backdrop, and a portrait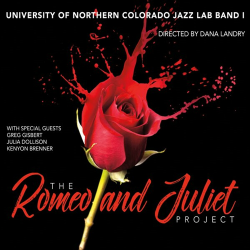 of Shakespeare's troubled and sometimes contradictory heroine. Omar Thomas' "Montague Crest" examines Romeo's aristocratic family, but holds back any reference to the teenager until Gisbert's solo near the middle of the movement. John Hollenbeck's swirling depiction of the masked ball in "This Kiss" features instrumental depictions of the guest's idle chatter before segueing into a virtuosic wordless sequence by Dollison. Michael Conrad, a prodigious composer and arranger from UNC's graduate program, had several of his works played over the weekend, but none were better than "Union", which portrayed the marriage and consummation of the star-crossed lovers. It was highlighted by a splendid three-way improvisation by Conrad (on trombone), alto saxophonist Adam Blakey and Dollison.
Steve Kovalcheck's "Fortune's Fool" marked the play's move from comedy to tragedy, depicting the duels between Mercutio and Tybalt, and Romeo and Tybalt. Kovalchek's setting has an unmistakable Leonard Bernstein influence, but offers an original approach to building tension beneath the solos of guitarist Matt Landon and Gisbert. Chuck Dotas' "Romeo/Paris" depicts Romeo's exile, his eventual (and erroneous) knowledge of Juliet's death, and the late-night visit to the Capulet tomb. The duel between the Romeo and Paris is usually cut from film versions of the play, but it was brilliantly re-enacted in Dotas' score, via overlapping improvisations by trumpet and saxophone. Leibman, who was only featured in one movement in the first half of the suite, made up for lost time with a brilliant soprano sax solo in Steve Owen's haunting "Death Scene". Both Liebman and Gisbert played superbly in David Caffey's closing movement "Epilogue", which imagined Romeo and Juliet in the afterlife. There are not high enough praises to heap upon the members of Jazz Lab Band I, who knew this suite thoroughly and played with great passion. "The 'Romeo and Juliet' Project" was undoubtedly the most elaborate original concept I've ever heard at UNC, and Dana Landry is to be commended for his vision in coordinating this remarkable suite. A studio CD of this work (with UNC saxophone professor Kenyon Brenner subbing for Liebman) was released at the festival, and is available here.
Had it not been for the artistic triumph of the Saturday night "Romeo and Juliet" concert, the festival's highlight would have be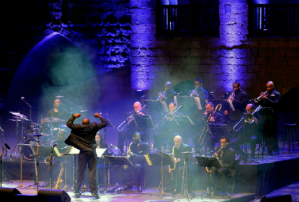 en Friday night's barn-burning set by Jimmy Heath and the Dizzy Gillespie Alumni Band. The group, which combined some of New York's finest jazz musicians with a few Denver favorites, was led by electric bassist John Lee, whose instrument resembled an oversized acoustic guitar. The band opened with a fine arrangement of Tadd Dameron's "Hot House", then trombonist Ron Wilkins offered his best Joe Carroll imitation for "I'm Beboppin' Too". Drummer Lewis Nash drove the band with great authority on "Emanon" and even traded scat choruses with Steve Davis on a Slide Hampton arrangement of "Blue 'n' Boogie". Heath came on stage about an hour into the set, conducting the band through his arrangement of Kenny Dorham's "Una Mas", and then taking up his soprano for an ethereal version of Thelonious Monk's "Round Midnight". Moving to tenor, he played his original dedicated to Dizzy, "Without You, No Me", and showed that at 90 years old, he still had the chops and imagination of musicians half his age. The biggest surprise was the encore: after playing a demanding 75-minute set, the band launched into a blazingly fast rendition of "Things to Come". This piece, with its unforgiving parts for the trumpets, not only offered astonishing section work by Greg Gisbert, Freddie Hendrix, Diego Urcola and Brad Goode, but also a roof-raising trumpet chase! Lee apologized to the audience for going overtime, but their cheering and stomping reaction to this astounding encore showed that they were happy that the band played as long as they did.
The UNC/Greeley Jazz Festival caters to a young crowd: most of the evening audience members performed in their high school or college groups during the day's activities. The addition of vocalist and trombonist Aubrey Logan was doubtlessly a nod to this audience, but Logan's energetic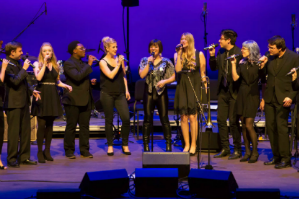 performance delighted the entire audience (including old-timers like me!) Logan typically works with Postmodern Jukebox, a group which transforms contemporary pop music into swinging jazz. In Greeley, she covered MC Hammer's "U Can't Touch This" by turning a rap into a vocalese solo (later in the piece, she took off her knee-high leather boots and executed several one-handed cartwheels!) Earlier in the show, she enlivened an audience sing-along of "Route 66" by walking into the audience, where she improvised riffs based on the names and experiences of several listeners. Although Logan had two fine backup singers in her band, she invited UNC's Vocal Lab onstage (L, with Logan at center) to perform an arrangement of Stevie Wonder's "Don't You Worry 'Bout a Thing", created by the group's director, Kerry Marsh. Logan's wicked sense of humor came through on an unfinished song dedicated to young men between the ages of 25 and 34 (For the benefit of those who will hear Logan in the coming months, I will not reveal the hilarious title of this original, but will say that it was filled with sharp commentary on the lives and habits of that generation). My only un-granted wishes were  for Logan to play a few extended trombone solos.
Sheila Jordan (R) closed the Thursday night concert with a tribute to Charlie Parker. Oddly, Jordan did not perform any Parker originals (I was hoping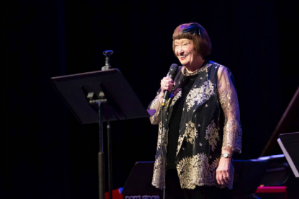 for "Quasimodo", on which Jordan's lyrics offer a love letter to the Bird) but Parker's spirit was present in every one of Jordan's phrases. At 88, Jordan still has full command of her instrument, and the depth of her interpretations is astonishing. She sang with utter conviction, and still discovered new harmonic avenues in the familiar standard "Autumn in New York". Her confessional song, "The Crossing" told of her emergence from substance abuse, while the delightful bass-voice duet on "Dat Dere" portrayed the unending questions of a precocious 5-year-old. Jordan freely and unabashedly shared her life story in song during the concert's extended version of "Sheila's Blues", and she also name-dropped Miles Davis and Sonny Rollins earlier in the set. Although it would have been optimal to present Jordan in her preferred bass/voice duo format, UNC's Jazz Lab Band I provided excellent backdrops for Jordan, and also supplied several fine student soloists to play alongside her.
In addition to the full schedule of performances, the festival presented several outstanding clinics. The "Meet the Artists" series allowed students and fans to ask questions of the festival's featured artists. Jordan's was the liveliest of these sessions, as she presented her life as an open book, prompting the audience with the repeated query, "what else would you like to know?" Heath and several members of the Gillespie Alumni band talked at length about Dizzy's legacy and importance, while Liebman offered insights into recording for Manfred Eicher's ECM label. UNC's Faculty Jazz Quartet (pianist Landry, guitarist Kovalcheck, bassist Applegate and drummer Jim White, with Gisbert as an unannounced added attraction) led a great session on the role of the rhythm section, and Kovalcheck stayed on for an additional hour to talk about the use of silence within jazz improvisation. Unfortunately, prior commitments prevented me from attending clinics led by Kerry Marsh, Julia Dollison, Rosana Eckert, Dave Glenn, and the composers of the "Romeo and Juliet" suite.
As it has grown in stature, the UNC/Greeley Jazz Festival has become one of the major cultural events in Northern Colorado. The remarkable array of student and professional talent has marked this festival for years, but "The 'Romeo and Juliet' Project" has raised the bar for future events. It will be interesting to see how Dana Landry and festival director Amy Murphy try to top themselves in 2018. While another original composition might be interesting, they could well move in a completely different direction. Whatever happens next year, it will certainly be innovative and inspiring.
Photos of Logan/Vocal Lab and Jordan by Barry Lapoint (UNC). Other (stock) photos will be replaced by Mr. Lapoint's festival photos when we receive them.