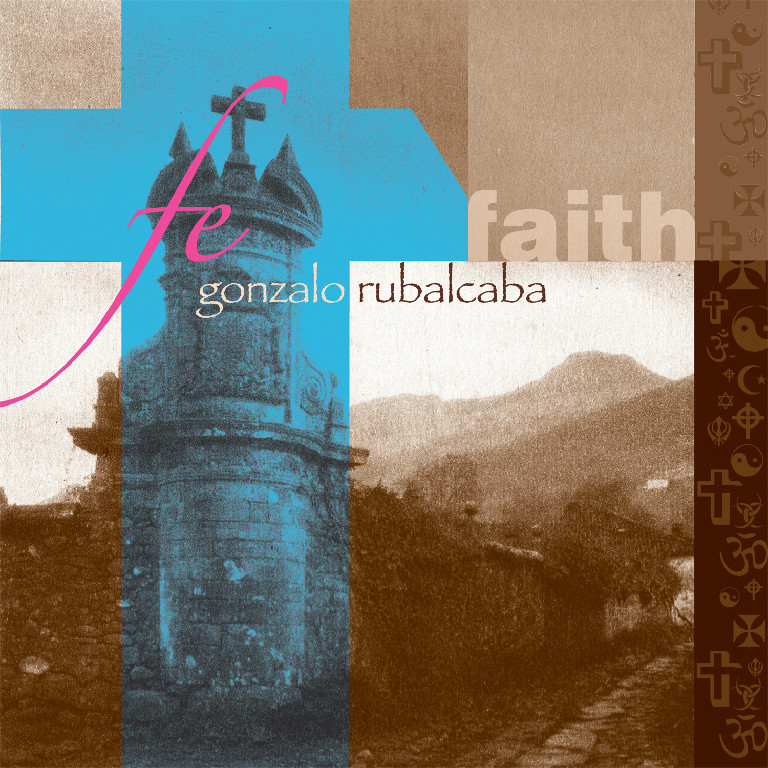 Gonzalo Rubalcaba considers himself a blessed man. "Fe", his first recording on his new label, 5Pasion, is a solo piano recording dedicated to the Creator. Like John Coltrane before him, Rubalcaba draws on his passion for composing and performing to create a devotion through music. The result demonstrates a new maturity in his work. It is heightened with a clean recording and Rubalcaba's masterful knowledge of his instrument.
The chordal beginnings that begin the tunes Derivado 1, 2 and 3, which are placed at strategic points in the album, act like musical amens. The second and eighth tracks are tributes to Cuba's Santeria faith, and there three tunes for Rubalcaba's children Joan, Joao and Yolanda Anas. Two versions of Dizzy Gillespie's Con Alma (With Soul), two versions of Blue in Green by Miles Davis and Bill Evans, and two improvisations based on John Coltrane's work complete the theme.
In the second track, "Maferefun Iya Lodde Me", Rubalcaba evokes the musical idea usually spoken by three Bata drummers in the Santeria religious ceremony. His use of space and his judicious use of dissonance create a powerful acknowledgement of God and reveals his sense of awe. In "Improvisation 2", Rubalcabra invokes Coltrane, using ideas from "Giant Steps" and injecting his own twists, turns and joy into the piece. I found myself staring at my own piano, wondering if any of the 88 keys had not been used in this track!  The first interpretation of Gillespie's "Con Alma" has a strongly European sounding influence, specifically reminding me of Thelonious Monk's Paris recordings. His attack is sensual, phrased creatively and charming. In "Preludio Corto # 2" (Tu Amor era Falso), Rubalcabra creates a memorial to Cuban composer Alejandro Garcia Caturla. The tune lilts and teases, builds tension and ends without a strong resolution.  The conclusion is symbolic of Caturla's life, which ended abruptly when he was murdered at the age of 34.
The two interpretations of "Blue in Green" are re-imagined versions of the original recordings. Rubalcaba's first version makes great use of minimalist expression that fills all the space of the composition completely. The second version begins with a strong sense of space, building in strength and flow with each carefully thought out measure expertly attacked. This is a far more melancholy beginning to the piece, but that yields to introspection by the end of the arrangement. "Con Alma II" is escorted in and out via flourishes in the lowest registers of the piano, framing it with a sense of play, yet the main body of the arrangement moves into a mature and elegant fluidity, carried forward with Rubalcaba's signature sense of dissonance and broken rhythms. "Improvisation I", is again successful in invoking the spirit and memory of Coltrane. Rubalcaba's fingers fly through the scale ideas with ease, finesse and authority, as Coltrane's did over the saxophone. It ends happily, with a sense of satisfaction. All three tunes dedicated to Rubalcaba's children are joyful, leaving a different impression of each child's personality…and may leave the listener breathless! A solo piano album is only as good as its instrument, and piano technician Karl M. Roeder has certainly made Rubalcaba's Yamaha CFIII sound pristine and pure.