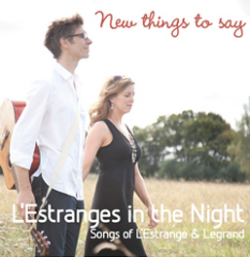 L'ESTRANGES IN THE NIGHT: "NEW THINGS TO SAY" (Andagio 2)
Joanna Forbes and Alexander L'Estrange are a phenomenally talented married couple from the United Kingdom. They've been together since they were both undergraduates at Oxford, and both wrote arrangements for the Swingle Singers while Joanna was musical director of the group during the late 1990s and early 2000s. Although they've performed live as a duet for years, "New Things to Say" is their first album together. It combines familiar movie and pop themes from Michel Legrand with original pieces by Alexander. Both composers have a natural affinity for tuneful melodies and the lyrics (by writers as diverse as e.e. cummings, Jacques Demy, and Alan & Marilyn Bergman) are intelligent and well-fitted to the music. Joanna has a pure soprano voice, and she creates her interpretations through effective arrangements and through subtle shades to the vocal lines.  The opening version of "How Do You Keep the Music Playing" features a virtual choir background, all overdubbed by Joanna, with fretless bass work by Alexander. The same background style returns on "That Was Then", one of four selections from Alexander's musical "Hello, Life".  Elsewhere, the overdubbed vocals are used sparingly to emphasize Joanna's lead vocal lines or to back up the occasional instrumental solo.  Alexander plays piano, bass, guitar (or a combination, through multitracking) and leads the "You Can Call Me Al" jazz quintet, featuring saxophonist Simon Allen, pianist John Turville, drummer Mike Bradley and percussionist Adam Riley  on several tracks. The program leans toward ballads, but another song from "Hello Life" called "On Strike" shows Joanna at her sexiest, singing a lazy line against the sole accompaniment of Alexander's acoustic bass. She transforms herself into a vocal trio on a grooving medium-tempo version of "I Will Wait For You" and on  "You Must Believe In Spring" and "Summer of '42", the L'Estranges have developed fine new settings that revitalize these overplayed songs.  Posthumously dedicated to Christiane Legrand, who was both Michel's sister and the lead soprano for the French Swingle Singers, this album will appeal to Swingles fans, and lovers of superb songs, both new and old.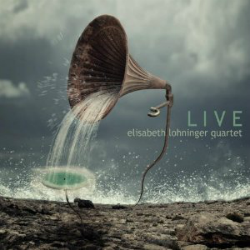 ELISABETH LOHNINGER QUARTET: "LIVE" (Lofish self-produced)
Those readers who explored our "Music for a Cool Yule" feature may recall Elisabeth Lohninger's album "Christmas in July", a stunning multi-cultural approach to holiday music. Surprisingly, "Live", recorded during an April 2012 tour of the Czech Republic, is less challenging than the holiday disc, but that does not make it less entertaining. Lohninger's scat singing, underused on the earlier album, turns up here in an extended solo on Charlie Parker's "Anthropology", and at the latter sections of  "River" and "La Puerta". Her wide range of musical interests are reflected in a playlist that includes Lennon and  McCartney's "Here, There and Everywhere" (outfitted with a modal vamp), Leonard Cohen's "Hallelujah" (with Lohninger self-accompanying her emotional vocal on piano),  and Stephen Sondheim's "Not While I'm Around" (in an intriguing refit to a rock beat). Joining Lohninger are the well-integrated rhythm team of pianist Walter Fischbacher, bassist Petr Dvorsky and drummer Ulf Stricker. Fischbacher is a fine accompanist with a superb linear solo style, Dvorsky plays supremely melodic solos on the Sondheim and on Lohninger's original "There She Goes", and Stricker rattles the foundations on his "La Puerta" solo. I found myself missing the guitar of Axel Fischbacher on this album, though. His wide range of styles and fiery solos added sparks to the holiday disc and it's too bad that he wasn't on the tour to perform a similar function. Yet, this album is a fine introduction to Lohninger's thought-provoking style, her excellent backing musicians,  and her always-interesting choice of repertoire.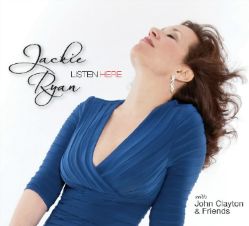 JACKIE RYAN: "LISTEN HERE" (OpenArt 7442)
A fixture on the Los Angeles jazz scene for the past decade, Jackie Ryan has an instantly accessible style that communicates directly to an audience. On her fourth album, "Listen Here", she teams with another veteran Angeleno, John Clayton, on a program that travels through a wide range of genres. Clayton produced and arranged all of the tracks, and he brought along his son Gerald on keyboards, Graham Dechter on guitar, Obed Calvaire on drums, Gilbert Castellanos on trumpet and Rickey Woodard on saxophones. Ryan and the band are equally expressive in all of the album's styles, from the pseudo-spiritual "Accentuate the Positive" (with Gerald on B-3 and Ryan at her most sanctified), the slyly swinging "Anytime, Any Place, Anywhere" (which sounds like it came directly from the Basie book), the deeply emotional "La Puerta" (the same song Lohninger sings above–and also sung here in Spanish), to the cooking samba feel of "To the Ends of the Earth" (with a great solo by Castellanos). The rich arco bass of John Clayton is a perfect match for Ryan's deep alto on Johnny Mandel's "A Time For Love", and Gerald shows his talent as an accompanist on the Dave Frishberg-penned title tune. One of the album's highlights is "I Loves You Porgy" which Ryan sings in the original Gullah dialect. In her liner notes, Ryan writes about George Gershwin's dedication to capturing the dialect for "Porgy and Bess", but it was Ryan's encounter with a contemporary Gullah speaker from Charleston (also discussed in her essay) that clearly inspired this emotional performance. Considering her exceptional command of her voice and her mastery of numerous styles, it seems a shame that Ryan neither scats nor creates melodic embellishments on this album. She's much too good of a singer to limit her involvement to just the theme statements. I suspect that her respect in jazz circles would go up considerably if she would take a few more risks.