The city of Greeley, Colorado, l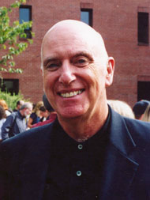 ocated approximately 50 miles northeast of Denver, might seem to be an unlikely location for a jazz festival. Things don't change too much in Greeley: building facades and major landmarks have had the same outward appearance for decades and the primarily conservative population seems to prefer it that way. However, Greeley is also the home of the University of Northern Colorado, which houses one of the best music schools in the country, and a jazz studies department that has few equals. The success of UNC Jazz Studies is due to the pioneering work of Gene Aitken (L), who joined the faculty in 1976 and who expanded the existing program to include numerous big bands, instrumental and vocal combos, and vocal jazz ensembles. When Aitken first came to Greeley, the UNC Jazz Festival was a one-day event representing two or three local schools. Aitken launched a High School Invitational Jazz Festival in his first year at UNC, and a vocal jazz festival a few years later. These festivals were eventually melded into a single multi-day event. Aitken also united members of the community and the university to create the newly-renamed UNC/Greeley Jazz Festival.  This year's event was held April 21-23, 2016, and it celebrated Aitken's many accomplishments during his 27 years at the school. The large audiences who attended the festival's evening concerts may not have realized the magnitude of the celebration. Most of Aitken's appearances were at private reunion functions, while his appearance on the concert stage was limited to a brief awards ceremony. The history of UNC Jazz (and Aitken's pivotal role) was presented in a short video.
The festival staff typically brings in several clinicians and adjudicators, and this year, current jazz studies director Dana Landry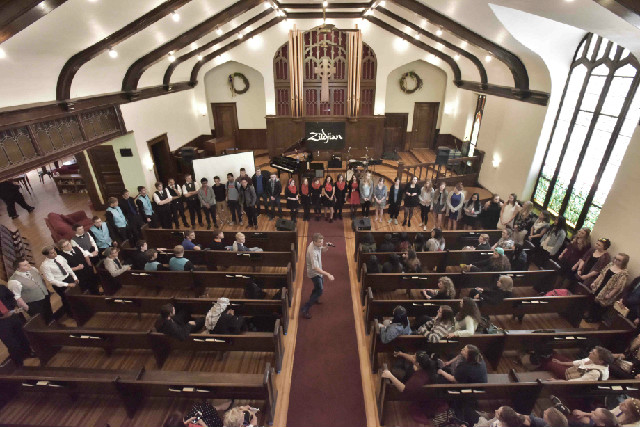 and festival producer Amy Murphy filled several of those positions with distinguished UNC jazz alumni. Roger Treece (C, at the morning session) is probably the best known of those alumni, having sung and arranged for Mark Murphy, Manhattan Transfer and Bobby McFerrin. For his sessions in Greeley, Treece taught McFerrin's "Circle Songs". Treece had the participants stand in a large circle, sectioned off by voice parts. He started by singing a rhythmic motive—which he called the motor—and once a section picked it up and repeated it, Treece would improvise new parts to add on top. Once the whole group was singing their assigned parts, Treece—or later in the sessions, a brave volunteer—would improvise an original melody over the choir. At times, Treece would adapt the evolving creation by stopping one of the sections for a few bars, or alternating between two versions of the same idea. Regardless of whether Treece was leading 100 singers or a few dozen, the results were a fascinating combination of jazz and minimalist music. There were several other sessions throughout the weekend, including Q/A periods with the festival's headliners (most of which also included intimate small group performances) and clinics on repertoire, arranging and improvisation. 
Vocal jazz has been an important part of UNC jazz since Aitken formed the school's first jazz choir in 1978. At that year's festival, only two choirs performed and they took exactly one hour of the schedule.  Today, vocal jazz dominates the entire first day, and the festival uses multiple stages to fit in all of the groups. Inevitably, the festival draws choirs that still draw on Aitken's original vocal jazz model: finely tuned groups who accentuate their swinging music with bouncy enthusiasm. UNC's current vocal jazz groups have moved beyond that concept. In groups led by Murphy and by artist-in-residence Kerry Marsh, the music is more sophisticated and the physical hyperactivity is severely toned down. The two UNC vocal jazz ensembles I saw, Vocalese and Vocal Lab I, performed with exceptional poise and outstanding musicianship. The same could be said for the University of Denver's three-voice Vocal Jazz Messengers, led by Donna Wickham. Performing classic Blue Note songs with the horn parts transcribed for voices, this group featured precise ensemble passages and some of the best conceived scat solos of the day. 
Thursday night's concert was headlined by the New York Voices (L). The group has performed at several editions of the UNC/Greeley Jazz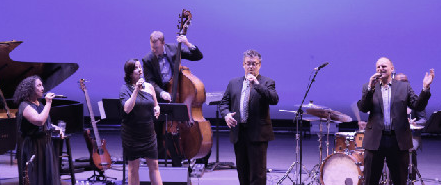 Festival, and at this year's show, they offered a fine sampler of their best works. There were songs by Ivan Lins ("Answered Prayers" with Kim Nazarian's passionate lead vocal), Paul Simon ("Loves Me Like a Rock" with voiced walking bass by guest Trist Curless), and Annie Lenox ("Cold", presented in a deeply soulful arrangement). Darmon Meader performed a brilliant scat solo on the opening "It's All Right with Me", and later, he took up his tenor sax to engage in improvised counterpoint on "Love Me or Leave Me" with Lauren Kinhan. Peter Eldridge led the group in a splendid new arrangement of "I Get Along Without You Very Well" which features several false modulations, and a lovely background for two violins, cello and flute. Near the end of the concert, UNC's Vocal Lab returned to the stage to provide backup for the powerful Eldridge/Kinhan original, "The World Keeps You Waiting. As an encore, the quartet sang a tender rendition of the Beatles' "In My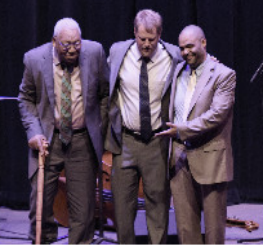 Life".
NEA Master Ellis Marsalis (R) brought his trio (with bassist Jason Stewart and drummer Stephen Gordon) for the first half of the Friday night concert. The 50-minute set included standards by Duke Ellington and Thelonious Monk, along with compositions by three New Orleans composers, and while all of the music was played very well, there seemed to be a lack of passion throughout the set. Marsalis played turned away from the audience, and his announcements did little to engage the audience. I've heard several recordings where his ideas sparkled; in Greeley, they just seemed to fall flat. The Clayton-Hamilton Jazz Orchestra (below L) provided the spark plug necessary to enliven the audience. From the opening "I Love Being Here with You" featuring the trombones of Ira Nepus, George Bohanon, Ryan Porter and Maurice Spears, to the closing jam on "Squatty Roo", with John Clayton spontaneously giving solos to anyone not previously featured, the CHJO seemed determined to blow the roof off the Union Colony Civic Center. Clayton is a very expressive conductor, signaling every nuance to the band (although the audience might get the most benefit from his gestures) but it was a wonderful treat whenever he took up his bass. His glorious arco solo on "Emily" was a highlight of the set. The same arrangement also featured John's  brother Jeff on a glissando-filled alto sax solo that evoked the ghost of Johnny Hodges. T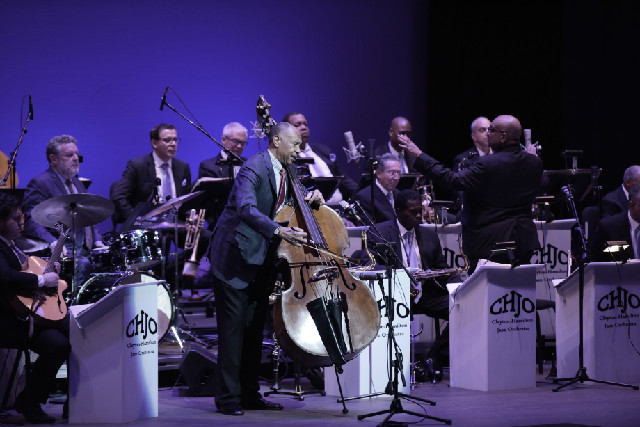 he energetic tenor team of Rickey Woodard and Charles Owens tore it up on Clayton's "Jazz Party", and the group followed that powerhouse arrangement with "Brush This!" an ultra-delicate feature for Jeff Hamilton's subtle brush technique. Hamilton was a joy to watch throughout the performance, as he found just the right sounds to propel the band at any given moment. At one point, he gave a hit to a cymbal with a backward slap of his hand while simultaneously accenting a band figure with a stick to his snare. The CHJO concert coincided with the birthday of master bassist/composer Charles Mingus, and the band paid homage with a brilliant Clayton arrangement of "Goodbye Porkpie Hat". The dramatic triple improvisation by trumpeter Gilbert Castellanos, trombonist Bohanon and tenor saxophonist Owens was strongly reminiscent of Mingus' music, but even when using instruments not normally associated with Mingus, like Jeff Clayton's alto flute, the arrangement maintained a strong connection to its composer. 
Saturday's concert opened with a fine honor band comprised of high school students from five states. They performed three piece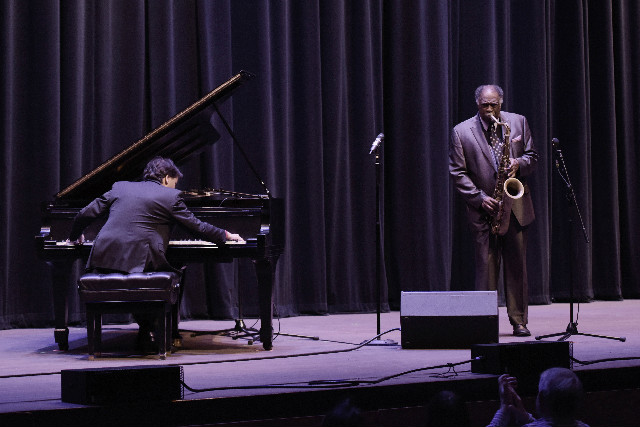 s, including "Firsts", a piece by UNC graduate student Mike Conrad that was commissioned for the group. The talented members of this band displayed maturity beyond their years. Tenor saxophonist Rico Jones showed a particularly well-developed concept of jazz improvisation; his is a talent worth watching. After the video and awards ceremony for Aitken and other jazz faculty members, Houston Person and Tamir Hendelman (R) took the stage for a delightful set of tenor sax/piano duets. At the QA session earlier in the afternoon, Person remarked that "we've been rehearsing for this gig for thirty years—just not together". The two men found an instant chemistry, and their relaxed program of standards was filled with all kinds of unexpected dynamic shifts, gently overlapping improvisations, and deeply emotional solos. Person blew a passionate melodic statement on "Crazy He Calls Me" and later in the set, Hendelman played a gorgeous solo rendition of "Why Did I Choose You". A stomping blues near the end suddenly morphed into "Since I Fell For You", and the pair closed with a romp on one of Person's staples, "Sunny". 
The final set on the Festival's main stage featured organist Joey DeFrancesco and UNC's Jazz Lab Band I in a tribute to Jimmy Smith. Normally, a visiting soloist will bring in his own arrangements for the big band, and more often than not, the star takes all of the solos.

That was not the case for this set. Conrad wrote a fascinating arrangement on "Organ Grinder's Swing" for DeFrancesco and the band, and pianist Tom Amend contributed a chart on "Off the Top". Both settings offered solo opportunities for members of the band, including the fine tenor saxophonist Joel Harris, and DeFrancesco's approving facial expressions showed that he was glad to playing with these fine musicians. The band ripped through Oliver Nelson's tricky arrangement of "Down by the Riverside" and caressed a gorgeous take on "I'm a Fool to Want You". "Tennessee Waltz" was supposed to be the last piece on the program, but after the spectacular performances by DeFrancesco and the band, an encore was in order—and it was a doozy! Landry invited faculty members Steve Kovalcheck and Jim White (on guitar and drums, respectively) to the stage, along with Houston Person, for a no-holds-barred blowout on Lalo Schifrin's "The Cat" (L) . White kicked into an infectious groove that lifted the bandstand, and every soloist seemed to raise the bar to new heights. The audience clapped in rhythm—on 2 and 4, naturally—and the final chorus was simply electric. Over the years, I have attended many editions of the UNC/Greeley Jazz Festival, but few have topped this one for sheer musical excellence.
All photos (except Gene Aitken) by Chang Su.