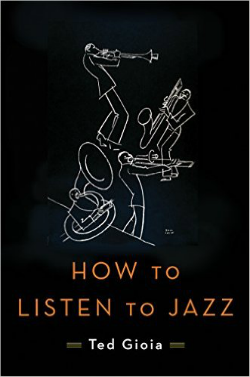 Virtually everyone of a certain age can recall where they were when they first heard about the assassination of John F. Kennedy, or the September 11 attacks, but most jazz fans can also recall another crucial event in their lives: the moment when they first caught "the jazz bug". For me, it was in January 1974, when our junior high band teacher, Earl Faulkner, told us to leave our instruments in the cases, as the hour rehearsal would be devoted to playing jazz recordings. We listened to tracks from Maynard Ferguson's album "MF Horn" that day, and that was enough to spur my interest. Over the next few years, Mr. Faulkner lent me several recordings—including the Musicraft 78s by Dizzy Gillespie and Charlie Parker, which had a considerably greater impact on me than Ferguson's "MacArthur Park". I am forever indebted to Mr Faulkner and countless other mentors who helped the music find me—yes, it finds us, not the other way around—and I take special pride in sharing my love of this music through the internet, the classroom, and personal contact. My most recent opportunity to expound on the wonders of jazz came just a few weeks ago during my trip to the East Coast. Happily, it coincided with the publication of a new book by Ted Gioia, "How to Listen to Jazz" (Basic Books), which—with the blessings of Gioia and his publicist—I presented to a friend of the family who is just learning about the music.
Many established jazz fans might believe that Gioia's book is too elementary for their needs. After all, most of us learned basic listening skills when we were first exposed to the music. However, I contend that this book should be required reading for jazz fans young and old, because throughout this volume, Gioia proves that the best way to revitalize our own passions for jazz is to share the music with others. He recalls the excitement of attending a jazz club for the first time, and how he thought that anything could happen on the bandstand that night. Then he applies his 30 years of experience as a critic and historian to reveal the truths and falsehoods of that notion. Gioia explains the structure of jazz without resorting to musical jargon. Want to recognize swing when you hear it? Gioia suggests going to YouTube and listening to a junior high or high school jazz band that doesn't know how to swing. The rhythmic tension is unmistakable—and completely absent when following up with a recording of the Count Basie Orchestra. Gioia has an even more audacious way to approach the music of Charlie Parker: sing along with Bird! Even if the listener can't match Parker note for note, Gioia notes that it won't take long for the listener to "be immersed in the essence of the bebop sound. You will feel the rhythmic structure of the phrases; you will internalize the chromaticism and cadences even if you have no notion of the technical rules that guide them."
Gioia also uses many standard techniques to introduce listeners to jazz. There are the schematic "AABA" essays which describe famous recordings eight bars at a time, assigning letters to each section, and explaining what happens in each episode. Eventually, he delves into the history of the music, and tells about several of the major innovators. However, Gioia sticks to the music, and wisely avoids the often-told tales of Louis Armstrong's affection for Swiss Kriss and Charlie Parker's stay at Camarillo. He also steers his readers away from the critical conceptions heaped upon the music by his predecessors, asserting that a listener can enjoy free jazz better by jettisoning conceptual baggage, and just appreciating it on an emotional level. As Gioia states, "you can always come back and analyze it later." He discusses the music in the post-Coltrane era, offering astute opinions on fusion, ECM/World Music and neo-classicism. The closing section may the most valuable of all, as Gioia discusses contemporary jazz and the unique ways that jazz has mixed with other genres. He stops short of predicting the next innovation in the music, but he seems as anxious as the rest of us to explore the new sounds. As an appendix, Gioia includes a list of 150 jazz musicians currently in the early to middle stages of their careers for readers to follow (and because it's a list, you can all argue about its contents amongst yourselves).
Just as I return to the works of George Orwell, Jonathan Swift and William Zinsser for necessary inspiration as a writer, I plan to keep Gioia's book handy to remind me of my love for jazz and my joy in sharing this music with others. As I told my young friend a few weeks ago, jazz is like nothing else in the world, and it is the primary force in my life. Ted Gioia's book explains the reasons why, both for me and for millions of jazz fans all over the globe.