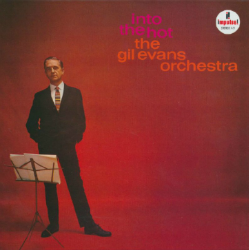 Following his 1961 big band masterpiece, "Out of the Cool," one might expect Gil Evans' next album to be a further development of the same theme, but that's not what happened. Instead, "Into the Hot" gave exposure to two other musician/composers, trumpeter John Carisi and pianist Cecil Taylor. According to one of the participants, Evans' only role was go out and get the sandwiches at lunchtime. Carisi was quoted in Ashley Kahn's book "The House That Trane Built: The Story of Impulse Records" as saying: "He sat there in the booth, and asked for certain things to be played over again…he didn't write one note."
So "Into the Hot"—sans Gil Evans, but with his picture on the album cover—has six tracks, three by the John Carisi Orchestra and the other three by the Cecil Taylor Unit. The Taylor Unit included Archie Shepp, Jimmy Lyons, Henry Grimes and Sunny Murray, with Ted Curson and Roswell Rudd added on one track.  Carisi's group features several New York studio musicians such as Clark Terry, Bob Brookmeyer, Doc Severinsen, Phil Woods, Harvey Phillips, Eddie Costa and Barry Galbraith. 
It's a pleasure to hear the compositions and arrangements of the underrated Carisi, whose work is somewhat reminiscent of Evans and George Russell. Early on, Carisi had plenty of experience playing in big bands, as a member of Herbie Fields' Orchestra (1938–1943) and  Glenn Miller's Army Air Force Band. After the war he worked with Ray McKinley, Claude Thornhill, Charlie Barnet, Urbie Green, and Benny Goodman. In the liner notes to "Into the Hot," Nat Hentoff mentions Carisi's involvement in Miles Davis' "Birth of the Cool" session in 1949, which included Carisi's "Israel," a tune that has since become a jazz standard. Carisi also studied classical techniques with Stefan Wolpe, which he incorporated into his jazz arrangements. Carisi himself, however, had no patience with categories. He once remarked, "If you need a term to describe what I compose, you can simply call it American music."
Carisi's "Moon Taj," starts off as a moody ballad with the trumpet playing over the atmospheric sounds of the ensemble. The melody has broad intervals that meld beautifully with the other voices, which pop up here and there over a shimmering bell pattern. The band then moves into a gentle swing, with Costa's piano riding over the top, picking up tempo with punctuations from the horns, and finally returning to Carisi's trumpet, playing full out over a vamp fade-out. "Angkor Wat" is a perky swinger with ongoing dialogues between different parts of the band. A repetitive vamp supports the solos, notably a bluesy exchange between Costa's piano and Galbraith's guitar, followed by a sassy offering on alto sax by Gene Quill. Galbraith's guitar introduces "Barry's Tune" over a punctuated, swinging background from the ensemble, and continues with his solo. The excitement builds with a trumpet solo by Carisi over a repetitive vamp, and then Galbraith enters again for a brief, abrupt ending.
"All can say about Cecil as a pianist and composer," said  Evans, "is that when I hear him I burst out laughing in pleasure; because his work is so full of things. There's so much going on and he is such a wizard that whatever he does bristles with all kind of possibilities." The avant-garde Taylor and the more conventional Carisi might seem like strange bedfellows, and indeed they are. Taylor's approach to the keyboard has been described as "eighty-eight tuned drums" because of his aggressive, physical approach, often involving clusters and polyrhythms, and both his improvisations and compositions are far more complex than Carisi's. In the pieces here, there is often a kind of collective improvisation, riding over the top of and both enhancing and deriving inspiration from Taylor's leaps and attacks on the keyboard.
Taylor's opener, "Pots" is a madcap uptempo foray that finds the horns conversing with Taylor's punchy piano. This is a fairly mainstream sounding piece, all things considered, but it still illustrates the most crucial rule of avant-garde music: mutual listening and responding. Taylor's solo, bounding over the keys, is followed by a brief tenor solo by Shepp, leading into a drum solo and then a complete change of mood—a slow, fading interplay among the horns, ending with a single note from Taylor's piano. "Bulbs" is another "talker"—the horns seem to speak to one another, sometimes angrily, others gently, and then moving into a jivey exchange with the piano. Taylor picks up the tempo with scattered lines and clusters, with the horns interrupting here and there. Jimmy Lyons' alto sax jumps in and floats over the top of the driving piano and the other horns, which offer their voices here and there.  Shepp winds it up with an aggressive tenor solo and more interplay with the rest of the group. The final track, "Mixed," starts on a gentler tone, with Taylor's piano displaying some classical touches under Shepp's tenor. Then there's a sudden mood change, with Lyons and Shepp playing a frenetic repeated phrase over Taylor's piano. This track is the only one where Curson and Rudd play, although they don't solo. This piece also changes tempos, slowing down toward the end with Taylor barely tinkling the keys. Overall, "Into the Hot" isn't everyone's cup of tea, but it's an excellent showcase for two of jazz's outstanding figures.