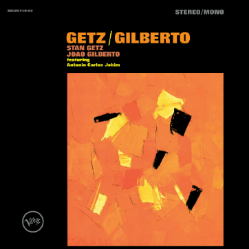 In November 1962, several important Brazilian musicians, including João Gilberto, Oscar Castro-Neves, Luis Bonfá and Sergio Mendes, came to New York City to play a concert at Carnegie Hall. Although Stan Getz did not play at the concert (and may not have attended), it was the success of his album "Jazz Samba" (co-led with Charlie Byrd) that had buoyed American interest in the bossa nova movement. Many of the Brazilians decided to stay in New York for a few months so they could capitalize on the music's popularity. Getz's producer at Verve, Creed Taylor, decided to pair the saxophonist up with several of them to create a collection of bossa nova discs which he could issue over a period of several years.
Recorded in March 1963, "Getz/Gilberto" was a true summit meeting featuring Getz on tenor sax, Antonio Carlos Jobim on piano and João Gilberto on guitar and Portuguese vocals. They were accompanied by two other Brazilians, bassist Sebastião Neto and drummer Milton Banana. Gilberto was a notorious recluse, and Getz's wife was summoned to retrieve him from his hotel a few blocks away. It might have been during this negotiation that Gilberto's wife, Astrud, was invited to come along and sing the English lyrics on two of the songs. No matter how she came to be there, Astrud's timid, breathy vocals was likely the key to the album's eventual popularity. Without her (or another vocalist), "Getz/Gilberto" would have been a superbly played album of Brazilian music, but Astrud's unfettered voice brought the tender and melancholy words of "Girl from Ipanema" and "Corcovado" to the American audience. Overall, the album is not very adventurous—neither Jobim nor the Gilbertos were accomplished improvisers, and Getz seems to hold back on every track except "Só Danço Samba"—but the musical chemistry is visceral, from Getz's delicate obbligatos through João Gilberto's understated (but highly influential) vocals and guitar, Jobim's delicate piano solos, and the impeccable groove between Neto and Banana.
Taylor held back the release of "Getz/Gilberto" for nearly a year, by which time the Beatles had taken over the music charts, and bossa nova was literally last year's fancy. However, the album and its hit single "Ipanema" became huge successes, and netted Grammys for Record of the Year, Album of the Year, Best Jazz Instrumental Album and Best Engineered Album (non-classical). The latter award is particularly relevant to Verve's new reissue, for this album—which always had phenomenal fidelity—sounds better than ever. On several editions, the left and right channels were reversed. That problem has been corrected, and more importantly, the presence of the recording is greatly improved. Literally, it sounds as if it was recorded last week. For anyone that does not already own this album—and for many who do—this CD is the version to have.
It's just too bad that the rest of the disc fails to match up. Apparently, there were no alternate takes from the recording sessions. The original LP is rather short (only about 34 minutes), and after the first CD reissue (which had no extras), Verve has tried to find something—anything—to fill up the remaining disc space. The best solution was the box set "The Bossa Nova Years" which collected all of Getz's Brazilian recordings on 4 CDs. Verve might have added another full LP to fill out the disc—the best candidate would be "Jazz Samba Encore", recorded six weeks before "Getz/Gilberto" with Bonfá on guitar and his wife, vocalist Maria Toledo. Toledo's dark, haunting vocals are a stunning contrast to Astrud Gilberto's simple and naïve delivery. Or Verve could have collected some of the Getz Quartet's live recordings of the same material (their Carnegie Hall version of "Girl From Ipanema" is particularly fine). Or to give the set a broader scope, they could have included Brazilian versions of the "Getz/Gilberto" repertoire (there are superb recordings of these songs performed by Sergio Mendes, João Donato, Sylvia Telles and Gal Costa; Universal Music owns them all and have issued them on previous compilations.) Any of these options would have offered a deeper dimension to the original album. Instead, Verve went with a very curious choice: they included the entire album in mono—even though the music on the mono edition is exactly the same as the stereo! Then, they add an equally meaningless supplement from the earlier CD editions: the 45 rpm versions of "Ipanema" and "Corcovado" that are nothing more than butchered edits of the original takes.
In the publicity material, Verve trumpets that this is the first CD issue of the mono album, but who cares if the music is the same? I can't imagine that anyone would want to listen to this entire album twice in a row just for sonic differences. And at a time when record companies need to encourage consumers to buy full CDs, why offer a product with so much musical duplication that the logical reaction is to simply download the original stereo album and forget the rest? Because "Getz/Gilberto" was both a commercial and artistic success, it has made a lot of money for both its creators and its record company. It deserves better treatment than this.