KURT ELLING: "THE QUESTIONS" (OKeh 49283)
As on his previous albums, Kurt Elling is not content to just entertain his listeners; he wants us to think about the words that are sung and the relationships between texts. His new album, "The Questions" may challenge listeners more than his earlier discs simply due to the wide range of composers, poets and lyricists. Bob Dylan, Rumi, Paul Simon, Johnny Mercer, Sara Teasdale, Oscar Hammerstein II and Elling all play a part in this intriguing recital. Ellin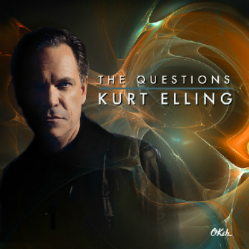 g delivers these words with intensity, making us believe that every couplet was drawn from his personal experience. Yet, we have all felt these emotions: love, fear, desperation, elation, confusion, redemption, and loneliness. Songs like Simon's "American Tune", Dylan's "A Hard Rain's A-Gonna Fall" and Peter Gabriel's "Washing of the Water" speak to those shared feelings, regardless of the musical setting. On these tracks, Elling seems primarily concerned with communicating a message; when he moves into jazz repertoire in the second half of the album, Elling's delivery becomes more relaxed but the strong messages remain (his performance of the adapted Rumi poem in the midst of Jaco Pastorius' "A Secret in Three Views" is a marvel of both sensitive lyric interpretation and audacious rhythmic manipulation). By far, the album's most mesmerizing performance is of Carla Bley's "Lawns" (here renamed "Endless Lawns"). Starting with a simple clapped and stomped two-beat rhythm, Elling and flugelhornist Marquis Hill alternate stanzas, with Elling singing of an idyllic outdoor space with stars shining above, and Hill offering lyric improvisations to enhance the mood. The dynamics rise with each new chorus, as it leads to Elling's interpolation of Teasdale's "Winter Stars" to an improvised melody. The background drops down to just bass and drums, with sparse piano and guitar fills added as the poetry continues. Although Elling wrote the lyrics to the Bley piece, we can hear that the Teasdale poem was on his mind while he was writing his original words. By the end of the 9-minute track, the dynamics have risen and fallen again before going back to the original two-beat pattern. Elling's remarkable band deserves as much credit for the realization of this music as the always compelling vocalist: they include guests Branford Marsalis (soprano and tenor sax), Hill (trumpet) and Joey Calderazzo (piano); Stu Mindeman (piano, organ); John McLean (guitar); Clark Sommers (bass) and Jeff "Tain" Watts (drums). "The Questions" is an album undoubtedly inspired by our current political situation, but its musical quality will endure long after our present troubles are solved.
ALLAN HARRIS: "THE GENIUS OF EDDIE JEFFERSON" (Resilience Music Alliance 4)
In a departure from his earlier projects celebrating Nat King Cole and Billy Strayhorn, Allan Harris turns to "The Genius of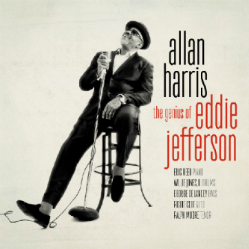 Eddie Jefferson". Harris' smooth baritone might seem an odd match for Jefferson's notoriously scratchy timbre. However, he successfully navigates the complex solo lines of Miles Davis, Lester Young, Charlie Parker, Coleman Hawkins, Horace Silver and Dexter Gordon, while clearly executing Jefferson's tongue-twisting lyrics. Pianist Eric Reed and producer Brian Bacchus helped Harris select and rehearse the material, and the playlist includes some of Jefferson's best works, including "So What", "Dexter Digs In", "Billie's Bounce", "It's Only a Paper Moon"—here renamed "Lester's Trip to the Moon", and the Hawkins "Body and Soul" (a duet performance which Reed opens with the original song's rarely-heard verse—bless him!). When Harris departs from the vocalese pieces, he reverts to being a baritone crooner, and when he attempts to scat—as on the smoothed-out version of "Jeannine"—he is no match for Jefferson. I was also disappointed that there were no lyricized solos by James Moody, who was Jefferson's original instrumental mentor. I realize that Harris has recorded "Moody's Mood for Love", but a remake would have been appropriate here, as would any of the old Prestige titles that Jefferson and Moody did together (like…"Disappointed"). Thankfully, one of Jefferson's partners is here, and that is Richie Cole, who worked with Jefferson through the singer's last night on the planet. In addition to Cole and Reed, the backup band includes tenor saxophonist Ralph Moore, bassist George De Lancey and drummer Willie Jones III. Hopefully, this album will entice listeners to explore Jefferson's original recordings (much of which can still be found online). Eddie Jefferson had a unique talent, and Harris and his colleagues have created an imperfect, but respectful tribute to this late master.
 
JOHN PROULX: "SAY IT" (ArtistShare 159)
There is a precocious quality to John Proulx's tenor voice. He seems able to float melodic variations or scat solos with little effort, and he has an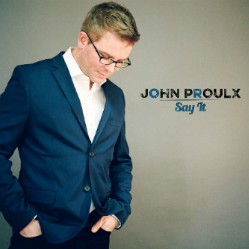 innate ability to find songs that are particularly suited for his light voice and youthful persona. That ability is readily apparent on his newest release, "Say It". He opens with a bright-tempoed take on "The Gentle Rain" that somehow retains its integrity despite the rapid pace and improvised solos. He resuscitates an old Michael Franks tune, "Scatsville" and then, backed by a string quartet and rhythm section, he reminds us of Michel Legrand's lovely theme to the film "Summer of '42"—a movie made long before Proulx was born! Sometimes, personal separation from a song's original recordings is a good thing, as on another Legrand song recorded here, "Watch What Happens". The sassy pop/jazz feel that Proulx created in his arrangement brings a much-needed fresh approach to a well-written, but over-performed song (I wish he would have done the same on Joni Mitchell's "Both Sides Now"). The slightly sinister tinge on "Say It (Over and Over Again)" will be a shock to those who learned the song from John Coltrane's "Ballads" album. The Mose Allison blues "I Don't Worry about a Thing" is a welcome opportunity for Proulx's sidemen Bob Sheppard (tenor sax), Larry Koonse (guitar), Chuck Berghofer (bass) and Joe LaBarbera (drums) to stretch out. Although Proulx does not solo on piano on this track, his comping is especially fine here (he plays a superb piano solo on "Something to Live For" later in the set). And while his scat technique may not rival many of his colleagues, his scat solo on "I Don't Worry" is quite remarkable in its execution and ideas. Alan Broadbent, who wrote all of the string arrangements for the album, contributed a lovely ballad called "The Last Goodbye", a piece that seems destined to be a modern-day standard (you will swear that you've heard it before, but like me, you may not be able to place where). Proulx may have a long career ahead of him, and it will be interesting to see how his technique and approach changes as he ages. Precociousness doesn't last forever, but prodigious talent can grow and bloom.