AMY CERVINI: "JAZZ COUNTRY" (Anzic 44)
The cover of Amy Cervini's new album "Jazz Country" is set in a city park where Cervini, in shades, sweater, slacks and stilettos, leans against a pickup truck. The image is not as much of an anomaly as it once was (just visit Denver) but the music inside represents a rare blending of these two American musical genr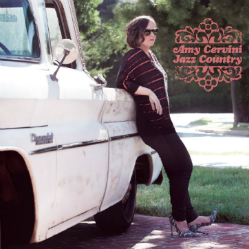 es. The music has developed over three years of gigs, collectively led by Cervini, guitarist Jesse Lewis and bassist Matt Aronoff. This trio is a constant presence through most of the album, and when they play by themselves, they reveal the basic core of the style: an unfettered presentation of the songs (which range from  Richard Rodgers to Neil Young) with a relaxed two-beat feel and strong conviction to the stories within the lyrics. The group embraces silence in their deft rendition of "Blue Moon", and the style hovers between country and small group swing on Nat Cole's "Frim Fram Sauce". The group is augmented with several guest artists, including clarinetist Anat Cohen on "Frim Fram" and Cervini's original French chanson "Je Danse Avec la Neige" (where Lewis evokes Django Reinhardt), Nellie McKay on Dave Frishberg's "Wallflower Lonely, Cornflower Blue", and Cervini's husband, pianist Oded Lev-Ari on Dominique Eade's "Go Gently to the Water" and the Cervini/Nicky Schrire collaboration, "Penguin Dance" (also featuring Gary Versace on accordion). The plunger-muted trumpet of Nadje Noordhuis is an intriguing addition on Johnny Cash's "I Still Miss Someone", but the tenor sax of Marty Ehrlich is woefully out-of-tune on an otherwise fine version of Hank Williams' "I'm So Lonesome I Could Cry." The album's emotional high point comes in a remarkable version of "Calling You", the theme from the film "Baghdad Café". After Cervini's passionate vocal, Lewis improvises a wordless vocal that starts softly and builds to an impressive climax when Cervini joins in. There is only a short reprise of the theme at the end because Cervini and company instinctively knew that nothing more was needed. That inherent sense of form and balance reflects these musicians' collective jazz experience—after all, every improviser needs to know when to continue playing and when to stop—and that sensibility makes "Jazz Country" a fascinating musical experiment.
KATE McGARRY & KEITH GANZ: "GENEVIEVE & FERDINAND LIVE" (Sunnyside 1374)
Since her first recordings, Kate McGarry's style has reflected a wide range of folk, rock and jazz influences. Those influences are predominant on her latest album, "Genevieve & Ferdinand Live", which features the sole accompaniment of McGarry's husband, guitarist Keith Ganz. Like few others, McGarry can effectively tell a song's story while taking great liberties with the melody and rhythm. On the opening trac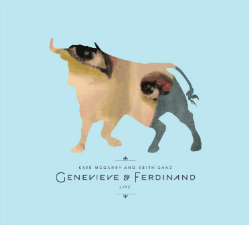 k, she reveals new meanings in Paul Simon's "American Tune", but it is on her original—and autobiographical—composition "Ten Little Indians" that she makes astounding rhythmic variations to the song's basic motives while holding our attention to the narrative. Ganz is in particularly good form on the Brazilian medley of "Aquelas Coisas Todas", "Third Wind" and "Aqui O", with his authentic samba comping effectively contrasting McGarry as she alternates between scat and Portuguese. Ganz' rhythmic nuances are quite surprising on James Taylor's "Line 'Em Up", and on his original "Mr. Long Gones". One track breaks away from the rest in style and concept: Todd Rundgren's "Pretending to Care", which is presented in a restrained 4-voice arrangement with guest vocalists Theo Bleckmann and Gian Slater (with McGarry overdubbing a second part). It is an effective change of pace, but I wonder if it might have been a better fit within another recording project. It certainly makes me want to hear more settings like it, but it also removes us from the intimacy of the live duo. The program also includes three standards—a version of "Let's Face the Music and Dance" which echoes the hesitant and anxious approach from McGarry's rendition on "If Less is More…Nothing is Everything"; a short but lovely reading of "Smile", and a delightful version of "Can't Help Lovin' Dat Man" that combines McGarry's sensuous melodic variations with a delicious lazy groove by Ganz. And while this is primarily a live recording, I suspect that the music will take several interesting new directions when McGarry and Ganz take it on tour this month. As a duo, they are known professionally as "Genevieve and Ferdinand" (from McGarry's middle name and her comparison of Ganz to the gentle character Ferdinand the Bull), but I'd imagine their real names also appear on the advertisements. Under any moniker, they are certainly worth hearing.
CATHERINE RUSSELL: "BRING IT BACK" (Jazz Village 579001)
While Catherine Russell has an impressive jazz pedigree—her mother was bassist and guitarist Carline Ray and her father was pianist and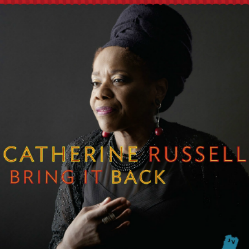 bandleader Luis Russell—most of her career focused on soul, pop and R&B. Her new album, "Bring It Back" is her most jazz-oriented disc to date, featuring songs from the traditional jazz, swing and early R&B repertoire. Russell sings the varied program with equal authority, and she makes subtle changes to her vocal tone depending on the material. For example, on the title track she displays a bright sound that echoes the sexual theme of the lyrics, but on songs like "I Let a Song Go out of my Heart" and "I'm Shootin' High", her softer tone sounds like the vocalists of the big band era. At times, she combines these sounds to great effect, and to my ears, that sounds more comfortable for her as a vocalist. Russell is accompanied by a tightly swinging 10-piece band led by guitarist Matt Munisteri. They flawlessly evoke the sounds of a big band on the swing era numbers, provide jumping backgrounds on "Darktown Strutter's Ball" (with splendid two-beat bass by Nicki Parrott) and dish out the grits and gravy on the R&B repertoire. There are fine Louis Armstrong-like trumpet solos on "I'm Shootin' High" and "Public Melody Numbe One" by Jon-Erik Kellso. Mark Shane's piano wails on "I'm Stickin' with You, Baby", and is then restrained on the next track, "Strange as it Seems", and Dan Block's gorgeous alto sax solo enriches "Lucille". The last named song was written by Russell's father for Armstrong (who never recorded it), and the original demo, sung by her mother, appeared on her "Vocal Sides" CD. Catherine's version transforms the song into a big band ballad, and she is at her best on this track, singing with great emotion and taking chances with the melody. With this album, Russell proves that she can effectively straddle a number of genres and unite a wide range of listeners.