CLAYTON BROTHERS & FRIENDS: "THE GATHERING" (ArtistShare 118)
Most of the time, our CD capsule reviews simply reflect the best discs we've received over the previous month, but this month–without planning it–all of our discs (at least in part) share a sense of family and community. That quality is especially apparent on the Clayton Brothers new album "The Gathering". In addition to their regular quintet, anchored by brothers John (bass) and Jeff (alto sax and alto flute), and John's son Gerald (piano) Clayton, and filled out with musi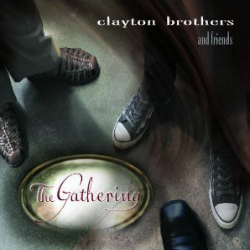 cal family members Terell Stafford (trumpet) and Obed Calvaire (drums), the Claytons have invited two special guests to join the band, Wycliffe Gordon (trombone) and Stefon Harris (vibes). In a program dominated by originals, the Claytons have written new pieces to feature their guests, John's "Stefon's Fetchin' It", a speedy minor riff for the vibes, and Jeff's sly "Coupe de Cone", titled after one of the trombonist's nicknames.
With Jeff's Cannonball-styled alto sax, the Clayton Brothers Quintet have been unfairly pegged as a modern version of the Adderley Brothers Quintet. While there is no question that the Claytons can play soulful hard bop like the Adderleys, they have a much wider range, and "The Gathering" offers plenty of examples. Jeff's "Tsunami" is dedicated to Japanese friends affected by the tidal wave which hit the country shortly after the Claytons toured. It has a restless feeling stemming from Calavaire's drums which never lets the soloists get comfortable in a groove. John's atmospheric "Touch the Fog" pairs Jeff's alto flute with Harris' dry, vibratoless vibes. Jeff evokes the "little cat feet" of Carl Sandburg's poem, and Harris creates a unique solo based on hesitant and oddly shaped melodic fragments. The press release notes that Jeff "spilled his soul" on the first take of Benny Carter's ballad "Souvenir", but that the second take lacked the feeling of the first. John said that he "let his brother be himself", which is true to the spirit of this music. John and Gerald are both featured on Billie Holiday's "Don't Explain" with John's glorious arco bass essaying the melody at the beginning and end with Gerald playing a tender piano solo as the centerpiece. Gordon and Stafford are natural sparkplugs for this band, and both play rousing solos on the Les McCann/Eddie Harris-inspired "This Ain't Nothin' but a Party" and the exuberant "Blues Gathering", with Gordon offering smears and growls in the tradition of Quentin Jackson, and Stafford providing no-nonsense deeply swinging lines. However, the album's biggest surprise is the penultimate track, "Simple Pleasures", a gorgeous feature for Gerald and Stefon that includes breathtaking background chords for the horns. "The Gathering" is a top-notch album from one of jazz's best working bands. Put it on your must-have list. THOMAS CUNNIFFE
BRANDI DISTERHEFT: "GRATITUDE" (Justin Time 247)
For being only 27 years old, Canadian bassist Brandi Disterheft has an incredible group of friends who played on her new album "Gratitude". She met trumpeter Sean Jones at a jazz camp, plays sessions at alto saxophonist Vincent Herring's house, is best friends with flutist Anne Drum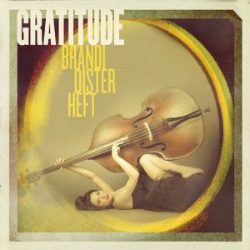 mond, went to the same high school as pianist Renee Rosnes, and wrote a song for drummer Gregory Hutchinson. But Disterheft has an abundance of musical maturity, and there's no question that she is the leader of this group, with all of the energy focused on her rich acoustic bass. She knows her jazz history, and her sound mixes the virtuosic agility of Charles Mingus with the deeply swinging sound of Ray Brown. She composed most of the music on this album, including the title composition, an understated funeral march for her cousin, a recent victim of cancer. Her "Blues for Nelson Mandela" starts the album at a stately pace and then imperceptibly accelerates into a swinging medium-tempo blues which features Disterheft on both arco and pizzicato solos.  While I don't hear much Ellington or "Far East Suite" (the credited inspiration) in "Portrait of Duke", the piece is a great vehicle for a boppish Jones trumpet solo, fired by Disterheft and Hutchinson.
Disterheft also sings on three tracks. I can't say that I'm totally enamored by her treatment of "But Beautiful", but Drummond's remarkable flute obbligato makes the track special. A cover of "Compared to What" features updated lyrics and an irresistible funk groove. Disterheft's dramatic French song "Le Regarder La Recontrer Encore" ("Watching Him Meet Her Again") is accompanied by a free-style bass and drum dialogue; the two verses are separated by Rosnes playing the melody. Rosnes' sensitive touch and rich harmonies are present on most of the tracks, but her best solo is on her own composition "Mizmahta", where her solo builds from single line figures to brilliant splashing runs. The performance also offers Herring one of his few solo opportunities, and he contributes a finely crafted and deeply soulful chorus. "Gratitude" shows Disterheft as a superb bassist, vocalist, bandleader and composer.  Keep an ear out for her!
THOMAS CUNNIFFE
DIEGO FIGUEIREDO: "TEMPOS BONS" (Stunt 12102)
A virtuoso guitarist in the tradition of Baden Powell, Laurindo Almeida, and Romero Lubambo, 29-year old Diego Figueiredo has recorded 15 CDs under his own name and appeared on over 200 others. On his latest release, "Tempos Bons," he combines a number of styles, including samba, choro, jazz, Flamenco, American standards, and classical music, and is equally at home in all of them. Figueiredo was born in São Paulo and his first instrument was a mandolin given on his sixth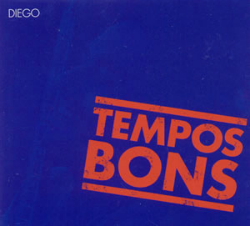 birthday. Naturally attracted to music, he tried a number of instruments before settling on the guitar at age 12. Before long, he was playing in local theaters and bars, and had already learned how to improvise.
On this compilation CD, Figueiredo plays with a trio that includes Milton Batera on drums and percussion and Junior Meireles on bass. The set opens with an energetic take on Ary Barroso's "Na Baixa do Sapateiro," known in English as "Bahia," which includes several tempo changes, including one into waltz time. The guitarist reveals his sensitivity and delicacy on "Carinhoso," and displays his flamenco chops on both "Granada" and "El Colibri," the former more gently and the latter more percussively. "Lamentos do Morro" is no match for Raphael Rabello's classic version, but is has a lively originality all its own that includes an effective tempo change in the middle. He incorporates inventive reharmonizations on the jazz standard "Round Midnight" and on his swinging jazz version of "Stella by Starlight. "Retratos do Nordeste" is a beautifully executed tour de force both for Figueiredo and  Batera, and "Las Abejas" is a brief but impressive showcase for the guitarist's virtuosity. Other tracks include Chick Corea's classic, "Spain," rendered with a masterful touch; and a version of Jobim's "Wave" which sports some virtuosic lines and several percussive outbursts that contrast with the quietness of the overall theme. Figueiredo tends to use these punctuations rather frequently, and I find them to be a bit jarring. Cyrille Aimée, one of Figueriredo's favorite duet partners, sings on three numbers: "Que reste-t-il" (I Wish You Love), "Old Devil Moon," where she scats charmingly and overdubs her voice, and a lovely English rendition of "Dindi" with Figueiredo playing sparse bossa nova chords both behind her and in his brief solo passage. AMY DUNCAN

ERIC PERSON: "THOUGHTS ON GOD" (Distinction Records 4008)
Thoughts on God is saxophonist/composer Eric Person's ninth recording as a leader, and his fifth for his own label. Leader of several groups, including Meta-Four and Metamorphosis, this is his first outing with his jazz orchestra. On "Thoughts on God," a 12-part suite, Person takes a subject close to his heart and freely expresses his own spirituality. He explains his inspiration for the music, which he began composing in 1984: I was feeling God's presence while I wrote and I was allowing music to flow through me that I did not totally understand. "All Those With Ears Hear," the first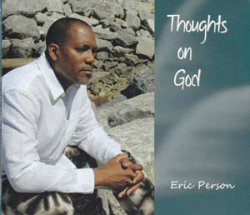 movement of the suite, is a paraphrase from Revelation. It opens with a reverent piano solo, played and improvised by Adam Klipple, which jumps suddenly into a swinging backbeat and a disarmingly simple melody that introduces the piece's main theme, played by the ensemble. Person's warm, dexterous alto solo slowly builds to fever pitch—fitting for this climactic Bible story—over the full band. The next section, "And Then There Was Light" goes back to the beginning of the Bible, the story of creation. It's a fierce and funky swinger, with a burning, passionate solo by Person and a vamp-like passage that seems to fairly shout out, over and over "…and behold, it was very good!"
As a natural sequence, the dawning of light is followed by a "Creation Celebration," with a joyful, quirky intro underpinned by the baritone sax that leads into a medium tempo swing theme that suggests a "Sentimental Journey" mood and gradually builds into a happy burst at the end. The ballad "Soothes the Soul" is graceful and introspective, and features some very pretty ensemble writing for flutes and trumpets. This one also features a fine clarinet solo by Patience Higgins. Among the remaining parts of the suite are, notably, "Never Far From His Grace," sweet and moving, with warm harmonies and counter-melodies from the ensemble, riding over Scott Robinson's baritone sax, and a dramatic climax that sounds like resounding chimes; the polyphonic "The Blessing," which Person describes as "a vision in sound," with a sample of Person's perfectly in-tune soprano sax; the jaunty "Gratitude" in 6/4 time; and "Faith Forward, a funky groove that features an impassioned alto solo by Person. I find Person's frequent use of repetition on this recording as nothing short of brilliant. It never gets tiresome; instead it has you wanting to hear the phrase yet one more time. "Thoughts on God" is an exciting and satisfying presentation from an inspiring and original new voice in large jazz ensemble writing, and I was mightily impressed by the fact that Person raised all the money for this project on Kickstarter—quite a feat for an ensemble of this size. On his Kickstarter page, he remarked "This suite of music is a gift given to me that must be shared, and I believe it has the power to affect the human condition in a positive way." AMY DUNCAN
HOUSTON PERSON: "NATURALLY" (High Note 7245)
For many years, it was the most ubiquitous instrumentation in jazz—a tenor saxophonist with piano, bass and drums.  With repertoire consisting of standards and a few jazz originals, saxophonists like Coleman Hawkins, Lester Young, Wardell Gray, Dexter Gordon, Sonny Rollins and Stan Getz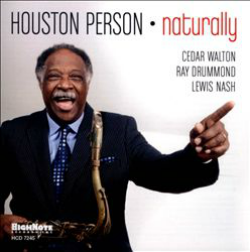 made some of their finest recordings in this format. As those scions and many of their followers have passed on, so has the classic tenor sax quartet. But then there's Houston Person, who generally travels as a single and works with local rhythm sections. I've heard him live a few times in the past few months, and I'm amazed at how easily he connects with unfamiliar players. On his new album, "Naturally", his rhythm section is filled with old friends who also happen to be some of the finest musicians in New York: Cedar Walton (piano), Ray Drummond (bass) and Lewis Nash (drums).
As in Person's live sets, the song list on "Naturally" features a few classic standards ("My Foolish Heart" and "Sunday"), a pair of jazz originals ("Bags' Groove" and "Don'cha Go Way Mad") and several seldom-heard ballads ("How Little We Know", "That's All", "Red Sails In The Sunset" and "It Shouldn't Happen To A Dream"). On the medium pieces—Person rarely plays fast tempos—he will play flowing bop solos with an occasional barked comment to break up the line. But it is on ballads where Person shines: he has a unique way of communicating a lyric through his horn. It's not that he plays the melody straight, but like a good vocalist, he never lets his ornamentation detract from the line. At the live performances, I heard audience members singing along with Person, and I caught myself doing the same thing while listening to his recording of "Foolish Heart". Walton, Drummond and Nash have never recorded before as a team (although I imagine that they have played live gigs together) but the empathy between them is immediate and electric. Walton's single-line statements are particularly effective following Person's tenor solos, and the combination of Drummond's solidly swinging bass and Nash's crisp, dancing percussion creates a pliable background for the veteran tenor man. This is not progressive jazz, but music that is as comfortable as a pair of slacks, an old sweater and a pair of sneakers. Naturally—wouldn't have it any other way.  THOMAS CUNNIFFE
Considering the title of this review collection, we should note that to the best of our knowledge, Houston and Eric Person are not related to one another. Houston explained that they are friends and have played gigs together, but are unaware of any blood relationship.