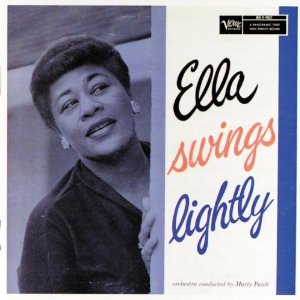 In the mid-1950s, Ella Fitzgerald entered a period of simultaneous artistic growth and enormous popularity. As she approached her 40th birthday, the chestiness of her voice gave way to a clear, bell-like tone. While she had never studied music theory, her intuitive harmonic sense had developed to a stunning degree, and her scat solos, both on records and on television, showed a remarkable growth in ideas and conception. Her manager, Norman Granz, had wanted to record her since the early 50s, but Decca held a long-standing contract with the singer, and they seemed unwilling to lose her from their roster. When Granz finally wrestled Fitzgerald away from Decca, he created Verve Records to feature her. The "Song Book" series, a group of deluxe double-record sets featuring Fitzgerald singing the music of great Tin Pan Alley composers, was only part of Granz' approach. He also showcased her as the premier jazz vocalist of the day, recording her with Louis Armstrong, Stan Getz and Oscar Peterson, and with ensembles led by arrangers like Nelson Riddle, Russ Garcia and Frank DeVol. However, one of the finest collaborations between Fitzgerald and an arranger was her album, "Ella Swings Lightly".
On this album, Fitzgerald is paired with the Marty Paich Dek-tette, a ten-piece studio ensemble rooted in the cool jazz sounds of the Miles Davis Nonet and the Gerry Mulligan Tentette. Originally assembled as a one-off ensemble for an album with Mel Tormé, the dek-tette was later re-formed due to popular demand from musicians and audiences alike. The dek-tette featured a brass quintet (2 trumpets, trombone, French horn and tuba) and a trio of saxophonists (who all doubled on a variety of woodwinds) set over a rhythm section of bass and drums. Paich maintained the cool sound by keeping the trumpets in the middle register, writing melodic lines for the tuba, and excluding piano and guitar from the rhythm section. His settings featured warm mixtures of instrumental sounds and a laid-back approach to rhythm. Balancing the strength of a big band with the flexibility of a small combo, the Dek-tette was a great backing group for both jazz vocalists and instrumentalists. Paich's arrangements were usually created in collaboration with the featured artists, but Paich had only had one or two meetings with Fitzgerald before recording "Ella Swings Lightly". However, the settings came easily, given Paich's long-time admiration of the vocalist. Fitzgerald's only concern was singing without a piano, so Lou Levy was brought in for the sessions. The rest of the Dek-tette included several of Paich's first-call men, including Bud Shank, Don Fagerquist, Bob Enevoldsen, Bill Holman, Joe Mondragon and Mel Lewis.
The album was recorded over two days in November 1958. An astounding 21 takes have been issued from this session, with 16 of them included on the original LP. While various writers have tried to pigeonhole "Ella Swings Lightly" into being a concept album featuring music of the 30s and 40s, it is really just a collection of pop songs presented without any unifying theme. As the album title implies, the style is relaxed and the arrangements allow Fitzgerald plenty of room for improvisation. Her main scat feature is on Roy Eldridge's "Little Jazz", of which two different takes survive. Fitzgerald scats just under two choruses on each take (with a surprise modulation occurring before the second chorus). The solos are radically different, proving that Fitzgerald was creating on the spot, and not singing a memorized solo. Her melodic invention is quite extraordinary, and the only reason for the second take was that she misread part of the arrangement.
"Just You, Just Me" is taken at a fast pace, but the tempo does not inhibit Fitzgerald or the Dek-tette—they remain in complete control as they produce rapid-fire variations and include an extended quote from the Coleman Hawkins' tune, "Spotlite". Fitzgerald caresses the Harold Arlen/Ted Koehler standard "As Long As I Live", offering a classic interpretation, and her version of Arlen's "Blues in the Night" presents the song in a single medium-slow tempo. She sings behind the beat throughout the latter track, and her understated, sultry delivery and subtle variations show that she could sing the blues with as much conviction as anyone. The bright, sunny optimism of Fitzgerald's style comes through in several tracks, including Frank Loesser's "If I Were a Bell" (which also includes several remarkable variations on the melody), and "Teardrops From My Eyes" (which alternates between rock and jazz beats—not a big leap back then!). However, the best track may be "You Hit the Spot". Fitzgerald and Paich take this undistinguished catalog song and imbue it with fresh and lively approach. Fitzgerald sings the tune with a breezy confidence, and Paich's arrangement features short ensemble punches that are like delicious morsels of chocolate.  After solos by Shank and Enevoldsen, there is an upward modulation, and Fitzgerald sings a wonderful variation on the melody, and another modulation pushes her to ecstatic heights.
Because the Marty Paich Dek-tette usually appeared in support of other artists, its importance has been overlooked in jazz history. More than anyone else, Paich kept cool jazz alive long after his contemporaries (including Shorty Rogers and Gerry Mulligan) had abandoned the style. (Ironically, the final appearance of the classic Dek-tette appeared on Ella Fitzgerald's 1966 album "Whisper Not", where they backed her on a swinging version of "Time After Time". In the late 1980s, Paich re-formed the Dek-tette for two reunion albums with Mel Tormé.) For Tormé, Jeri Southern, Sammy Davis, Jr. and the Hi-Lo's, their albums with Paich and the Dek-tette represented some of their finest recordings. "Ella Swings Lightly" doesn't qualify as Fitzgerald's all-time best album, but it is certainly a highlight from an extraordinary part of her career.