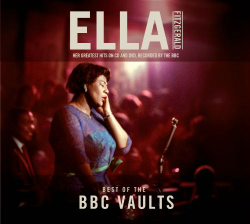 In the first two decades of television broadcasting (roughly 1948-1968), viewers were regularly entertained by jazz musicians. To be sure, the atmosphere was quite different then: many of the classic jazz performers were still active, the fan base was larger, and both variety and talk shows hosted jazz musicians alongside actors, authors and vaudeville performers. Of all the jazz performers of the period, few had more TV opportunities than Ella Fitzgerald. Her easily accessible style appealed to a wide range of listeners (even those who said they didn't like jazz), and her highly developed musicianship allowed her to reach artistic heights with great consistency. "Best of the BBC Vaults", a CD/DVD collection released three years ago in England, but only now being issued in the US, captures four excellent European television appearances from 1965-1977 featuring Fitzgerald and her touring band. The DVD is really the main attraction here, as the CD contains only the audio tracks of some of the videos, and no unique material.
The opening set, "Ella Fitzgerald Swings" is a live in-studio set from 1965. Fitzgerald is accompanied by the Tommy Flanagan Trio (with Keter Betts on bass and Ed Thigpen on drums), but this half-hour is all Ella, with no solos from the rhythm section except during the entrance and exit music. Starting with a rough-and-ready version of "Goody, Goody", Fitzgerald is in peak form.  She performs a breathtaking re-composition of "Just A-Sittin' and A-Rockin'" and follows it with a poignant version of "Here's That Rainy Day". Her sunny disposition and high energy covers up any lack of authenticity on "The Boy From Ipanema" and "St. Louis Blues" (there's a cute moment where Fitzgerald touches her blond wig when singing about "store-bought hair"), and the set closes with a rousing scat solo on "Take the A Train". The second program "Ella Fitzgerald Sings" was recorded at the same session, but this time Fitzgerald alternates sets with the Flanagan Trio and the Johnny Spence Orchestra, the latter featuring the great British tenor saxophonist Tubby Hayes. Hayes, Flanagan and a few of the band members get short solos on this show, and the program includes several Fitzgerald staples like "Angel Eyes", "Body and Soul", "The Lady Is A Tramp" and "Misty". All of these versions are quite special, but the real surprises come from tunes Fitzgerald rarely performed. From all indications, Fitzgerald never recorded the big band versions of "Don't Rain on My Parade" and "Keepin' out of Mischief Now" again, although both performances are quite energetic and superbly performed. And while Fitzgerald modestly questions her ability to remember lyrics, she sings a nearly-perfect reading of the Rodgers and Hart evergreen, "Manhattan."
The 1974 set from Ronnie Scotts may be the best known of all the recordings here, simply because it has been excerpted in several Fitzgerald documentaries. Fitzgerald has a few technical issues during this set: a missed cue on the opening "Sweet Georgia Brown", a few foreshortened phrases in the ballads, and a botched lyric (but brilliant recovery) on "The Very Thought of You". Yet, there are several brilliant moments including a stunning rendition of "Good Morning Heartache", a multi-tempoed version of "The Man I Love" (featuring an extended coda with Betts), and a profoundly swinging closing blues that shows how hard Fitzgerald could swing. There's also a riotously funny introduction to "It Don't Mean a Thing" which includes rare examples of Flanagan imitating Count Basie and Duke Ellington, and of Joe Pass playing in country and soul styles. "The Boy From Ipanema" returns as part of a wild medley of songs that's supposed to be all Brazilian music, but seems to go in any direction Fitzgerald's imagination takes it. Drummer Bobby Durham is a model of flexibility as he moves between styles as the medley evolves. The closing set is Fitzgerald's 1977 performance at the Montreux Jazz Festival. Flanagan, Betts and Durham return, and Fitzgerald is self-assured and in fine voice. She and the trio are "in the pocket" rhythmically, and the swing on tunes like "Too Close For Comfort", "I Ain't Got Nothin' But The Blues" and "Come Rain or Come Shine" is deep and palpable. The contemporary songs, Paul Williams' "Ordinary Fool" and Stevie Wonder's "You Are the Sunshine of My Life" aren't too bad, but the highlights of the set are the spirited scat choruses on "One-Note Samba" and the deeply felt interpretation of "My Man".
For this review, I used the British version of the DVD (the US edition did not arrive before deadline). I've been assured by Verve that the two versions are technically identical. However, the US edition inexplicably omits "Misty" from both the CD and the DVD. For those wanting the British version, it can be ordered here, and at a price only slightly higher than the domestic version. The DVD in the UK edition is designed to play worldwide: it is region 0 and in NTSC format. Whichever version you prefer, this set is a must for any Ella Fitzgerald fan.