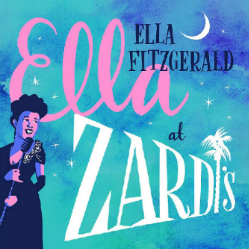 By 1956, Ella Fitzgerald was a seasoned artist who performed in a variety of settings. She was a regular part of the Jazz at the Philharmonic concerts—and was probably the only vocalist who could improvise at the same level as Roy Eldridge, Charlie Parker, Lester Young and Oscar Peterson. She also did her own concert and nightclub tours, and was a fixture on radio and television. Fitzgerald tailored her repertoire to fit each medium, a freedom she did not have in her recording career at Decca. But after years of negotiation, her personal manager Norman Granz was finally able to get Fitzgerald released from her seemingly iron-clad contract. He celebrated by creating Verve Records as her new recording home, and scheduled a full docket of recording projects, including live sessions, studio recordings and an ambitious collection of "Songbooks"—double LP sets which featured the music of great American songwriters.
The newly released "Ella at Zardi's" has been proclaimed as the true beginning of Verve Records. However, as Kirk Silsbee correctly notes in the liner essay, the performances from Zardi's nightclub on  February 2, 1956 were actually the second Verve recordings, perched between Fitzgerald's single session on January 25, and the first session for "Ella Fitzgerald Sings The Cole Porter Songbook" on February 6. Granz had planned to issue the Zardi's recordings as the inaugural Verve release, but eventually decided to put this recording aside and issue the Porter double album first. The possible reasons for Granz' decision will be discussed below, but the Zardi's recording has great historic importance, as it is undoubtedly the earliest authorized recording of Ella Fitzgerald working in a nightclub.
Zardi's, located on Hollywood Boulevard, was one of the popular jazz spots in 1950s Los Angeles. Like other nightclubs of the time, Zardi's used a different set of rules than what is common today.  Instead of 75-minute sets and 45-minute intermissions, Zardi's kept the live music going all night. Typically, a pair of groups would work alternating sets, with one group taking the stage as soon as the other finished. In the case of the Zardi's gig, Fitzgerald's band swapped places with the Buddy De Franco quartet every half-hour (at one point, Fitzgerald asks her pianist if they've gone overtime yet.)
Fitzgerald is in fine voice throughout the recording. The pristine vocal clarity that marked all of her Verve recordings is here, marred only slightly by a persistent rasp around the edges. She takes advantage of the casual atmosphere to take daring chances, even on old set-pieces like "Airmail Special". In that song's extended scat-over-high-hat sequence, she informs the audience (through song) that this section is a little different every night; here, she lets the passage continue as she experiments with a move away from the key center. When she comes back to the home key, she's not quite sure of herself and sings to pianist Don Abney, "Am I in the right key?" Through the keyboard, he confirms that she was.
What makes the Zardi's recording so interesting is the close interaction between Fitzgerald and the audience. Throughout the two sets captured on the album, the audience requests tunes from Fitzgerald while she stands on the stage. Fitzgerald sings every request, and freely admits that doesn't know the words to a few of the songs. On "Tenderly", she nails all but one word, and after finishing the song, she tells someone in the crowd, "Thanks for the lyrics"; later, on "Gone with the Wind", she flubs an entire section, but still thanks "the glee club" for the lyrics, even though one of the cues was apparently lost. At one point, someone asks Fitzgerald to sing "Cry Me a River". It seems like a song unsuited for Fitzgerald's sunny demeanor, but surprise of surprises, the trio has an arrangement for it in the book! Fitzgerald's clever setting included an interpolation of "I Cried for You"—something which the trio could not create a background for on the spur of the moment.
Fitzgerald's repertoire must have seemed limitless. There are no songs repeated over the two club sets, and there were several songs included that she never officially recorded during her prodigious career. To be sure, her recorded hits were represented too: "A-Tisket, A-Tasket" might have been there anyway, but on this night, Fitzgerald's co-composer Van Alexander was in the house; similarly, her versions of "My Heart Belongs to Daddy" and the sublime "I've Got a Crush on You" came from requests from fellow musicians in the audience. But what can we say of "Glad to Be Unhappy", a Rodgers and Hart ballad that defies everything we know of Ella Fitzgerald, the singer? Nothing more than she sings it very well, even though the lyrics are an emotional stretch for her. And "Little Boy", a song she admits to lifting from Nat King Cole? It may have been a better fit for Cole (especially with the original title, "Little Girl"), but Fitzgerald is willing to give her audience anything they want. Those choices don't always work—I prefer Milt Gabler's lyrics to "In a Mellotone" to the ones Fitzgerald sings here—but it's hard to resist the old-school show business values that drive Fitzgerald's performance.
So why did this recording sit in the vault for 60 years? I suspect that the ratio of songs to total recording time may have played a role. On this 67-minute CD, Fitzgerald sings a total of 21 songs. Assuming that Granz could edit the show down to 45 minutes, he would still have 14-16 songs left on which he would have to pay royalties. With the Porter deluxe double album already featuring 8 songs per side, Granz might have been a little hesitant to do the same for a single, regularly priced LP. I also suspect that he was a little nervous about all of the banter between Fitzgerald and the audience. Because of the way that the music, chatter and applause overlap, it would have been difficult to edit out the talking. Granz was very protective of Fitzgerald, and he may have suspected that such interaction could get out of hand (as it did on a Fitzgerald gig in Atlantic City; Louis Armstrong references it on the "Ella and Louis Again" duet recording of "Stompin' at the Savoy" recorded the following year). Apparently, it took a lot of work by Universal (and Polygram before that) to release "Ella at Zardi's". We can be very grateful for all of that effort. In this centenary year of Ella Fitzgerald, there could be no finer present than this remarkable recording.