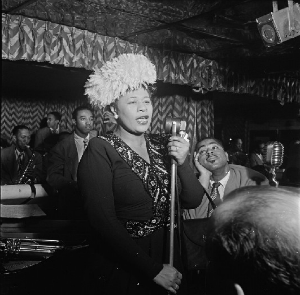 For listeners of several generations, Ella Fitzgerald was the first jazz singer we heard, and the first one we loved. Those who were born during the Great Depression and World War II literally grew up with Ella, hearing her first as a teenaged vocalist with Chick Webb's orchestra, then—after Webb's death—as a band leader, a solo artist, and an astounding scat singer. Baby Boomers knew her as "The First Lady of Song" who performed the very best songs of Cole Porter, Irving Berlin, and Harold Arlen. In addition, she appeared on many TV variety shows, where she sang with everyone from Duke Ellington to Joan Sutherland. Younger generations first saw her as a matronly figure whose creativity was still in top form, even when her voice failed her. For those who could not yet fathom the melodic distillations of Billie Holiday, the tough-and-tender attitude of Carmen McRae or the pyrotechnical improvisations of Betty Carter, Ella Fitzgerald was there, providing a sunny approach to jazz, and an easily accessible style. (In the William Gottlieb photo at left, notice Dizzy Gillespie's rapt attention! By the way, that's her future husband Ray Brown right behind her; the balding head in the foreground belonged to Timme Rosenkrantz.)
One of my favorite Fitzgerald tracks is her wonderful 1958 recording of "Blue Skies". Originally recorded for "The Irving Berlin Song Book" but omitted from that set because the extended scat solo seemed out of place, the track was first issued on a Playboy Jazz All-Stars LP, and soon after on a Verve compilation album. The recording remained fairly obscure until the CD era, when it was included on several Verve anthologies, and was re-attached to the Berlin album. It is a brilliant example of Ella at her artistic peak. The opening scat cadenzas identify Fitzgerald instantly, and her clear diction and unerring pitch enriches the opening chorus. Harry Edison is there too, offering pungent commentary on muted trumpet. As the first chorus ends, listen to the saxophone figure in the background, and then marvel at how Fitzgerald picks up that riff and runs with it! (This was probably the most subtle aspect of her musical mimicry). As the solo progresses, she repeats ideas at different pitch levels to create flowing melodic lines and rhythmic impetus. With the help of Paul Weston's fine arrangement, Fitzgerald builds her solo to a stunning climax. When she returns for the final half-chorus of melody, the kinetic energy continues unabated. We can be fairly sure that Fitzgerald improvised every bar of this solo: it was recorded in a marathon session along with 9 other tracks, and it is likely that Fitzgerald read the chart down for this single surviving take. In all probability, she didn't know that she would have to scat a multi-chorus solo until she saw the music; without any preparation, she simply went by her knowledge and instincts, and created a masterpiece in the process.
Like two of her esteemed contemporaries, Fred Astaire and Arturo Toscanini, Ella Fitzgerald was extremely self-critical. Carmen Bradford recalled a backstage talk when the usually nervous Fitzgerald confessed that her performances didn't always go as well as she hoped (to which the incredulous Bradford replied, "Since when?"). Astaire was confident about his dancing ability, but modest about his talents as a singer. When Mel Tormé was preparing an LP tribute to Astaire, he phoned Astaire to ask for advice. Astaire couldn't believe that anyone would ever consider making such an album! After a seemingly flawless performance, Toscanini could be surprisingly inconsolable, walking off the podium and muttering to himself all the way back to his dressing room. What were Fitzgerald, Astaire and Toscanini looking for in their performances that the cheering audiences did not sense? We may never know for sure, but it might be that each was looking for that ecstatic joy that occurs when the music takes on a life of its own, raising the emotional and spiritual content of the performance to a higher level. It is significant that Fitzgerald, Astaire and Toscanini were all willing to let the emotions loose, and to allow the music to develop and expand.
Fitzgerald found that ecstatic joy several times in her career, and it is a key element in her wild duet with Louis Armstrong on "Stompin' at the Savoy". It starts calmly enough, with Fitzgerald singing the tune in a gently swinging medium tempo. Then Louis Bellson kicks the band into a faster tempo for Fitzgerald's scat solo. The tempo rises again for Armstrong's solo, and soon after, things start to spin out of control. What starts as a scat duet becomes a chorus for Armstrong, who tries to develop an arching phrase on a couple of occasions before abandoning it. Fitzgerald rejoins the commotion, revealing her confusion with a repeated "What do we do". The tempo continues to accelerate, and producer Norman Granz (with the encouragement of Lionel Hampton?) calls for the performance to continue. The coup de grace occurs when Armstrong makes a remark about Atlantic City, and immediately retracts it: "No, we're not going to talk about that one!" The reference was to a then-recent concert when an escaped mental patient jumped on the stage and attacked Fitzgerald. Ella could have asked Granz to leave the track (and Armstrong's remark) in the vault, but apparently Granz issued it without any argument from Ella. In an interview held many years later, Fitzgerald just shook her head with amazement that Armstrong made the reference at all. Apparently, she felt that it was all for the good of the music.
Thrust into a world of supremely talented musicians, Fitzgerald made friends with celebrities she had idolized from afar. She collected their autographs, and was genuinely surprised when those stars asked for her signature in return. She was praised in the mass media by Bing Crosby, Ira Gershwin, Frank Sinatra and Tony Bennett. In a magnanimous gesture, Marilyn Monroe gave Fitzgerald's career a major push by encouraging the owner of Hollywood's Tiffany Club to book Fitzgerald; Monroe promised to come to Ella's show every night, guaranteeing constant press coverage (Fitzgerald remembered this incident happening at another LA club, the Mocambo, but April VeVea's extensively researched article proves that it was indeed the Tiffany Club). To show another side of Fitzgerald's personality, vocalist Carol Sloane recently recalled a personal encounter:
Circa 1975: I am sitting beside Ella Fitzgerald, in the VIP section of a major European airport lounge, awaiting the announcement of our flight departure… I couldn't resist the golden opportunity to ask: "Ella, is it possible, with your vast repertoire, you have a favorite song?" She replied without hesitation: "Oh yes", and began to sing the beautiful verse that begins: "I have almost everything a human could desire." She asked me if I knew it [it was Billy Strayhorn's "Something to Live For"], and when I said I did, we began to sing the rest of the verse together. Just the two of us. In a quiet corner of a luxury space reserved for exclusive first-class passengers, I knew I was the most privileged of them all.
Fitzgerald had millions of loyal fans, and only a handful of detractors. Not surprisingly, most of the members of the latter group were music critics. In 1962, Nat Hentoff wrote a scathing review where he complained, a major jazz singer must swing, improvise imaginatively and phrase instrumentally. But a major jazz singer must also make each song reflect what she has lived and experienced. Musicianship, however skillful, is not enough. And Ella, technically brilliant as she is, is not emotionally open enough in her singing to merit a place in the first rank of jazz singers. In 1964, Martin Williams—in an otherwise complimentary review—stated that Ella Fitzgerald is not capable of tragedy. The arguments are specious at best: who says that every jazz singer must follow a specific set of criteria, and why is it necessary that a jazz singer takes on all ranges of emotion? Still, Fitzgerald probably revealed more emotion than Hentoff, Williams or anyone else realized. Ella guarded many details of her private life. It was only after her death that we learned that she had been homeless when she got her first break at the Apollo Theater amateur contest. She had severe neurosis over her lack of formal music education, her failed love life, and her general appearance. More often than not, she would push those uncomfortable feelings into the background. Listening to her recordings now, we can surmise the deeper meanings of her lyrics to "You Showed Me the Way" (certainly dedicated to Webb, who gave her a home and stardom) or the pain in her many versions of "Angel Eyes". Ella probably read those notices by Hentoff and Williams (against Granz' advice!) and may have decided to add even more of that emotional depth to her live performances. Listen to this stunning 1968 performance of "Summertime" as a potent example.
April 25, 2017 marks the 100th birthday of Ella Fitzgerald. The anniversary has prompted lots of media hype, plus numerous reissues and tributes. Universal Music, which currently owns all of Fitzgerald's recordings for Decca and Verve, has a long list of planned reissues, including a new 6-LP edition of "The George and Ira Gershwin Song Book", a 300-track digital download of her complete Decca singles, a forthcoming complete edition of Fitzgerald's duets with Louis Armstrong, an album matching Fitzgerald's vocals to new recordings by the London Symphony Orchestra, and a new 4-CD anthology, "Ella 100: 100 Songs for a Centennial". At first glance, the song selection of "Ella 100" seems hopelessly flawed—no JATP performances, no personal ballads like "Angel Eyes" or "I Got it Bad", no scat triumphs like "Blue Skies", "How High the Moon", or "Airmail Special", no expansive song readings like "Bewitched, Bothered and Bewildered" or "Blues in the Night". But while the selections are unusual, they still present a fairly well-balanced overview of Fitzgerald's recorded work from 1936-1966 (However, the absence of any discographical information is inexcusable). Those who want to hear some of the above-cited tracks should seek out two earlier Verve compilations: the three-CD "First Lady of Song" and/or the 2-CD soundtrack to the "American Masters" documentary "Something to Live For" (While you can, be sure to pick up the DVD of that documentary. Directed by the late Charlotte Zwerin, it is an excellent study of Fitzgerald's public and private personas.)
There has been a plethora of Ella tributes in the past few weeks. The streaming webcast of Jazz at Lincoln Center's Ella celebration was a mixed bag. It featured several well-known vocalists, but only a few seemed able to capture Fitzgerald's spirit. The young vocalist and tenor saxophonist Camille Thurman started the program with a stunning "Oh, Lady be Good" featuring a close approximation of Fitzgerald's first scat chorus, followed by a spectacular scat solo of her own. Later in the program, Roberta Gambarini and Kenny Washington performed a vivacious reading of "Almost Like Being in Love" as a salute to the Armstrong/Fitzgerald duets, and shortly thereafter, a combo version of "I Was Doing All Right" featured delightful interplay between Diana Krall and Wynton Marsalis. At the end, Gambarini returned for a Fitzgerald classic based on a nursery rhyme—not "A-Tisket, A-Tasket" but the even more unlikely "Old MacDonald" (a piece that Ella recorded with Marty Paich in 1966). In the week before Fitzgerald's birthday, Ann Hampton Callaway—who may be the closest spiritual cousin to Ella singing today— presented her tribute show at Birdland. While a handful of YouTube videos have emerged from the run, the best presentation of Callaway's devotion to Fitzgerald may be her CD "To Ella with Love", recorded just prior to Fitzgerald's passing in 1996. Meanwhile on the West Coast, vocalist Staci Griesbach has created 100 YouTube videos featuring her cover versions of Fitzgerald classics (a concert with Griesbach performing several of these songs occurred at the E-Spot Lounge in Studio City, CA on April 29). The Grammy Museum has launched a new exhibit dedicated to Fitzgerald's life and career, with Katie Thiroux serving as Musical Director. The Smithsonian Institute in Washington DC is also presenting a Fitzgerald salute, and in Georgetown, Blues Alley held the official Ella Fitzgerald competition for young vocalists (which was won by another JHO favorite, Alyssa Allgood).
It's been said that Ella Fitzgerald didn't realize just how good she was. Whether that assumption is true or not may never be known. I suspect that she knew more about music than she revealed to the public, and I'm sure that the adulation from her audiences and contemporaries had a positive effect on her inner emotions. There is no doubt that she would have been surprised with all of the attention stemming from this centennial celebration, but despite her protests that she wasn't worthy, she would be gracious and supportive of these younger musicians. That's entirely fitting: the love and passion that Ella Fitzgerald brought to jazz is now being returned one hundredfold.