A little after 8:00 on a chilly evening in Denver, Kurt Elling strode onto the stage at the Soiled Dove and kicked off his band in an invocation by James Joyce titled "Strings in the Earth". The Coltrane-like piece then segued into an intense performance of U2's "Where the Streets Have No Name". At the conclusion of the medley, Elling addressed the crowd's confusion, stating that he knew that they were thinking one of two things; either, "I came here for a jazz concert, so why are they doing a U2 cover" or "I came here for a holiday concert, so why are they doing a U2 cover". He then explained that all of the music to be performed that night was part of an "ever-widening circle", and sure enough, amidst the plentiful jazz and holiday pieces, there were folksongs from Bulgaria and Afghanistan, settings of poems by Rumi and Kenneth Patchen, and music by the Beatles, Bach and Charles Brown.
After a few years of adjustments, Elling has assembled a terrific new band, one as cohesive and flexible as his earlier groups. While the opening medley was marred by sound system issues, the audience was able to hear pianist Stu Mindeman, guitarist John McLean, bassist Clark Sommers and drummer Christian Euman play at full strength, with their driving pulse pushing Elling to the limits of his dynamic range. The audio problems were fixed rather quickly, as Elling continued the set with four selections from his Christmas disc, "The Beautiful Day". "Christmas Children", from Leslie Bricusse's score for "Scrooge", received a delicate treatment, with tender vocals from Elling and a sparkling piano solo. The Alfred Burt carol "Some Children See Him" seemed particularly appropriate this season, as it counteracts the division and hatred in our society. Elling's delightful hip update of "The Little Drummer Boy" was the highlight of the opening set, with Euman and Sommers setting an irresistible New Orleans street beat, and Elling engaging in an extended scat solo which locked in with the groove.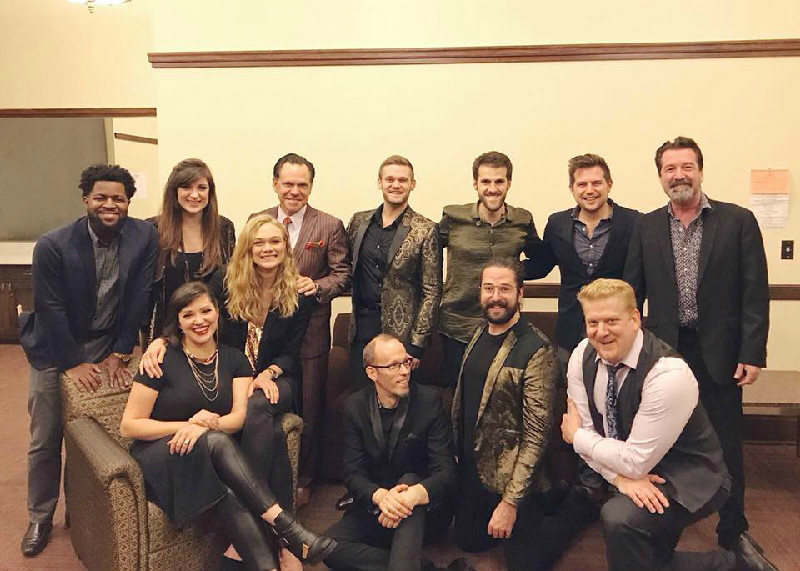 LEFT: The Kurt Elling Quartet and the Swingles backstage during the December 2017 tour: Back (L-R): Christian Euman, Jo Goldsmith-Eteson, Lucy Potterton, Kurt Elling, Jon Smith, Edward Randall, Stu Mindeman, John McLean; Front (L-R): Sara Davey, Kevin Fox, Oliver Griffiths, Clark Sommers.
As Elling sang a peaceful medley of John Hollenbeck's "The Snow is Deep on the Ground" (words by Patchen) and Claude Thornhill's "Snowfall", the seven members of the Swingles took their places in front of the stage wings. They sang a newly-written background for the medley, and then took the stage for a short set of their own pieces. The Swingles have also endured a few personnel changes: Lucy Potterton rejoined the group on alto, covering for new mom Clare Wheeler, and New Yorker Jon Smith is in his first year with the ensemble, replaced the departed Christopher Jay (further changes lie ahead for the Swingles as soprano Sara Davey has announced her departure next May). Potterton showed her credentials in the Swingles' first solo piece, the Bulgarian folk song, "Bučimiš", where she scatted over a pulsating 15/8 rhythm. This exciting arrangement (by Clare Wheeler and Edward Randall) is also a highlight of the Swingles' new CD, "Folklore" (Swingle 27) and I suspect that it will continue to be a showstopper in the group's future shows. Next, tenor Oliver Griffiths and soprano Joanna Goldsmith-Eteson were featured in a classic Swingle arrangement by Jonathan Rathbone, combining the Lennon/McCartney ballads "Blackbird" and "I Will". Elling joined the Swingles for two pieces, "The Thaw" (which they recorded together on the Swingles "Yule Songs, Volume II") and a reading of a poem by Rumi called "Be Lost in the Call" with a choral background adapted from Bon Iver's "Calgary". 
After the Swingles' last feature, the wordless "Lover's Desire", Elling brought his band back for a sneak preview from his forthcoming CD. The group lit into Jaco Pastorius' thorny original, "Three Views of a Secret", and after Elling sang some of his original lyrics, McLean and Mindeman launched a stunning collective improvisation which raised the ensemble's intensity back to the level of the Joyce/U2 medley. If this piece is any indication, the new album will lead to greater acclaim for Elling and this remarkable band. The Swingles then rejoined Elling for J.S. Bach's "Jesu, Joy of Man's Desiring" (a bonus track for the vinyl version of "The Beautiful Day") and a medley of "Star of Wonder" and "We Three Kings". However, the concert did not conclude there, as originally planned. After the enthusiastic standing ovation, Elling and the Swingles retreated backstage and quickly devised an encore. With Randall and Kevin Fox providing vocal imitations of bass and drums, and the remaining Swingles contributing soulful backups, Elling wailed through the first chorus of Charles Brown's R&B classic "Merry Christmas, Baby". Elling scatted with great abandon, and then Smith,  Davey, and Griffiths took their turns improvising over the rocking blues background. It was an exuberant end to a superb concert.
The Soiled Dove showed again that it was a fine venue for jazz. Presently, they offer an eclectic array of artists, including comedians, rock and pop acts, and—according to one of the waitresses—a medium. Acoustic jazz artists rarely appear at the Dove, but hopefully, the large turnout for Elling and the Swingles will reverse that trend. Denver has a few top-rank jazz clubs, but like the guest list for the proverbial Thanksgiving dinner, there's always room for one more.