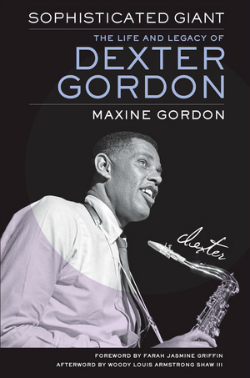 The life odyssey of Dexter Keith Gordon is truly mind-boggling. Born in 1923 in Los Angeles, his father was only the second African-American doctor to start a practice in the city. Duke Ellington was one of Dr. Gordon's patients, as were several well-known movie stars. Dexter's parents supported his desire to play jazz as a professional musician, but his father passed away before Dexter had his first big break, as the second tenor saxophonist in the Lionel Hampton Orchestra. After a lengthy tenure with Hampton, Gordon spent a pleasant few months playing behind Louis Armstrong before joining Billy Eckstine's legendary bebop orchestra. His time with Eckstine brought him into contact with some of the best young musicians of the day, and after the end of World War II, he recorded classic modern jazz sides for Savoy, which brought him acclaim as bop's first important tenor man. Gordon jumped between coasts for awhile, becoming a major voice in New York's 52nd Street nightclubs and in LA's Central Avenue jam scene. In LA, he was usually playing in the company of fellow tenor man Wardell Gray.
Gordon's drug habit eventually put a hold on his career, with two lengthy incarcerations during the 1950s. By the time his first sentence ended, both Gray and Gordon's main  idol, Charlie Parker, were both dead from heroin addiction. Gordon recorded three exceptional albums in 1955 before going back to prison for another five years. Upon his second release, Gordon started recording again, first on a Cannonball Adderley-produced date for Jazzland, and then in an outstanding series of albums for Blue Note. Gordon went to London to play a month-long gig at Ronnie Scott's nightclub, and liked the European lifestyle well enough to stay for nearly 15 years. Gordon enjoyed steady work, and was able to build a family life, something he was unable to sustain in his previous attempt back home. He made periodic trips back to the US, and in 1976, he made a spectacular return with a legendary two-week stand at New York's Village Vanguard. He soon became one of jazz's biggest stars, and he toured with an outstanding band for the next seven years, until health problems began to interfere with his playing. However, Gordon's jazz life was far from over, as French director Bertrand Tavernier tapped him to play the lead in the feature film "Round Midnight". Gordon had experience as a stage actor—he had appeared in the LA production of the play "The Connection" in 1960—but his film experience was scanty. Still, he knew how musicians spoke and carried themselves, and he worked tirelessly with the writer and director to ensure that the film would accurately portray the jazz life. Gordon was nominated for an Oscar for his powerful performance, and spent his remaining years playing jazz for large audiences and acting in television and movies.
Such life stories are the making of great biographies, and Gordon has been the subject of two: Stan Britt's "Dexter Gordon: A Musical Biography" (DaCapo) and Maxine Gordon's "Sophisticated Giant: The Life & Legacy of Dexter Gordon" (University of California Press). Britt's study has been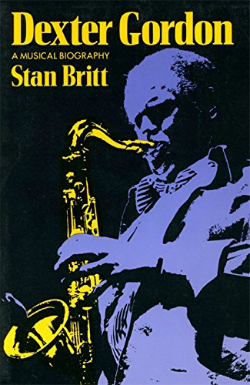 around for several years—it was completed in 1989, a year before Gordon's death—while Gordon's book has just been published. Farah Jasmine Griffin's foreword to Gordon's book states that it is not a "straightforward, linear narrative". I used that quote as a signal to revisit Britt's book before delving further into Gordon's bio. As it turned out, Gordon's bio was much more straightforward than Griffin suggested, but there were significant differences in the approaches of the two authors.
Britt was a prominent jazz historian and journalist in the United Kingdom, and his books include a survey of jazz guitarists and a biography of Frank Sinatra. He also co-authored "The Illustrated Encyclopedia of Jazz", a well-intentioned book which drew some negative criticism because its title was closely associated with the better-known reference book by Leonard Feather. Still, Britt was an exceptional researcher whose writing shows a keen ear for musical subtlety. He interviewed Gordon during his annual return trips to London in the late 1970s, and gained inside knowledge of Gordon's performances in Europe in his final years. Britt's narrative followed Gordon's life story in a precise manner, noting all of the major events, and acknowledging periods where details remained sketchy. Gordon's recordings were discussed in chronological order in a separate chapter, which also included brief critical summaries of each session.
Maxine Gordon was Dexter's manager and then his widow. Her study of Dexter's life is necessarily more detailed—and more subjective—than Britt's. She reveals that Dexter had started sketching out his life story in his final years, with the hope that James Baldwin might write the book if Dexter or Maxine were unable to do so. In his outlines, Dexter left out all of the 1950s, as well as a pivotal romance from his European years. He told Maxine that he didn't want those stories out in public again, but thankfully, she did her own research and prevented those stories from being lost forever. In retrospect, the prison stories are not too harrowing (Dexter was allowed to keep his saxophone and play in the prison band; moreover, he said that the time away was a blessing in that he could spend more time practicing, and less time dealing with narcotics) and the story of his four-year romance with Lotte Nielsen is both touching and—in the end—tragic. Maxine fills in many details about Dexter's work with Blue Note through a wonderful collection of correspondence between Dexter and label owners Alfred Lion and Frank Wolff, but unlike Britt, she fails to discuss the importance of the actual recordings. The Blue Note contract came at a crucial time in Gordon's career. He was nearly forgotten while in prison, and the Blue Note albums not only displayed the tenorman in top form, they also provided a continuing presence for him in the US while he was living in Europe. Further, the Blue Note recordings displayed a mature artist who was still willing to listen and learn from younger musicians (specifically Sonny Rollins and John Coltrane) who were originally influenced by Gordon.
Maxine also provides lots of information about Dexter's final years. Her narrative is especially illuminating as she relates how she convinced Max Gordon—over several international phone calls!—to book Dexter into the Village Vanguard in 1976, the development of Dexter's contract with Columbia (and the rather sudden end to his then-current contract with Steeplechase) and his great successes as a jazz superstar in the next few years. Britt apparently never knew about Dexter's home in Mexico, but Maxine tells us about the relaxed lifestyle that their family enjoyed there during the 1980s. She notes that upon Dexter's 60th birthday celebration in 1983, he decided to cut back on touring. Yet she doesn't mention a tour of Europe and North Africa in the following year, where Britt notes that Dexter's failing health caused numerous problems including missed flights, forcible retentions and the threat of imprisonment. Britt also mentions a fall that Dexter took in his Manhattan apartment in late 1984, which resulted in a hospital stay, and a great deal of worry in the jazz community. Both books devote a chapter to "Round Midnight" and predictably, Britt's narrative comes from the prospective of an outsider, while Maxine's account offers inside stories on the making of the film.
Thankfully, both of these biographies are still in print. Naturally, Maxine's newly-published book will get lots of publicity, and it will be well-deserved. Her biography offers insights into Dexter's personality that journalists like Britt rarely uncover. Still, Britt's work holds up well and, as noted above, he includes details which Maxine chose to omit. However, the combination of the two biographies—along with a healthy sampling of Dexter Gordon's best recordings and videos—will provide a well-rounded assessment of this iconic jazz musician.