If we place the origin of jazz sometime around 1905 and then place the emergence of bebop around 1945, we find that the music is about 113 years old, and bebop has been part of its language for 73 years—considerably over half of the music's history. Robert Glasper's famous assertion that Charlie Parker would be shocked if he came back to life and discovered that his music was still being played carries more than a little truth, but Parker would probably grasp that the music has indeed evolved from the original mode. However, much of what followed owed its existence to the music created by Parker, Dizzy Gillespie, Miles Davis and Thelonious Monk. The albums reviewed below are all indebted to these early masters, but they also reflect later music that built upon the original genre.
Listen to recordings from around 1960 by Phil Woods and Cannonball Adderley, and the similarity of the two altomen's tones immediately strikes the ear. Granted, their approaches to the horn were so different that no educated listener could mistake one for the other, but Woods and Adderley were friends as well as contemporaries, and they respected each other's art. So, while Richie Cole's style is closely associated with Woods, it's not a stretch to find him saluting Add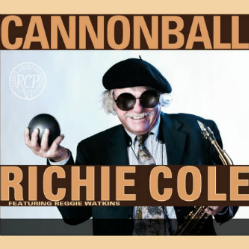 erley in his new album "Cannonball" (Richie Cole Presents 3). Cole incorporates elements of Cannon's rich sound and laid-back rhythm, but by using trombonist Reggie Watkins as a front-line partner rather than a cornet or trumpet, he makes the Adderley Quintet arrangements sound fresh and new. Cole has discovered ways to make Adderley's repertoire speak in his own neo-bop language. For example, "Stars Fell on Alabama" has a rocking big-band backdrop and a pronounced backbeat, which inspires a Cole interpretation that is much more extroverted than Adderley's famous 1959 recording. "Jeannine" is a long-time Cole favorite—one he performed with Eddie Jefferson and the Manhattan Transfer. Cole may not chomp into these changes with the same gusto as he did four decades ago, but now he tells better stories instead of just dazzling us with his prodigious technique. Since moving to Pittsburgh a few years ago, he has surrounded himself with a fine group of musicians, including pianist Kevin Moore, guitarist Eric Susoeff, bassist/producer Mark Perna, and drummer Vince Taglieri. From the proof of the recording, they have all studied Adderley's LPs and can easily express themselves in that specific language. Guest drummer Roger Humphries lifts the bandstand on "Sack o' Woe", and two alto saxophonists, Tony Campbell and Kenny Blake are added to the ensemble on "Azule Serape" and "Unit 7", respectively. The sole misfire is the bossa nova version of "Save Your Love for Me", sung first in Portuguese and later—as a bonus track—in English by guest vocalist Kenia. This piece—which was significantly adapted by Nancy Wilson for her album with Adderley—sounds more sluggish than seductive when played in a slow Brazilian groove (things improve in the final chorus when the band plays the original Johnny Griffin/Eddie Lockjaw Davis arrangement).
Like Cole, alto saxophonist Christopher Hollyday spent several years out of the spotlight after his initial success. A 17-year old wunderkind from Boston, Hollyday recorded three albums for RCA before opportunities dried up. He attended Berklee, and then relocated to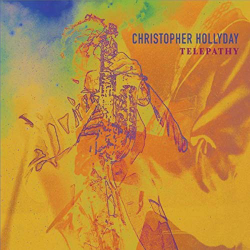 San Diego and spent several years as a music educator. His new album, "Telepathy" (Jazzbeat—no #) is Hollyday's first in a quarter-century, and on the opening track, Freddie Hubbard's "One of Another Kind", he plays with a renewed fire in his tone, and an abundance of ideas. The long underappreciated trumpeter Gilbert Castellanos matches the alto's heat as he dashes through the modal changes, and pianist Joshua White maintains the horns' intensity in his brief solo. Clearly, this is a band which is ready to play, and while the disc is rather short at 33 minutes, there is a lot of music contained in that period. The quintet (including bassist Rob Thorsen and drummer Tyler Kreutel) breathes new life into Bud Powell's "Hallucinations" with an exuberant performance that rivals most present-day bop revivals. Much as Parker transformed Irving Berlin's "White Christmas" by fragmenting the melody and increasing the tempo, so has Hollyday re-imagined Matt Dennis' ballad "Everything Happens to Me". When Castellanos begins his solo, we can hear why the arrangement works so well: these are great changes to improvise upon, and both trumpet and alto create spectacular solos in response. Kreutel closes the solo sequence with a delightful soft-shoe improvisation over the buoyant medium tempo.  Thorsen plays a fine solo on the ballad "Autumn in New York" after Hollyday sets the scene with a highly ornamented but heartfelt opening chorus. Hollyday's final chorus is even better with passionate melodic statements and a powerful return to the theme. A medium tempo jaunt through Harold Arlen's "I've Got the World on a String" and a fast ride through Parker's "Segment" close this outstanding recital. Hopefully, the sequels will come soon and often. With albums like "Telepathy", Hollyday may easily regain his status as a premier jazz alto saxophonist.
Present day bebop has absorbed many influences over the years, and pianist/composer Bruce Barth draws upon several genres in the eight originals that comprise the new disc "Family Feeling" (BCM&D—no #). He is joined by his fellow faculty members from Temple University's Jazz department, including trumpeter Terell Stafford, saxophonists Dick Oatts and Tim Warfield, bassist David Wong and drummer Byron Landham.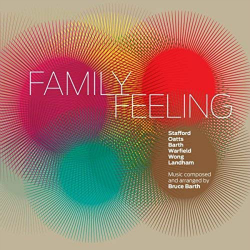 While it is Warfield's tenor which opens the album with "Blues for Mr. Tyner", Stafford is the first soloist, and he acts as the group's sparkplug with an exciting high register solo. Oatts' alto offers a fluid but distinctive alternative before Warfield, Barth and Lanham impress with their substantial technique. The melodic "Ven Commingo" sounds like a Latin-flavored track from an old Blue Note album, which inspires lyric solos from the entire ensemble. The title tune seems related to "Moanin'" with its sassy melody line and irresistible backbeat, but it is entirely original from its harmony on up. Oatts' alto cries and wails, followed by Stafford's reasoned but soulful trumpet, and Warfield's emotional tenor. Barth soothes the ensemble with a bluesy solo before the final theme. Wong, Oatts, Barth play thoughtful, measured solos on the subdued "Changing Stories", which the notes tell us was inspired by the jazz department's educational mission. After the twisting melody of "Mode for Trane", the rhythm section presents a convincing facsimile of John Coltrane's original quartet, with Warfield and Oatts (the latter on soprano) portraying the iconic saxophonist. "Why Not" opens with an innocuous theme that offers no clues to its development. Warfileld's free-form solo commences after the tune, jolting into a fast tempo and open harmonies. Oatts' soprano starts at the same tempo, but eventually slows the speed for an unaccompanied solo by Landham. Stafford and Oatts (now on alto) strike up an animated dialogue, which starts a cappella, but is eventually backed by the rhythm section in a medium-up tempo. Compositions like this were what made Ornette Coleman famous, but many of us forget how risky they can be! The final two tracks feature Stafford in contrasting moods: "Warm Night" is a gorgeous slow ballad with the trumpeter offering some of his most heartfelt improvisations on the date, while the title of the closer, "T-Staff Flies Again" is quite self-explanatory! This fine album is marked by concise but meaningful solos, and a true sense of ensemble. It is one of the best straight-ahead albums I've heard this year.