Marcello Gonçalves says of Israel-born clarinetist Anat Cohen, Anat has such a great passion for Brazil. She speaks Portuguese far better than I speak English. More than that, Anat can play Brazilian music better than many Brazilian musicians. Her accent is perfect. Cohen made her first trip to Brazil in 2000 and has made several return trips. She has recorded Brazilian choros and sambas before, notably on the acclaimed CDs, "Claroscuro" and "Luminosa", but the simultaneous release of two Brazilian albums represent Cohen's greatest concentration to this unique musical heritage.
Moacir Santos was a jazz composer whose work was essentially unknown outside of the United States until the early 2000s. His best known album, "Coisas" was recorded in 1965 and is considered his artistic breakthrough. On their new duet CD, "Outra Coisa" (Anzic 55), Cohen and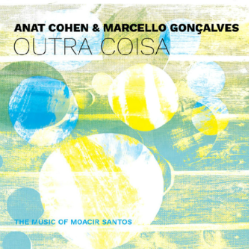 guitarist Gonçalves perform a dozen of Santos' compositions, including five of the Coisas. The Coisas were written for big band (with strings added on a few titles), but Gonçalves has crafted superb arrangements that are as delightful to hear as they must have been to perform. On "Coisa # 1", Cohen and Gonçalves lock into a beguiling groove that carries the melancholy tune into dark instrumental colors without changing the song's basic character. Gonçalves uses his guitar's extra bass string to advantage on "Coisa # 6" as he prefaces Cohen's breathtaking melody chorus, which she plays in the lowest register of her horn. She focuses on that section of the clarinet throughout this piece, which makes her two ventures to the high register all the more effective. Some of the Coisas were later given song titles, but # 10, which is fitted with a bubbly melody and exciting cross-rhythms never had that honor. The Cohen/Gonçalves treatment is one of the album's highlights, as the two gleefully bounce the tune back and forth like a volleyball. "Naña" ("Coisa # 5") is perhaps the best known of the group, having been recorded by over 100 artists. Cohen and Gonçalves discover a funky groove within the piece and later engage in soulful interplay over tightly muted guitar strings. "Coisa # 9" is a lovely ballad with a flowing melody. The duo plays it in a free slow tempo, giving the phrases room to breathe, later allowing Cohen to create a gorgeous variation over the simple repeated guitar background. There are many wondrous moments on this album, including the brief chase sequence in the opener, "Amphibious"; Cohen's rapid switches between solo and accompaniment on the title track; "Mãe Iracema" with a dramatic introduction that soon segues into a light-hearted melody followed by a sprightly improvised episode; and the heartbreaking "Paraíso", whose tender melody leads to a stunning unaccompanied clarinet solo.
"Rosa dos Ventos" (Anzic 57) is the second album-length collaboration of Cohen and Trio Brasileiro. Unlike their first album, "Alegria da Casa", which alternated between choro standards and original compositions, all of the tracks on "Rosa" were written by members of the group. The Trio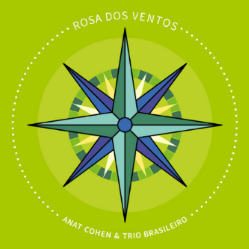 consists of Douglas Lora on 7-string guitar, Alexandre Lora on percussion, and Dudu Maia on 10 string bandolim (a kind of Brazilian mandolin). With this energetic trio alongside her, Cohen plays with great abandon, starting with a wild solo over powerful rhythm on the opening track, Douglas Lora's "Baião da Esperança". Douglas' "Para você, uma flor" sounds like a folksong, played in a slow, swaying rhythm, inspiring sweet and brief solos. Alexandre's varied use of percussion instruments is on display on Maia's "Ijexá", which also includes a sweeping clarinet statement between intensely rhythmic episodes. Cohen opens her "Valsa do Sul" with a swirling unaccompanied passage, and when the tune begins, we quickly discover that the "valsa" is actually a mixed meter dance, rather than the triple-time rhythm we expect. American audiences are certainly familiar with flamenco, and Alexandre's composition of that title captures all of the drama and mystique of the style. Alexandre's hand pans add an ethereal flavor to this wonderful piece. The sequencing of the album is especially astute, as in the placement of the quick clarinet/percussion duet on Cohen's "Sabalelé" following "Flamenco" and the robust title tune (composed by Douglas) coming after that. "Teimosa" is a delicately played Cohen ballad, and both she and Maia spin beautiful melodies out of their respective instruments. Maia's "Das Neves" alternates two energetic rhythm patterns before a sudden ritard introduces a slow coda for clarinet. Alexandre's "O Ocidente que se Oriente" evokes visions of the Middle East rather than South America, but the composition paints a vivid aural picture and the performance displays the impressive range of this ensemble. After the swift "Choro Pesado" (co-composed by Douglas Lora and Maia), Cohen closes the album with Maia's propulsive "Lulubia".
Cohen has said that choro was what brought her back to the clarinet after years of studying the saxophone. Obviously, the jazz world has benefited from that choice, but the brio she brings to these two different Brazilian projects shows that part of her soul will always remain south of the border.