JIMMY COBB: "THE ORIGINAL MOB" (Smoke Sessions 1407)
For years, Smoke has been one of the best jazz clubs in New York. Recently, the club launched a series of studio albums recorded in the club during off-hours. Jimmy Cobb, whose new album "The Original Mob" is part of Smoke Sessions' latest set of releases, like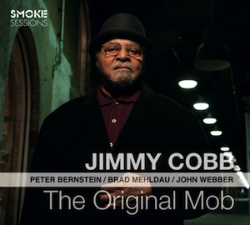 ns the recording atmosphere at Smoke to when Rudy Van Gelder recorded sessions in his parents' living room. Certainly, Smoke is doing something right, as the recordings have the clarity of a recording studio, but with the intimacy of a nightclub. On this album, veteran drummer and educator Cobb is reunited with three of his former students (who also happen to be some of New York's best musicians): Brad Mehldau (piano), Peter Bernstein (guitar) and John Webber (bass). While the group has recorded together before, this album marks the first time they've recorded under Cobb's leadership. In an extended interview that doubles as the album's liner notes, Cobb says that the current group wanted to capture the happy grooves of Wes Montgomery and the Wynton Kelly trio (notably their live collaboration, "Smokin' at the Half Note"). As he did when he was a member of that group, Cobb keeps a strong grip on the tempos, keeping them just on the edge so that they maintain visceral excitement without rushing. Webber plays solid and intriguing bass lines, both in solo and ensemble roles (the swing he generates on his composition "Lickety Split" has to be heard to be believed!). The usually uber-concentrated Mehldau offers relaxed and swinging solos, and Bernstein's straight-ahead swing and inventive improvisations follow in the footsteps of Montgomery and Grant Green without being derivative. The program includes originals by all of the members, along with a handful of venerable standards. The solos are outstanding throughout, with Mehldau quite inventive on "Nobody Else but Me", and Bernstein shining on a burning version of "Stranger in Paradise". And while Cobb remains a master at accompanying from the drum kit, it's wonderful to hear him play solos and trade fours with the other members of the group. If you can't hear this superb group at Smoke, this album provides the best alternative.
FRED HERSCH: "FLOATING" (Palmetto 2171)
While the Fred Hersch Trio's new album, "Floating" is their first studio recording in four years, it maintains close ties to the group's live performances. It was recorded right after the trio played a week at the Village Vanguard, so the highly interactive communication between the members sounds fresh and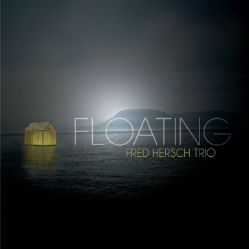 spirited. Hersch also notes that the album's sequence was created to resemble a typical trio set, with Hersch's lovely originals bookended with standards. Hersch's programming reveals the relationships between songs, and as a result, the CD ebbs and flows in a way that sounds natural, not forced. Even when moving from a simple lyric cameo like "West Virginia Rose" to the complex groove of "Home Fries", Hersch makes the transition sound effortless. Eric McPherson is properly credited on "drums and percussion" and he combines elements those two roles on "Far Away", an elegy for the late Israeli jazz pianist Shimrit Shoshan. John Hébert generates an enormous amount of intensity and sound from his bass. On "Arcata" (dedicated to another bassist, Esperanza Spalding), Hébert's improvised lines intersect with the snap of McPherson's percussion and the lyricism of Hersch's piano with unrivaled precision. As for Hersch, he remains my favorite contemporary pianist because how he plays is as important as what he plays. His sound is always full and rich regardless of the tessitura, speed or intensity of the music. Obtaining such a consistent keyboard tone only comes through an advanced sense of touch and sensitivity. There are abundant examples of this talent throughout the album, but I find generous helpings within his achingly beautiful rendition of "If Ever I Would Leave You". The lines Hersch improvises are filled with passion, but it is the overall sound that makes the performance transcendental. Monk's "Let's Cool One", which follows (and closes the album) is a perfect foil. As he has done with other Monk tunes, Hersch gets deep inside this composition, finding intricate new directions without sacrificing the wry humor of the original. In the publicity materials for this album, Hersch said he was a little apprehensive about going back into the studio after three live albums in a row. The remarkable music the trio created for "Floating" shows that he needn't have worried.   
SONNY ROLLINS: "ROAD SHOWS, VOLUME 3" (Doxy/Okeh 4998)
The latest edition of Sonny Rollins' collections of live recordings, "Road Shows, Volume 3" offers the middle ground b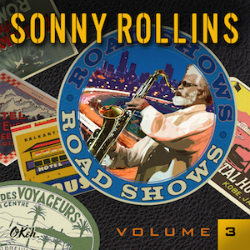 etween the 27-year sprawl of performances on Volume 1, and the focus on Rollins' 80th birthday concert on Volume 2. On the new disc, the recordings span 12 years from the 21st century and they all feature editions of Rollins' working band. There seems to be a concerted effort to feature the sidemen on this disc, and Clifton Anderson, Stephen Scott, Bobby Broom and Peter Bernstein show that they are fine soloists worthy of sharing the stage with the redoubtable Rollins. Yet every time Rollins solos, he simply steals the show. His sheer creativity is mind-boggling, and his ability to improvise multiple choruses without repeating himself seems super-human. However, the richness of his tenor sound gives his music such humanity that sounds as if he is speaking directly to us in a non-verbal—but clearly understood—language. The standout track is (not surprisingly) "Solo Sonny", an eight-and-a-half-minute tour de force from a 2009 St. Louis concert. Rollins quotes several dozen tunes, including pieces by Stephen Foster, Glenn Miller and Percy Grainger, along with several famous jazz standards. But this is not a matter of throwing a bunch of songs into a musical blender and guessing what comes out; rather, Rollins makes this solo cadenza into an engrossing musical statement that just happens to include a generous supply of quotes. And while there has been plenty of harping amongst critics and fans about Rollins' working band, it's clear that Rollins gets plenty of inspiration from this group—just listen to his marathon solo and his brilliant exchanges with drummer Steve Jordan on "Why Was I Born" for ample evidence. While the contents of these "Road Shows" albums are admittedly cherry-picked by the notoriously self-critical saxophonist, Rollins has provided his fans and the music world a great service by making these remarkable improvisations available to all. Let's hope that there are plenty more volumes to come.