The title for this set of reviews might seem unfair to the Danny Fox Trio, for they are truly a collaborative ensemble. Togeth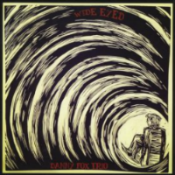 er since 2008, Fox's trio has made tremendous strides in deconstructing the traditional roles of piano, bass and drums. But from the evidence of their new CD, "Wide Eyed" (Hot Cup 133), Fox's compositions provide the musical glue which holds the group together. These pieces feature striking motives that recur throughout the performances. By hanging onto those motives, the listener can easily follow the direction of the pieces as they change styles and tempos. Significantly, Fox is listed as the composer of each piece, but the arrangements are collaborative efforts by the entire group. It's hard to say just how much of those arrangements are set up ahead of time, and how much is left to chance in performance, but it is clear that Fox, bassist Chris van Voorst van Beest and drummer Max Goldman are eager to show their expertise in a wide range of musical styles, and that they want their music to continually surprise its listeners with unexpected twists and turns. Yet no matter where each piece leads, they are able to bring it back to where it started without any abrupt segues. Because the compositions change so much, it's hard to pick out individual titles as favorites, but I particularly enjoyed the opening "Sterling", the bluegrass-influenced "Drone" and Fox's solo piece "Patriot Daze". The album is an exhilarating ride for any listeners willing to make the trip.
On first listening, Lisa Hilton's airy music might seem the exact opposite of Danny Fox. However, when digging into her new CD "Kaleidoscope"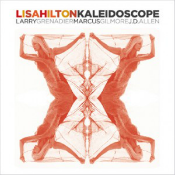 (Ruby Slippers 1017), it's easy to discover several similarities between the two pianists. Like Fox, Hilton knows the power of a good obbligato. The turbulence in Hilton's music comes more from those insistent melodic patterns than from style (even when the composition deliberately covers a multitude of styles like "Bach/Basie/Bird Boogie Blues Bop"). Hilton works well with the bass/drum team of Larry Grenadier and Marcus Gilmore, and as they cue off the motives from Hilton's piano, they make this music rise and fall with grace and expertise. Tenor saxophonist J.D. Allen sits in on three tracks, and he adds immeasurably to the intensity on the opening blues, "Simmer", the challenging "Labyrinth" and the rhythmic vortex of "Midnight Mania". If Hilton has a weakness as a pianist, it is that she relies too much on rippling arpeggios, but I admire the variety of timbres she gets from the piano and her ensemble. On the sole standard on this album, "When I Fall In Love", she moves effortlessly from unaccompanied to trio settings, and as a bookend to the Victor Young standard, she offers a radiant take on Adele's "One and Only", which she considers a new romantic standard for today's generation. Whether any young listeners will find their way to this album is anyone's guess, but anyone who listens to this music should find it both accessible and surprising.
Leslie Pintchik also enhances her trio with horns on her new album "In the Nature of Things" (Pintch Hard 2), but in addition to using the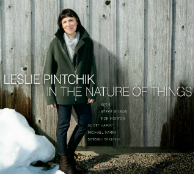 considerable solo gifts of saxophonist Steve Wilson and trumpeter Ron Horton, she has them play counter-lines against her piano melodies. The arrangements, written by Pintchik's longtime bassist, Scott Hardy, were inspired by Herbie Hancock's album "Speak like a Child", and like those classic settings, they offer splashes of instrumental color which enrich the compositions and add a welcome variety of timbre. Pintchik has worked with the same rhythm section for the past three years and their close affinity can be sensed throughout the album, most notably on "I've Grown Accustomed to Her Face", where the music ebbs and flows effortlessly. Drummer Michael Sarin and percussionist Satoshi Takeishi are a sensitive rhythm team, with Takeishi especially skilled at adding just the right amount of color without distracting from the rest of the ensemble. Pintchik gets a rich sound out of the piano, using the sustain pedal to great advantage, and she displays a thorough knowledge of modern jazz piano styles without being derivative. And when the frequently unpredictable horn men play their solos as a round-robin on Pintchik's "Terse Tune", the rhythm section provides excellent support, both following and guiding the direction of the music. While Pintchik's album is not as turbulent as the others in this survey, the excellence of the compositions, soloists and arrangements make this an album that is sure to become a favorite of all who hear it.