Last week, I saw an old friend from college, tenor saxophonist Michael Cox. For the past two decades, he has taught at Capital University in Columbus, and performed in the Columbus Jazz Orchestra. He brought me a copy of CD he made in 1999 called "Abstractions, Dedications and Red Dirt" on which he played with bassist Dennis Irwin and drummer Matt Wilson. When listening to the disc, I found that Cox incorporated the harmonic freedom of later tenor players, without losing his strong sense of swing. One track was a free improvisation with multiphonics and wild interplay between the instruments. But because I could relate to Cox's swinging, tonal playing, I found it easy to follow him as he explored further horizons. Cox's album continued a trend that has been around as long as there have been albums and progressive musicians: the inclusion of music which offers a gateway for the listener. Now, I'm not suggesting that progressive musicians "dumb down" their albums to make them accessible; rather, I'm simply noting the necessity of acknowledging the listener—particularly those who are new to an artist's music—by providing something familiar that anchors the music. John Coltrane did this with his version of "My Favorite Things"; Ornette Coleman and Keith Jarrett both created fine melodies (composed and improvised); and Sun Ra played his own idiosyncratic versions of Fletcher Henderson arrangements. However, it is equally important that a musician finds the delicate balance between accessibility and progressiveness. The two new vocal CDs reviewed here strike that balance particularly well. And while both of these albums are advertised as vocal/guitar duets, each uses a different manner to expand the sound and the musical possibilities of the duo setting.
On "New York Conversations" (TCB), vocalist Kendra Shank augments her voice with the use of a digital loop console, while guitarist John Stowell adds occasional overdubs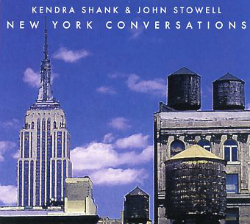 between his preferred electric instrument and an acoustic tuned down a third.  Shank's looper includes delay (echo) and an octave doubler, along with the recorder that allows her to record repeating ostinatos. Like soprano saxophonist Jane Ira Bloom, she creates all of her electronic effects live as part of her improvisations. As a scat singer, she utilizes several styles: a pointillistic staccato style which echoes her mentor, Jay Clayton; an arching style with broad legato lines; an avant-garde concept with abstract whoops and shouts; and a straight-forward style that she uses when singing over chord changes. One can hear all of them at once in the improvised piece "Za-Zoh", and by the time that piece turns up on the CD, the listener is already quite familiar with all of her various improvisation styles. She structures her solos so that the listener can follow her as she adapts her styles, and since the mix places her live voice and the looper at the same volume, one is never quite sure when Shank has turned on the loop recorder to create a new riff. Stowell is a marvelous accompanist, knowing exactly when to lead and when to follow, and his advanced harmonic knowledge allows him to find the right chords to fit with Shank's unexpected musical directions. There are a handful of standards on the album, but I don't find Shank's interpretations particularly enlightened; however, the programming of the disc, which places those standards in contrast with the fully improvised pieces and the original compositions, showcases the variety of the music and the wide range of styles.
Sara Serpa continues to be one of jazz's most progressive vocalists. Her previous recordings (particularly her quartet C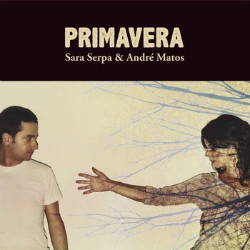 D, "Mobile" and a recent EP, "Coast to Coast") offered few reference points for the novice listener. However, her new CD "Primavera" (Inner Circle) seems to mark a change. Her duet partner, André Matos, is also her life partner, and they have just become first-time parents. While several of the tracks, including the opening title track and the African-inspired "Kubana" show that Serpa is still committed to singing challenging and progressive music, some of the other tracks (particularly "Song for a Sister", and the two pieces set to poems by Alberto Caeiro) sound like lullabyes that the couple might sing at home for their newborn. Serpa doubles on Fender Rhodes and keyboard, and Matos overdubs electric bass on three tracks. Esperanza Spalding's pianist, Leo Genovese, adds a variety of instruments (including toy guitar!), and mixing engineer Pete Rende sits in on Prophet keyboard for one track. But the finest of the guest players is soprano saxophonist Greg Osby, whose sole appearance is on a two-minute track called "Choro". At the opening, Serpa and Osby improvise against each other over Matos' guitar background. Then suddenly we notice that Serpa and Matos are playing a unison line while Osby continues to solo. Serpa seamlessly blends her solo style with Matos' theme so that the changeover is not obvious, and that allows Osby to maintain the listener's focus as his solo continues. Elsewhere, Serpa double-tracks her voice to mark her wordless melodic lines. She shows her lighter side with the bumpy groove of "Nuvem" (the title is Portuguese for "clouds", but I've never noticed a cloud with an odd rhythm like this!). And she offers a chilling version of Guillermo Klein's "Se Me Va La Voz" (the lyrics can be found here, but go to Google to translate them to English).
I suppose that both of these albums could have been more adventurous, but I don't feel that either Kendra Shank or Sara Serpa have compromised their art by making their recordings a little more accessible. Rather, these albums are excellent introductions to both artists, and they could attract new fans that will gladly follow them as they continue to discover new musical directions.