Anyone who believes that the CD is a dying format should visit my office. Currently, I have over a hundred discs that I've received for review within the past few months. It's a good problem to have (much better than not having enough quality discs to review) but I hate it when an excellent album is left un-reviewed just because I didn't have time to cover it. To help alleviate the problem, for the next two months, I'm writing capsule reviews of discs that have been sitting in my review pile. You'll find both vocal and instrumental albums here, and most of these discs are already available for purchase at press time.

RICHIE COLE PLAYS BALLADS AND LOVE SONGS" (RCP 002)
When alto saxophonist Richie Cole first appeared as a star soloist in the 1970s, his forte was high-energy bebop played at hyperactive tempos. There were bal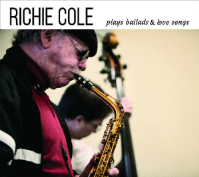 lads in his repertoire, but many of Cole's young fans were primarily interested in his speed and dexterity. When I heard him in Denver a couple of years ago, it had been years since I saw him live. I was somewhat surprised to note that he had adopted the saner tempos of other jazzmen, and that ballads had taken up a larger portion of his book. Cole's current CD, "Richie Cole Plays Ballads and Love Songs" was made when Cole had booked studio time for his big band, but had temporarily lost his other horn players when they accepted a higher-paying job. Cole and the rhythm section started by recording a group of standards, and near the end of the session, discovered that most of the tracks were ballads. Since Cole had never recorded an album of ballads, the quartet decided to record enough slow numbers for a full disc. Most of the tracks are performed as straight ballads, but Cole and his trio (Eric Susoeff, guitar; Mark Perna, bass; and Vince Taglieri, drums) add variety by adopting a rolling 12/8 feel ("Chances Are" and "A Sunday Kind of Love") or a quiet samba beat ("Sarah", Cole's tribute to Sarah Vaughan). For the most part, Cole holds back the fireworks, but his edgy tone and compelling improvisations keep this album from becoming a soppy exercise in romanticism. Susoeff is the secondary soloist, and he gets a lovely sound reminiscent of the now-retired Canadian guitarist Ed Bickert. The sensitive alto/guitar duets on the introductions and verses of these near-standards are among the highlights of this finely-played understated album.

BRANDI DISTERHEFT: "BLUE CANVAS" (Justin Time 255)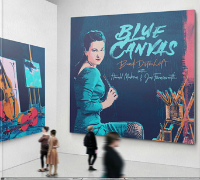 It's been a few years since Canadian bassist Brandi Disterheft released an album under her own name, and while she has remained busy with performances and recordings for others, listeners might have forgotten her astounding talent. Her new trio album "Blue Canvas" should restore those lost memories. The disc opens with a powerfully swinging arrangement of Bobby Timmons' "Dat Dere", and Disterheft's flexible bass lines push her fellow musicians Harold Mabern and Joe Farnsworth to spectacular heights. Her unaccompanied "Prelude to the Crippling Thrill" showcases her richly colored tone, and like Charles Mingus, her solos swing the band without sacrificing the sound. Disterheft also sings on this album, and her vocals on her original compositions "Crippling Thrill" and "Blue Canvas" display an admirable range of emotion. At 80 years old, Mabern is in exceptional form: his solo on Clifford Brown's "Daahoud" is a model of grace and restraint, while his solos on "Beehive" and "Our Delight" will propel you out of your chair with their energy and inventiveness. And how Farnsworth drives this trio, with his impeccable accents, bright cymbal work and crisp solos! At 46 ½ minutes, listeners will doubtlessly want to hear more of this power trio, and with any luck, this group will reunite for another album. This trio is just too good to make a one-time-only appearance. Disterheft should record more as a leader, and this trio appears to be a perfect framework for her talent.
MONIKA HERZIG: "THE WHOLE WORLD IN HER HANDS" (Whaling City Sound 079)
Perceptive readers of this website will recall that Monika Herzig was the editor and one of the authors of the biography "David Baker: A Legacy in Music", included in our Book Review a few months ago. A longtime faculty member of the Jacobs School of Music at Indiana University, Herzig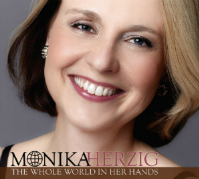 talents range far beyond the pen, and her new CD "The Whole World in Her Hands" displays her gifts as a pianist, composer and bandleader. As the album title implies, the CD celebrates the work of female jazz instrumentalists, and to realize the project, Herzig recruited an impressive mixture of veteran and apprentice women musicians. Nearly all of the tracks were composed by members of the group, and to my ears, that seems to be an additional reason for the passionate and committed performances throughout the album. Herzig, soprano saxophonist Jane Bunnett, flautist Jamie Baum, and guitarist Leni Stern are the principal soloists, and all are in top form (especially the stunning Bunnett/Herzig duet on "Song for Argentina," Baum's breathy alto flute on the funky "Plenty of Nothing" and Stern's guitar synthesizer on "The Cat That Stole the Moon") but the fascinating, resourceful drumming of Arianna Fanning may deserve the highest acclaim. Playing on all but one of the tracks, this young percussionist displays remarkable command as she navigates through complex arrangements and a dense background of improvised counterpoint. Fanning's skill at accompanying soloists is evident throughout the set, but it is most impressive on "Oh, Muddy Water" where she and trombonist Reut Regev raise the piece's emotional level over the course of Regev's solo (Herzig's solo greatly benefits from this transformation as well). While annotator Bob Blumenthal correctly notes that sexism is still a part of our society, I think it's fair to say that the jazz world has made great strides in recent years by accepting and promoting female musicians. This album shows why that recognition is long overdue.
CATHERINE RUSSELL: "HARLEM ON MY MIND" (Harmonia Mundi/Jazz Village 579004)
Harlem holds a special place in Catherine Russell's heart. Her mother, guitarist/bassist/vocalist Carline Ray, grew up in the northern borough, and her father, Luis Russell, led one of his greatest bands there. Russell's latest CD, "Harlem on my Mind" celebrates the vocalists who performed on the stage of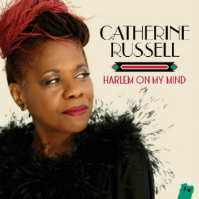 Harlem's Apollo Theatre. Working with many of the same musicians who backed her on her previous disc, "Bring it Back", Russell concocts a swinging tribute album to legendary performers Ethel Waters, Billie Holiday, Fats Waller, and Dinah Washington. The title track displays how Russell can get inside a song: she portrays a rich and pampered woman, who wants nothing more than to visit the Cotton Club. On the verse, she sings with great refinement as she numbers her many assets, but when she moves into the chorus, she adds a gentle swing, and as she recalls great times at the jazz clubs, she hints at the stronger voice she's trying to conceal. Russell can also play the part of a hip big band singer. On "I Can't Believe That You're in Love with Me" and "Swing Brother Swing", she improvises great melodic variations over the swinging backdrop of the ten-piece band led and arranged by tenor saxophonists Andy Farber and Mark Lopeman. She recognizes the importance of lyrics, discovering the infatuation within "The Very Thought of You", the dark double-entendres in "You've Got the Right Key", and the deep passion of "You're My Thrill". Yet she never lets the melody become static, and like a great actress, she instinctively knows how to enhance key words with powerful delivery. While Russell commands attention throughout the disc, the instrumentalists deserve high praise for their authentic and nuanced performances in swing style. Centenarian tenor man Fred Staton guests on one track, representing the original style, but most of the musicians are younger men like trumpeter Jon-Erik Kellso, trombonist John Allred, alto saxophonist Dan Block and pianist Mark Shane, who have learned this music by studying old recordings and developing unique styles based on the historic models. Without these extraordinary musicians, Russell's performances would be much less effective.